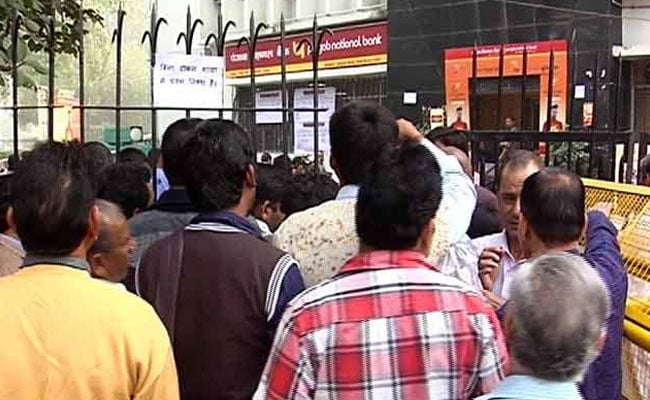 Mumbai:
As the banks remained shut for the third consecutive day on Monday and many ATMs continued to run dry, it caused further inconvenience to people, who are already reeling under a currency crunch.
The banks are likely to witness a rush of people tomorrow, when the operations resume.
The three-day long bank closure started from December 10, as it was the second Saturday of the month, followed by the Sunday off yesterday. Today, the banks were shut on the occasion of Eid Milad-ul-Nabi.
Many people expressed unhappiness that even a month after Prime Minister Narendra Modi's announcement about demonetisation on November 8, the situation has not improved much. They say the government must take "corrective steps" quickly.
"It is now clear that the idea of demonetisation has failed due to lack of planning and execution. Many ATMs are still unable to dispense cash," a city-based businessman said.
Another businessman from south Mumbai said it took him almost one hour to find a functional ATM in the area.
"Thereafter, I had to spend another one hour in the ATM queue to get a single note of Rs. 2,000. I think it is high time government should announce corrective measures to tackle the crisis, otherwise it is going escalate further."
"Modiji is appealing to people to go cashless. I don't know about the countrymen, but it seems that banks and ATMs are certainly following the PM's words," said Shyama Kukreja, who runs private tuitions in suburban Dahisar.
However, there are still many, who feel that people should give more time to the government to see the positive effects of demonetisation.
Naresh Upadhyay, a medical representative, said, "Just see what is happening in Venezuela. This country has followed India's footsteps in its efforts to eradicate the black money.
It is matter of pride that other countries are now following our suit."
Venezuelan President Nicolas Maduro has signed an emergency decree ordering the country's largest banknote, the 100 bolivar bill, taken out of circulation to thwart "mafias" he accused of hoarding cash in Colombia.
Kavita Dhawan, an entrepreneur from Vashi in Navi Mumbai said, "The way huge stocks of currency in new notes are being seized, looks like that these are tip of the iceberg.
And this is the reason why people are dying in the queue. If Modiji has to make his demonetisation plan successful, then he needs to keep a check on the bank officers and employees, because without their help, such huge amount of cash can not go outside the banks."
["source-ndtv"]