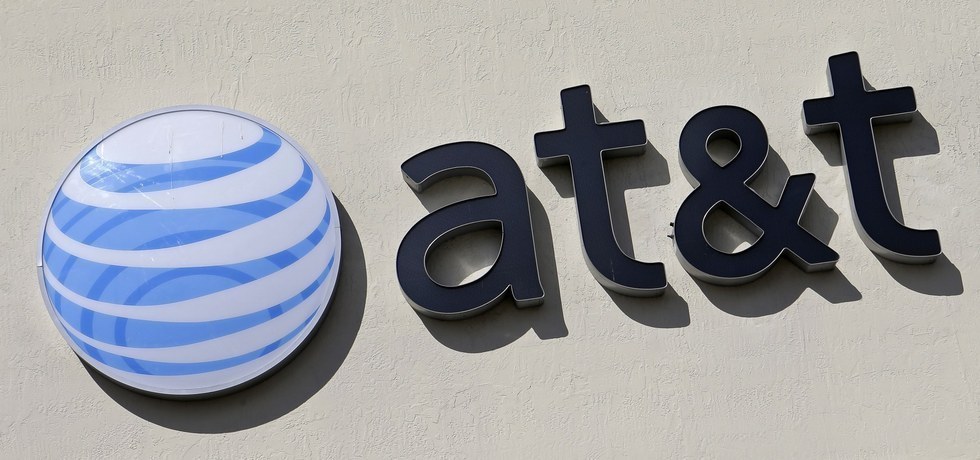 Good morning and happy early Thanksgiving. Thanks for subscribing to Axios Media Trends. Send tips and ideas to [email protected] and tell your friends and colleagues to join the conversation by signing up here.
FYI – The story that just won't end: Eight women have told The Washington Post that longtime television host Charlie Rose made unwanted sexual advances toward them, including lewd calls, walking around naked in their presence, and more. NYT's Glenn Thrush was suspended after accusations of sexual misconduct, first reported by Vox. At least 16 men in media have been accused of sexual harassment since the Weinstein story broke last month. Axios' Stef Kight has the full list here.
1. All eyes on Justice
The Justice Department's move to block AT&T's proposed $85 billion bid for Time Warner puts on hold a slew of media and telecom transactions that may have been in the works and potentially upends antitrust precedent that has created some of today's biggest media companies, Axios' Kim Hart writes.
Why it matters: The surprising suit against the deal is not only a blow to AT&T but also to other companies hoping that similarly-structured deals that combine content producers and distributors have a shot with the current administration. It could also bring new scrutiny to the size and power of Google and Facebook, who have become media powerhouses in their own right.
The move came as a shock to AT&T because conservative DOJ Antitrust chief Makan Delrahim had previously said he didn't see problems with the proposed merger. "Vertical" mergers like this that combine companies in two different industries (AT&T is a telecom company and Time Warner is a content provider) are also seen as less of an antitrust threat than "horizontal" mergers that combine two competing companies.
The deal is playing out this way partially because of the way a similarly structured deal was brokered in 2011. Comcast was allowed to buy NBCUniversal, albeit with conditions designed to prevent Comcast from using its market leverage to hamstring competitors. Sources say the DOJ is hesitant about letting this type of deal go through again due to the way those conditions were enforced.
What's next? AT&T's bid for Time Warner was a major litmus test for others who are also eyeing major deals between content companies and distributors. For example, Verizon and Comcast have both expressed interest in 21st Century Fox's entertainment business, which like the AT&T bid for Time Warner, would involve the acquisition of a studio business as well as cable channels.
Go deeper.
2. FCC set to introduce net neutrality rollbacks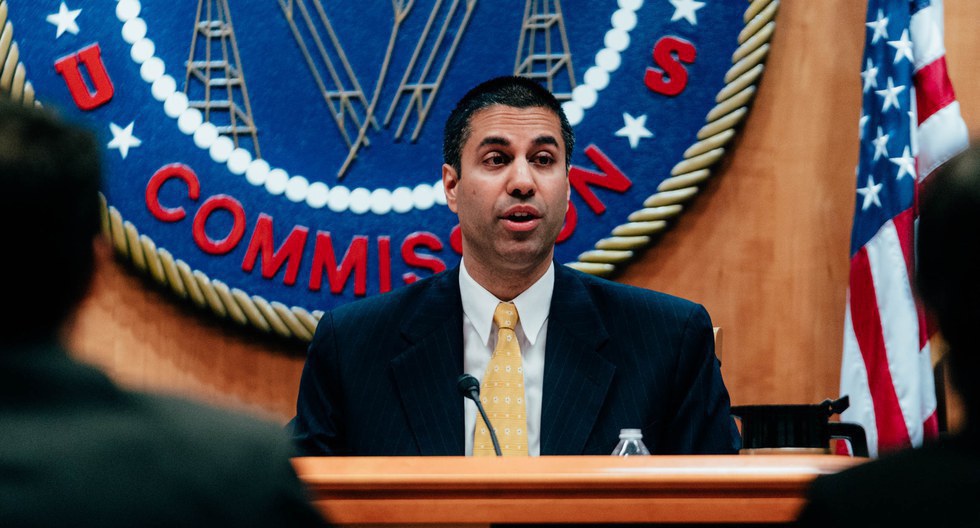 FCC Chairman Ajit Pai at an open meeting earlier this year. Photo: Robin Groulx/Axios
Officials at the FCC are expected to reveal a proposal today to roll back Obama-era net neutrality rules through a vote this December, Axios' David McCabe emails.
"The current chatter is that Chairman Ajit Pai may repeal the rules banning companies from blocking or throttling traffic and allowing fast lanes – the key legal foundation for the rules, which would allow companies to choose the content they prioritize distributing — but leave some transparency requirements for internet service providers. But he could also propose his own rules, which he would have to justify legally and probably defend in court."
Why it matters: As internet companies and content companies consolidate, they could take advantage of a lack of rules to prioritize their own offerings or develop new revenue streams in the form of paid prioritization.
3. Facebook's whistleblower wave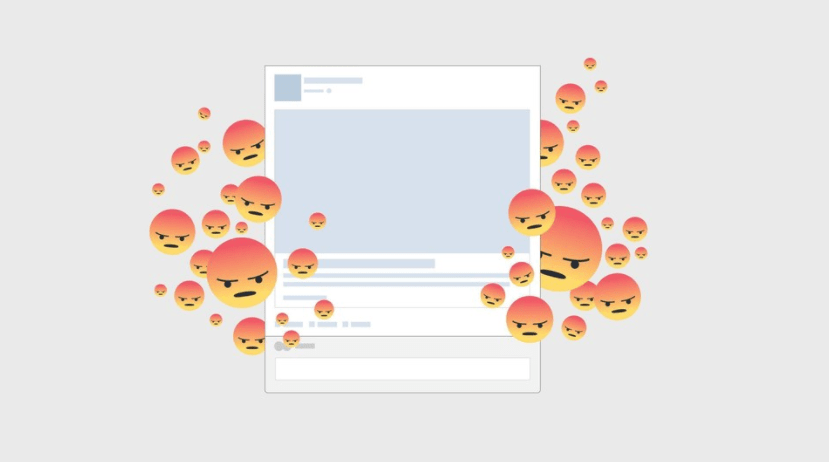 Illustration: Lazaro Gamio / Axios
Facebook insiders with detailed knowledge of the company's priorities and operations are increasingly voicing concerns that the tech giant is putting profits ahead of its users' best interests. Their accounts come as many Silicon Valley insiders are speaking out about the negative consequences of the world they helped create.
Why it matters: The accounts put more pressure on the company to quickly and publicly address tough philosophical questions that they may not have the answers to yet. And it gives more ammunition for other Facebook alumni to come forward with their perspectives while they work their issues out.
In response to these accounts, Facebook published a blog post late last night that says, "While it's fair to criticize how we enforced our developer policies more than five years ago, it's untrue to suggest we didn't or don't care about privacy."
The latest: Former Facebook operations manager Sandy Parakilas wrote in a New York Times op-ed Sunday: "Lawmakers shouldn't allow Facebook to regulate itself. Because it won't … [Facebook] prioritized data collection from its users over protecting them from abuse."
Early Facebook investor Roger McNamee, now managing director at investment firm Elevation Partners, told CNBC last week: "I don't think there is any way for us to expect them to undermine their profits … We're going to have to give them an incentive to do so."
Former Facebook president Sean Parker told Axios' Mike Allen two weeks ago that the platform was designed to exploit human "vulnerability," and that "[the inventors] understood this, consciously, and we did it anyway."
Justin Rosenstein, co-creator of the Facebook "like" button, told The Guardian in October that there could be a case for regulating "psychologically manipulative" advertising. "If we only care about profit maximisation, we will go rapidly into dystopia," said Rosenstein, who admits to distancing himself from the platform he helped build.
Facebook product manager Antonio Garcia-Martinez, who's also author of Chaos Monkeys: Obscene Fortune and Random Failure in Silicon Valley, told The Guardian earlier this year before the Russia scandal broke: "The hard reality is that Facebook will never try to limit such use of their data unless the public uproar reaches such a crescendo as to be un-mutable."
Sound smart: It's one thing to be criticized from lawmakers or outside people who don't understand the company's business model, capabilities and priorities. It's another to be condemned by employees and investors with more intimate knowledge of the company.
4. Digital media struggles to survive technology's chokehold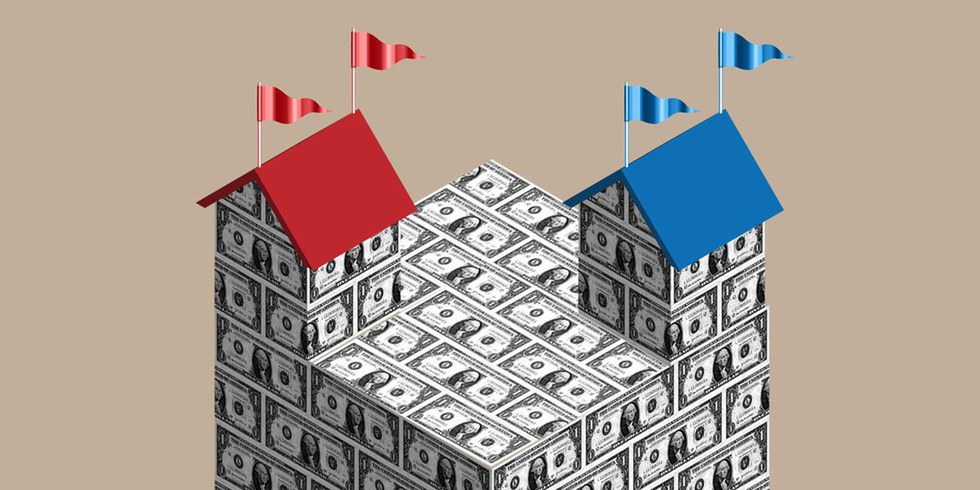 Illustration: Lazaro Gamio / Axios
The economic strains of technology on the entire media landscape are intensifying. Weeks after Googleand Facebook announced record earnings, some of the biggest players in the digital media industry are still struggling to hit revenue projections, make profit or grow.
BuzzFeed and Vice, both hoping to soon go public, will miss revenue projections for the year, The Wall Street Journal reports.
Mashable, the tech and entertainment digital media outlet founded by Pete Cashmore in 2005, sold to Ziff Davis for just $50 million on Thursday, roughly $200 million less than its estimated prior valuation, per the WSJ.
Univision, the Spanish language broadcaster, is looking for a minority investor to pour $200 million into Fusion Media Group, the company it purchased just last year that includes Deadspin, The Onion and Fusion TV, Recode reports. An email obtained by Axios from Fusion CEO Felipe Holguin last week says the company plans on being profitable in 2018, making the move less about cash and more about strategy.
Oath, the Verizon-owned content behemoth that consists of Yahoo, AOL, HuffPost and more, will soon lay off 560 staffers, per Digiday.
The Daily Beast's parent company, IAC, emailed staff after a CNN report about sale talks, saying it often fields inquiries "from third parties looking to talk about purchases, sales, or investments."
Defy Media and Uproxx Media are also considering sales, according to Bloomberg.
Why it matters: Rapid consolidation in every sector, but especially digital, shows how difficult it is for media companies to survive in a digital advertising economy dominated by tech platforms. Tech giants, aided by decades of minimal regulation, have scaled to the point at which they are able to adjust their advertising models and adapt to consumer demands faster than most media companies can keep up with.
​5. The epidemic hits everywhere
The tech effect has also bubbled down to legacy media outlets that are trying to find ways to subsidize migrating user interest from linear TV and print to digital.
In print:
Meredith Inc., a lifestyle magazine group, has submitted a bid for Time. Inc., The Wall Street Journal reports.
Conde Nast is laying off off staffers and reportedly shuttering print editions of some of its flagship publications, like Teen Vogue.
Hearst acquired Rodale Inc. two weeks ago in an attempt to scale its lifestyle footprint.
Rolling Stone legend Jann Wenner is finalizing an auction for his majority stake the magazine he founded in 1967, Recode reports.
Forbes is cutting back from 14 annual issues to 10 in 2018 as it focuses more on digital and mobile, per Talking Biz News.
In TV:
Comcast and Verizon are both reportedly interested in acquiring 21st Century Fox's entertainment properties, per The Wall Street Journal. It's rumored that Fox's reported interest in divesting its entertainment properties comes in response to Netflix's dominance in the on-demand entertainment space.
AT&T is preparing to fight the DOJ to win a merger with Time Warner.
Discovery Communications acquired Scripps Networks for $14.6 billion in July, creating the largest lifestyle/entertainment TV merger this year.
Sound smart: While the problems plaguing digital ad economics have existed for years, most of these consolidation efforts have emerged in a matter of weeks. There's no question that the media industry is facing unprecedented disruption at this moment.
6. Tencent is Asia's first $500 billion company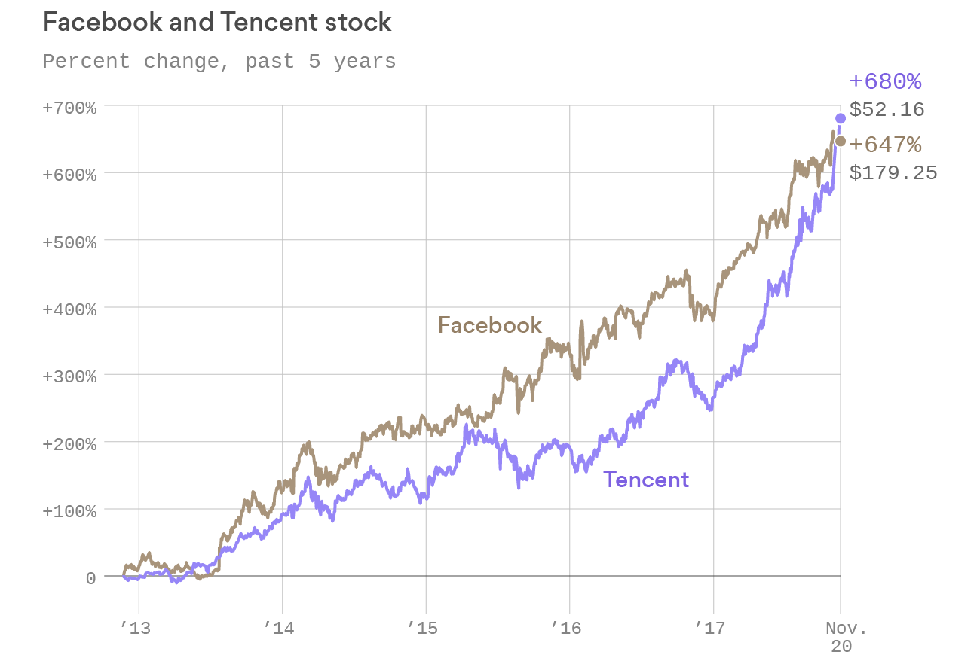 Data: Money.net; Chart: Andrew Witherspoon / Axios
Chinese Internet giant Tencent became the first Asian company ever to be valued above $500 billion on Monday, after its shares rose 4.1% in trading on the Hong Kong Stock Exchange, per Axios' Dan Primack.
Rivals: Facebook and Amazon both crossed the $500 billion threshold this past summer, with the former opening trading Monday with a market cap of $520 billion. In terms of tech, they all still trail market cap leaders Apple ($872 billion), Alphabet ($712 billion) and Microsoft ($636 billion).
What we're watching: Tencent and other Chinese tech companies have notably made efforts to penetrate the Western media market, while China has continued to clamp down on letting American companies access its market.
Tencent bought a 12% stake in Snapchat earlier this month. The Journal reports that it's invested in 41 tech startups in the U.S. since 2011.
Toutiao, a Chinese personalized news app, has agreed to acquire Chinese lip-sync app Musical.ly, which has skyrocketed in popularity amongst European and American kids. No financial terms were disclosed, but word is the price-tag was between $800 million and $1 billion, via a mixture of cash and stock, per Primack.
Speaking of China … If you haven't signed up for our new newsletter, Axios China, written by Bill Bishop of Sinocism, you can check it out and sign up here.
7. Sports for short attention spans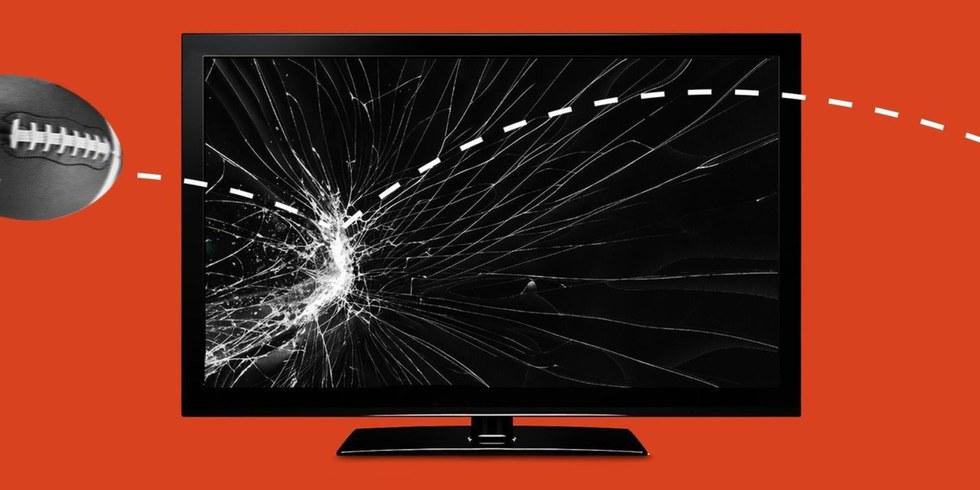 Illustration: Rebecca Zisser / Axios
Sports leagues are cutting back on game time to meet consumer demands for faster entertainment experiences on TV and online. Part of those cutbacks are happening at the advertising level, to appease consumers who are becoming accustomed to on-demand TV viewing.
MLB executives are working on amendments to next year's rules that would speed up games, the AP reports. These amendments could include restricting catchers to one trip to the mound per pitcher each inning and employing a 20-second pitch clock, among other things.
NFL EVP of communications Joe Lockhart told reporters on a conference call in September: "We had 10 of 15 games under three hours, which is the first time since 2009 that we were able to do that … It's not necessarily the length of the game — but it is a concerted effort to take dead time out to reduce the commercials." (The NFL is airing nine six-second commercials on Thanksgiving.)
NBA Commissioner Adam Silver suggested earlier this year that the league would need to speed up games to adhere to millennial attention spans.
Why it matters: "Sports-holders are not just looking at how to divvy rights but how to improve the game experience for younger viewers that don't want to sit through long games when streaming them," says Jed Corenthal, CMO of streaming platform Phenix. "Speed and latency are directly correlated to revenue."
Case in point: A new Sports Streaming Report from YouGov and Phenix finds that nearly three-quarters (72%) of consumers who watch sports on TV have come to expect bad service during live games and nearly one in three of those consumers (34%) think about cancelling the service giving them an issue.
8. 1 Ball thing: Using Trump's playbook to conquer sports media
Giphy
LaVar Ball and President Trump are squabbling about giving Trump credit for bringing home three UCLA basketball players — including Ball's son LiAngelo — after the players were arrested for shoplifting in China. "The beef brings two of the biggest attention hounds, usually in separate spheres of the media universe, into the same news story," writes Axios' Neal Rothschild.
Why it matters: Trump created the blueprint for building an avalanche of earned media momentum: be the loudest, most outrageous voice in the room. Generate buzz with confrontational statements, outsized self-promotion, and abundant charisma. Now we're seeing that strategy executed perfectly in a different habitat of the media ecosystem, and it could lead to more copycats.
Supreme self-regard:
Ball: "Back in my heyday, I would kill Michael Jordan one-on-one" (Ball played one college season and averaged 2 points per game.)
Trump: "I know more about ISIS than the generals do. Believe me."
"I know best":
Ball: "I don't need no advice from Kobe Bryant."
Trump: "Regardless of recommendation, I was going to fire Comey."
9. Bonus
Report: Snapchat copycats haven't copied their user base.
Source:-axios.