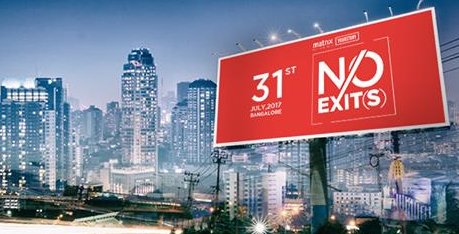 India is working hard to be counted as a mature startup hub globally. The question is whether this reputation would still hold true if the ecosystem does not see a constant stream of healthy exits across sectors.
At a global level, India can be counted among the top few when it comes to startup exits. According to YourStory data, a total of 101 acquisitions and exits took place over the course of H1 2017, compared to ­­­­80 acquisitions made in a similar period in the previous year.
For founders, their conundrum is: If a company is sold, will they be considered a sell-out? Venture capitalists considering an exit may wonder how they can strike a balance between what is right for the company, and what is right for them. And lastly, what does it take to successfully exit and provide liquidity to shareholders and employees of a company?
If you are looking for answers, noted Indian venture capital firm Matrix Partners India, in association with YourStory is bringing you a series of articles and videos about exits in India.
Noted leaders from the startup ecosystem as well as seasoned investors will participate in a series of discussions about the highs and lows of building and exiting valuable companies, which will be moderated by Shradha Sharma – CEO and Founder of YourStory.
Entrepreneurs and investors such as Anant Daga – Managing Director, W (Womenswear brand), Naveen Surya – Managing Director, ItzCash (Prepaid cash cards), Deepak Gullapalli – CEO & Cofounder, Ace2Three (Online Gaming), and Avnish Bajaj – Founder & Managing Director, Matrix Partners India will share candid insights and their experiences. Stay tuned!
Calling all tech startups to apply to the Oracle Startup Cloud Accelerator centers in Bangalore, Delhi-NCR , Mumbai and Singapore. Selected startups get free cloud credits, access to Oracle's 400,000+ customers and partners, mentorship and much more. Applications closing shortly. Apply Now.
["Source-yourstory"]