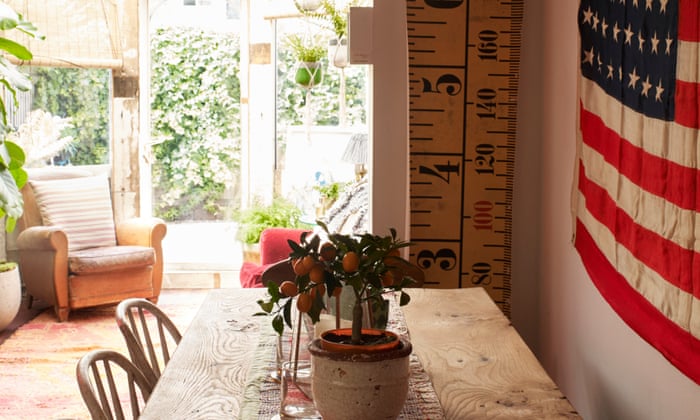 In with the old: the dining room, with rustic table and Graham and Green ruler. Photograph: Suki Dhanda for the Observer
Anyone who has stayed at one of the Artist Residence hotels would be intrigued by the 50s-built terraced house where the couple who run the eclectic company live. "Given our love of historical buildings, it's not at all similar," says Charlie Salisbury, padding around the ground floor of the three-storey house she shares with her husband and business partner, Justin. For the past decade or so they've maintained an on-off relationship with the three-bedroom west London home. Expanding their chain of design-led boltholes in London, Brighton, Cornwall and now Oxfordshire has meant long periods away. But upon becoming parents to baby son Blake 18 months ago, they decided it was time to make it a more permanent family base.
"Location-wise, the house is perfect," Justin says. "The challenge has been making it a space we love. We're used to working with beautiful features in old houses – sort of undecorating – but here we've had to create all the character ourselves."
Uninspired by the property's boxy rooms and straight lines, the couple have gone to lengths to add texture and detail. In the living room they've exposed original brick walls and created wood panelling from vintage industrial cheeseboards. They've transformed a PVC conservatory at the back of the house with cladding. "It was so ugly, but we had an idea to hide the white plastic with pieces of reclaimed timber," explains Charlie.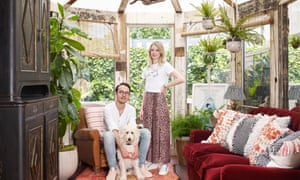 Even the doors have been replaced with salvaged finds that add personality: an old library door with frosted glass provides access to the downstairs loo and a shop door complete with wood splinters and peeling paint marks the entrance to the lounge-dining room. "We go through phases of picking up stuff at antique fairs and reclamation yards. We also live opposite an auction house," says Justin, "so I go every Sunday with Blake and Bob our dog."
Recent finds include the rustic dining table, bought when they donated the previous table to the Penzance hotel, and the large gothic cabinet that functions as Blake's toy cupboard.
"But even that was supposed to go to a hotel," laughs Charlie. "We bought it for Oxfordshire, with the intention of sawing it in half and making a minibar."
Unsurprisingly, the couple have an interesting contemporary art collection. They got into the hotel business when Justin's mother was hit by bus and went into a coma. He dropped out of university (where he'd met Charlie) to take over her Brighton guesthouse. Recognising that it needed an update, Justin had an idea to place an ad on Gumtree asking local artists to come and redecorate. "It was awful," remembers Charlie. "My dad stayed and was, like, 'This is really bad!' But I think other people found the concept interesting."
A legacy of these early days is the art on their walls. "There's a print by a Brighton-based artist called Fox which we've had since the very beginning," says Justin. "He gave it to us in exchange for a take-away dinner when we were opening the Brighton hotel." Other sentimental pieces include work given to the family when Blake was born, such as a Ben Eine print and the can of knitted "Blake's soup" on his dresser, by installation artist Lucy Sparrow. The elephant above Blake's cot is by Dave White, who also created the fox and rabbit prints in the lounge. "Everybody wants to know where they're from," smiles Justin. 'They've become the biggest talking points when people come round."
Elsewhere items, including the giant tape measure from Graham and Greenbought as a height chart for Blake, ramp up the fun. "We have quite a few high-street bits," says Charlie. "We love finding things in Rockett St George, Rose and Grey and Anthropologie. The hard bit is making things look like they've been casually thrown together."
Next up for Artist Residence is the conversion of a Georgian boot factory in Bristol. "We're currently going through the stage where we generate a ton of ideas and spend the next six months overhearing the builders discuss how terrible they are on their tea breaks," laughs Charlie. Justin nods. "By the end they've completely changed their tune and things have suddenly come together."
["Source-theguardian."]