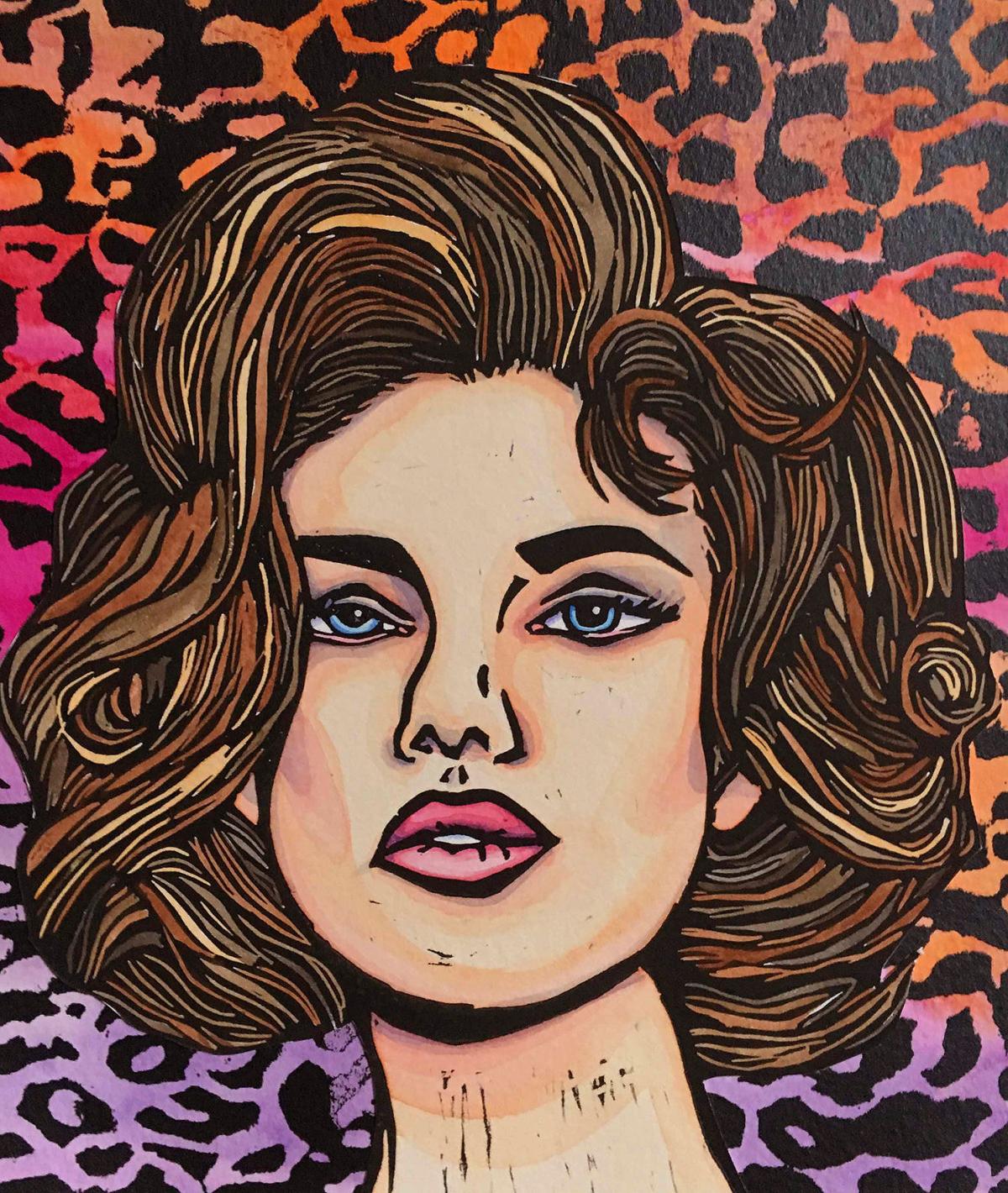 RACINE — Vintage fashion, from the classically elegant styles of Grace Kelly and Audrey Hepburn to those with a 1980s vibe, is the inspiration for an art exhibition opening Friday at the Racine Arts Council's ArtSpace Gallery, 409 Sixth St.
"Fashionista: Fashion as Art & Art as Fashion" features the work of local artists Kelly Witte and Samira Gdisis, who share a fondness for vintage fashion and imagery. Together they have created a collection of artwork that explores that interest in media ranging from linoleum-relief prints and drawings to full-sized, mixed-media retro dresses.
The two dresses, which will be featured in the RAC's front windows, were hand-crafted using materials one might not typically associate with fashion. Witte's features a hand-sewn corset made out of duct tape, along with a glittered and sequined tutu, while Gdisis' dress is made almost entirely of paper products, including homemade paper.
They will be part of a window display that Gdisis said is designed to look like a dressing room, and gives a little nod to her mother, who worked as a window dresser. The display will also feature a pair of hand-painted, Mary Jane shoes, along with other items.
Inside the gallery, framed artwork including mixed-media collages and hand-colored relief prints will be displayed. And visitors will be able to purchase a variety of items including brooches, silk scarves, glass pendants, tote bags and paper dolls, made by the artists for this exhibition.
Their goal is to transform the ArtSpace gallery into a "chic, vibrant pop-up boutique," the artists said. Even some of the treats served at the exhibition's opening reception will be fashion-themed.
"We want people to have fun with this," said Gdisis, who owns and operates the Black-Eyed Press, a printmaking and book arts studio located in the Racine Business Center, 1515 16th St.
"Fashionista" is meant to be an experience, Witte said — one in which all are invited to come and travel back to a time of leopard prints, polka dots, 1950s glamour and more.
Met at college
While this show was inspired by the artists' shared passion for fashion, it is also rooted in their friendship, which began when they were enrolled in the Studio Arts program at the University of Wisconsin-Parkside in Somers. Both graduated from the university in 2010 and before that spent many classroom and studio hours together. Each has been involved in other projects and exhibitions since then, yet they've managed to stay in contact and are excited to present this show together.
"We not only work well together, we have a lot of fun," Gdisis said.
The opening reception for "Fashionista" is scheduled for 6 to 9 p.m. Friday, July 7, and the exhibition is scheduled to continue in the ArtSpace gallery through Aug. 26. Regular gallery hours are noon to 5 p.m. Wednesday through Saturday. For more information, go to www.racineartscouncil.org or call 262-635-0261.
["Source-journaltimes"]