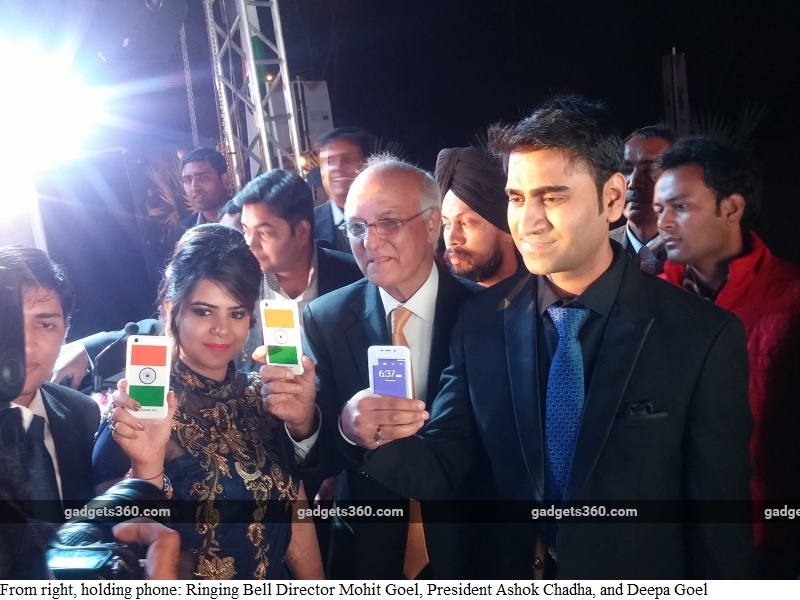 In a yet another blow to Noida-based startup Ringing Bells Pvt. Ltd. that last month launched with much fanfare the world's cheapest Rs. 251 (less that $4) smartphone, domestic feature phone brand Advantage Computers' (Adcom) on Friday announced it may consider legal action against Ringing Bells.
During the launch last month in the presence of veteran Bharatiya Janata Party (BJP) leader Murli Manohar Joshi in the capital, Ringing Bells unveiled "Freedom 251" and distributed some "prototypes" to the media which turned out to be Adcom handsets, Adcom's founder and chairman Sanjeev Bhatia said.
Later, Ringing Bells president Ashok Chadha told IANS that it had only given Adcom handsets as "samples" to a section of the media and the real Freedom 251 will be a new product with all promised features.
"We are deeply grieved by this incident where our mobile phone has been presented to masses for Rs.251, and therefore, would not hesitate from taking any legal actions against the company, in case the entire fiasco impacts Adcom's brand name or subsequently we face any other kind of losses," Bhatia said in a statement on Friday.
"Yes, it is true that although we sold the handsets to Ringing Bells earlier, like we sell Adcom mobiles to lakhs of users, we were absolutely unaware of the reselling plans of the company in question," he added.
"Furthermore, we still haven't been able to evaluate their pricing policy as we sold the handsets at Rs.3,600 per unit (to Ringing Bells)," Bhatia said.
Earlier, the Noida offices of Ringing Bells were found shut on Thursday over land ownership issues with Noida Authority.
Ringing Bells issued a statement on Friday that they should not be dragged in any controversy over this issue.
(Also see: Freedom 251 Maker Accused of Fraud by Customer Care Firm; Refutes Charge)
"While speculation is rife regarding the legitimacy of our occupying the premises we operate from, i.e., our corporate office at B-44, Sector 63, Noida 201301 in Uttar Pradesh, we wish to make it clear that the current dispute regarding the nature of business conducted at the property is between NOIDA authority and our landlord," the company said.
The Enforcement Directorate (ED) also questioned Mohit Goel, CEO of Ringing Bells, this week over the pricing of the smartphone.
(Also see: Freedom 251 Smartphone 'Biggest Scam of Millennium', Says Congress MP)
Ringing Bells has also claimed to have paid back the money it generated from the first 30,000 pre-booking orders on the first day of the sale this month.
Chadha had announced that the Rs. 251 (less than $4) Freedom 251 smartphone customers will be required to make payment only when the smartphone is delivered to them.
(Also see:  Freedom 251 Reportedly Comes Under Telecom Ministry's Scanner)
"The company has decided that we will, henceforth, offer 'cash on delivery' mode of payments for those who have placed an order for the Freedom 251 smartphone. This will ensure further transparency and clear any misgivings," Chadha said.
The company plans to give 25 lakh handsets in the first phase before June 30.
Taking the world by surprise, Ringing Bells launched Freedom 251 smartphone that, it said, has been developed "with immense support" from the government.
(Also see: Freedom 251: 30,000 Units Sold, Components for Up to 2.5 Million Will Be Imported)
As the makers of the smartphone went to town with claim of being part of Prime Minister Narendra Modi's 'Make in India' and 'Digital India' initiatives in the last few days, a top government official clarified on Thursday that the government has nothing to do with the Freedom 251 smartphone.
"This is not a government project. 'Make in India' team has nothing to do with this," wrote Amitabh Kant, secretary of the department of industrial policy and promotion (DIPP), in a Twitter post.
Read Ringing Bells President Ashok Chadda's full statement, reproduced in its entirety.
While speculation is rife regarding the legitimacy of our occupying the premises we operate from, i.e. our Corporate Office at B-44, Sector 63, Noida 201301 in Uttar Pradesh, we wish to make it clear that the current dispute regarding the nature of business conducted at the property is between Noida authority and our landlord. It is our humble request not to drag us in any controversy.

On Adcom's role, We would like to clarify that they provided some prototypes for the sample Freedom- 251 handed to some special guests including media for initial impression about the way phone would look and behave in future. We have other partners for assembly of our phones. We are happy to share their names on special requests!

The launch of the world's most affordable and the cheapest smartphone Freedom 251 for a price of Rs. 251 by Ringing Bells Pvt. Ltd. has set the world by fire, with the common man rejoicing even in the midst of some unfavourable controversy. Citing heavy demand, we have now announced that we are no longer taking bookings on Freedom 251.

It also requested that our sudden rise be not misconstrued as a fly-by-night operation. The company has already instructed the Payment Gateway to refund the few online payments that came in on the first pre-booking 18/2 date. The mode of payment now will be only Cash on Delivery. The orders placed by the customers are not cancelled but the payment will be taken only on delivery. Ringing Bells hopes to begin deliveries of Freedom 251 by around end of April.

Just as we have been taking due diligence to issues and matter brought forth to the management of Ringing Bells Pvt. Ltd.; we would continue to investigate and respond with due diligence. Rest assured the matter would be taken up with utmost sincerity and necessary action will be initiated according to the requirement. The negative impact some reports carried, has activated a comprehensive emergency response. Battling mistrust and facing severe criticism, the company would never scuttle its idea.

["source-ndtv"]