To celebrate International Women's Day, Honda Motorcycle and Scooter India (HMSI) felicitated 1200 female riders on Tuesday at the Japanese manufacturer's 8 Traffic Training Parks located in Chandigarh, Jaipur, Bhubaneswar, Cuttack, Nashik, Hyderabad, and 2 in Delhi. The traffic parks have given theoretical and practical rider-training to around 15,000 women riders over the last 3 years under the company's exclusive women empowerment initiative called 'Dream Riders'.
Honda takes pride in the fact that it has been providing road safety training at its traffic parks. Recently, it furthered its outreach by signing an MoU with Ludhiana Municipal Corporation for a Traffic Training Park. The Dream Riding initiative helps women riders learn how to ride a 2-wheeler in just 1 day. The 4 hour training module is taught by certified female Honda instructors and is open to women over the age of 18.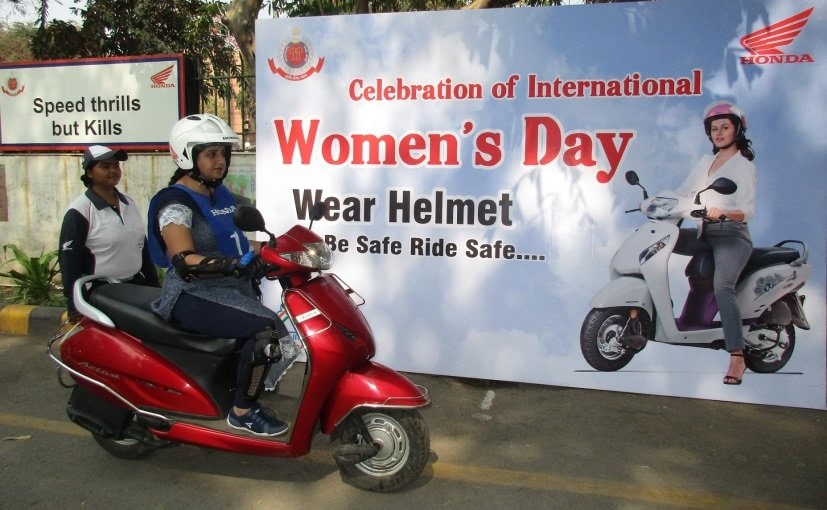 Honda also organized a 'Nationwide Safety Pledge Drive' by installing Pledge Flexes at the premises of all its manufacturing plants, corporate offices, dealerships, authorized spare & service outlets, etc. Sticking to the topic of International Women's Day, special training and seminars on road safety were also given to female riders. To keep things fun and interesting, engagement activities like a road safety quiz and a safety slogan competition were also conducted.
Honda is also empowering women through Vocational Training-cum-Livelihood Centres at the CRPF Campus in Kadarpur, Gurgaon and at Bahucharaji in Mandal Taluka, Gujarat. The 2 centres have already helped 450 female riders develop vocational skills such as tailoring, beautician, making soft toys, incense stick and candle making, etc. The professional set-up will help women realize their dreams by enhancing their confidence.
Upon completing the 2 month course, which includes a balance of practical and theoretical knowledge, the women are awarded a certificate by the National Skills Development Council (NSDC). The centre is women friendly and boasts of a 100 per cent female staff which includes everyone from teachers to administrators. Honda is also providing everything from stationary materials, like books, to other necessary training materials.
Mr Yadvinder S. Guleria, Senior VP of Sales and Marketing, HMSI, said," On the International Women's Day, we are celebrating the rising empowerment amongst woman of today. At Honda, we believe that achieving independence of mobility is crucial to securing the future. When you empower a woman, you empower a family."
"Through Honda's Dream Riding Initiatives and other long-term vocational training modules at our 8 traffic-training parks, our women safety-instructors have helped more than 15000 women realize their dreams of mobility and independent livelihood in last 2-3 years," he continued.
["source-ndtv"]