US President Donald Trump's daughter Ivanka Trump – a lifestyle brand entrepreneur, former fashion model and senior advisor to her father at the White House – has often made headlines for her interesting fashion choices.
From designer dresses, gowns to pant-suits, Ivanka has donned all with utmost grace and elegance. However, figure-hugging sheaths, stilettos and bare legs have been her signature style. And although the first daughter, who has been in news ever since her father became president, is known to have a great sense of style, she has had some fashion fails as well.
More than once, Ivanka has landed herself in hot water in Twittersphere, where she has been criticised for having dual standards. She has been slammed for sporting unaffordable garments and at the same time trying to portray herself as an advocate of 'women who work'.
But, the 35-year-old has had her share of praises as well. Her intelligent wardrobe selections aren't just meant to impress the fashion police but are a conscious effort to make a statement and to be noticed.
In 2007, she launched her jewelry collection and introduced the Ivanka Trump Collection, her fashion and lifestyle brand. In 2010, she came up with her own shoes and clothing line and in 2011, she introduced a line of handbags. And although her brand was quite a successful one, she has had to distance herself from it ever since the Trumps were associated with the White House.
Whatever said and done, Ivanka's fashion selections have been a talking point since she became first daughter and here are some instances when she made headlines for her wardrobe choices.


Ivanka dazzled in a champagne Carolina Herrera ball gown which featured a tulle skirt, v-neck cut and sheer long sleeves embellished with crystals at the inauguration ball. While each one of the Trumps was dressed in their best attires for an evening of celebration, Ivanka stole the show as she shimmered in the beautiful gown.
Being a fashion entrepreneur herself, Ivanka embraces fashion trends like a pro. From sporting millennial pink, donning monochrome dresses to flaunting ruffles, the first daughter has been snapped embracing these trends recently.
For one of her interviews with the press, Ivanka wore a pink ruffled sleeve dress.
Earlier, Ivanka had sported a vibrant red and white $2,490 frock by Carolina Herrera that featured a large ruffle hemline. She looked lovely in the patterned outfit as she teamed her dress with shades, strappy nude heels and a matching nude handbag from her eponymous collection.
Ivanka looked chic in a black-and-white cocktail dress which she teamed with comfortable block-heels for the moment when her father, President Donald Trump, signed the American Law Enforcement Heroes Act bill.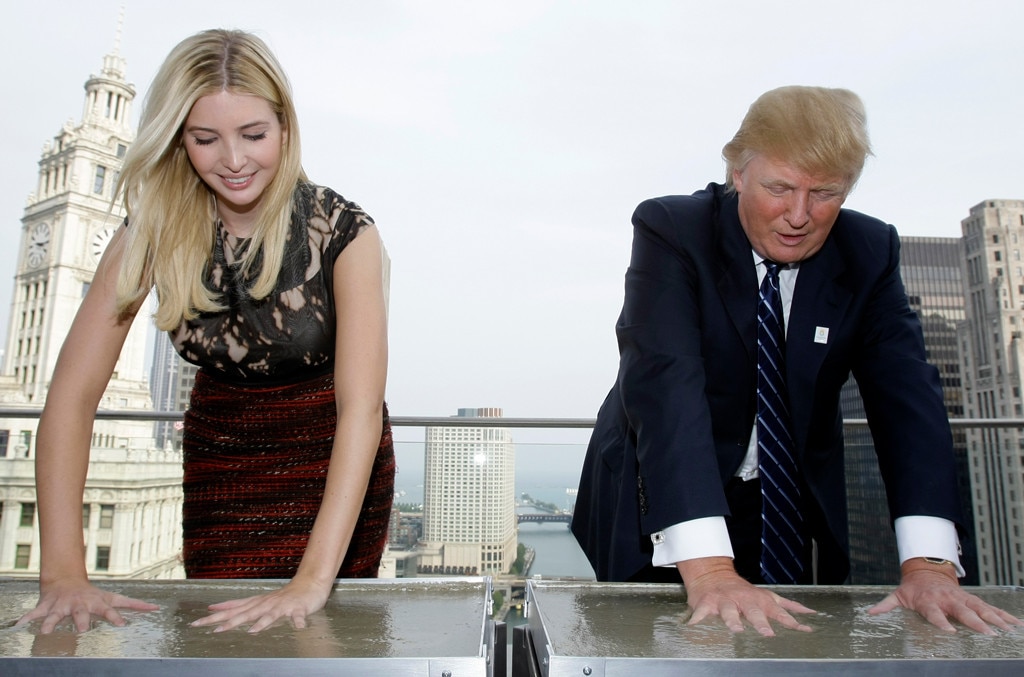 Ivanka's love for fashion is inevitably visible in her choice of outfits. A week ago, the 35-year-old was snapped wearing a little blue dress, label not known but which nipped at the waist, as she stepped out of her house with her son. The mother-of-three paired her elegant dress with nude stilettos, matching nude handbag and a pair of Hollywood-esque black sunglasses. She chose to tie her hair in a messy bun to finish off her look.
Ivanka was lauded for her intelligent and respectful fashion choices during her visit to Israel, which was her father Donald Trump's first international tour as president. The senior advisor to the president ditched her usual, typical floral frocks for a modest black and navy ensemble as a mark of respect to her Jewish faith and in keeping with the strict dress code of the religion. Ivanka converted to Judaism in 2009 when she married Jared.
She sported a Cedric Charlier pleated skirt which was teamed with a textured black and navy top. She covered her head with a fascinator for her appearance in Jerusalem at the Western Wall.
For her visit to the Holocaust museum, Ivanka wore a reserved yet impactful and elegant $5,690 long-sleeved white lace Oscar de la Renta dress. And for her meeting with the Pope, she wore a long-sleeved black lace cocktail dress which was paired with a net veil.
For her visit to Berlin – her first solo trip as an official advisor to her father, Ivanka chose to use fashion as a medium for diplomacy and she sure managed to steal the show.
For her first major appearance on the world stage at the W20 conference that focused on women's empowerment and entrepreneurship, Ivanka, instead of opting for power suits, went for a softer approach and donned a Michael Kors floral tea dress. And while she intelligently supported the 'Buy American, Hire American' policy by choosing to wear a dress by an American designer, she also put at display her bold side by choosing a distinct 70s wallpaper print-styled dress. And though the dress was feminine in every sense, it wasn't a shy choice.
Ivanka stunned onlookers in a beautiful black polka dot dress which featured a thigh-high slit for the White House Governors' Ball. The ensemble reportedly cost a whopping $4,295.
In what seemed like an attempt by the first daughter to seem 'normal' and her dress 'affordable', she was recently spotted wearing a $35 black, knee-length Target dress from Victoria Beckham's line, that featured a ruffled bottom and calla lily applique. In the past, the 35-year-old, mother of three has been slammed for 'tone deaf' fashion choices. With this pocket-friendly choice, Ivanka seems to be hitting a new audience and making an attempt to change her image.
And while most of the first daughter's outfits were a hit, there were misses too. Ivanka's one-shoulder maroon dress, courtesy a French designer, that she wore for her father's first speech before a joint session of Congress garnered mixed reactions. While some approved of the ensemble, others criticised her for wearing a cocktail dress to a rather formal event. Also, others pointed out that her choice of outfit reeked of hypocrisy since wasn't in sync with her father's 'Buy American, Hire American' policy.
But this wasn't the last time that Ivanka was slammed for her fashion selections. On the day President Trump announced the controversial travel ban and the streets in US were filled with protesters, refugees were being detained at airports as a result of the executive order, Ivanka stirred another controversy by posting a photo of herself posing in an expensive silvery evening gown. The ensemble was estimated to be priced at a whopping $5,000.
Recently, Ivanka's Congressional picnic dress sparked an online debate with social media users discussing if her floral number was appropriate to be worn at the event, as it revealed too much. Ivanka's Reformation dress featured an off-shoulder silhouette with a ruffle around the first daughter's chest and upper arms. She paired the dress with blue lace-up flats from her eponymous collection.