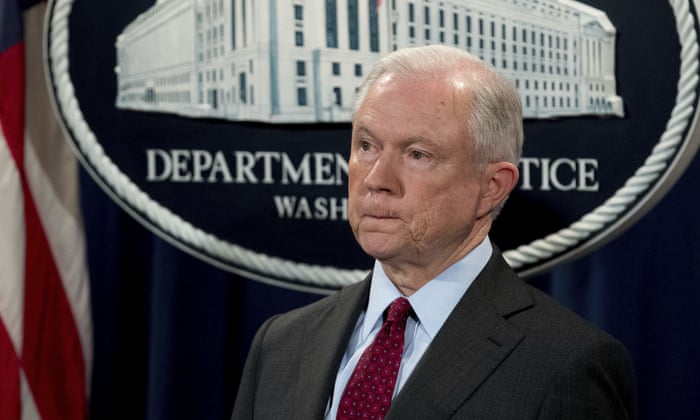 Jeff Sessions. Photograph: Andrew Harnik/AP
The US attorney general, Jeff Sessions, said on Thursday that he would continue in his job "as long as that is appropriate", despite Donald Trump's barrage of criticism of him.
Trump had told the New York Times in an interview published late Wednesday he regretted giving Sessions the job after Sessions recused himself from matters relating to investigations into links with the Trump campaign and Russia.
The president is upset over Sessions stepping aside on the issue and Robert Mueller subsequently being appointed as the special counsel investigating possible ties between Trump and Russia.
As Mueller's inquiries expand, Sessions appeared at a press event on Thursday and gave a muted defense of his continued work to further the president's agenda. Sessions said: "I have the honor of serving as attorney general. It's something that goes beyond any thought I would have ever had for myself. We love this job. We love this department and I plan to continue to do so, as long as that is appropriate."
Trump also harshly criticized two of Sessions' deputies, both leading law enforcement officials who also took the podium at a press conference Thursday morning after facing headlines focused on the president's very personal and very public criticism.
But at the center of Trump's attack was Sessions, the former senator from Alabama who was forced to step aside from the investigation into possible Russian collusion with the Trump campaign in March after meetings he had failed to disclose with the Russian ambassador came to light.
"Sessions should have never recused himself, and if he was going to recuse himself he should have told me before he took the job and I would have picked somebody else, " Trump said in the interview.
Asked how he could continue to serve without the confidence of the president, Sessions said: "We're serving right now.
"We wholeheartedly join in the priorities of President Trump," he said, adding later, "I am totally confident that we can continue to run this office in an efficient way."
The deputy attorney general, Rod Rosenstein, who also faced criticism from the president over his being from Baltimore, a largely Democratic city, echoed his boss's comments and defended the justice department's focus on the president's agenda.
He also suggested he had no intention of stepping down. "I was proud to be here yesterday, I'm proud to be here today and I will be proud to work here tomorrow," Rosenstein said.
At a brief justice department press conference over a collaborative law enforcement takedown of the dark web site AlphaBay, Sessions touted the department's success in fighting transnational crime, and noted that the case was an example of the department carrying out one of the president's own priorities.
After three questions, reporters were asked if any of them had questions about the AlphaBay case. When not a single reporter raised a hand, the press conference was abruptly ended.
Sessions left the briefing room to reporters' repeated, shouted questions: "Attorney General Sessions, will you not resign?" One reporter asked if Sessions feared being "seen as a zombie attorney general". He made no answer.
Sessions spoke after it emerged late Wednesday that the president's son, Donald Trump Jr, along with the former Trump campaign chairman Paul Manafort, are scheduled to testify publicly before Congress next Wednesday about Russia.
["Source-theguardian."]