What is that one image that comes to your mind when you think of Salman Khan ad his kitschy Judwaa? For me, it is the two Salmans coming face-to-face with each other as they stand at a urinal, doing the deed. Now, more than two decades later, David Dhawan — the original's director — is bringing the comedy caper back with son Varun Dhawan playing the lead role. On his 65th birthday today, the film's poster was released. In it, we meet the two Varuns, both coming out of a taxi painted with colours of the Union Jack and looking a bit bamboozled. There is not a urinal in sight.
View image on Twitter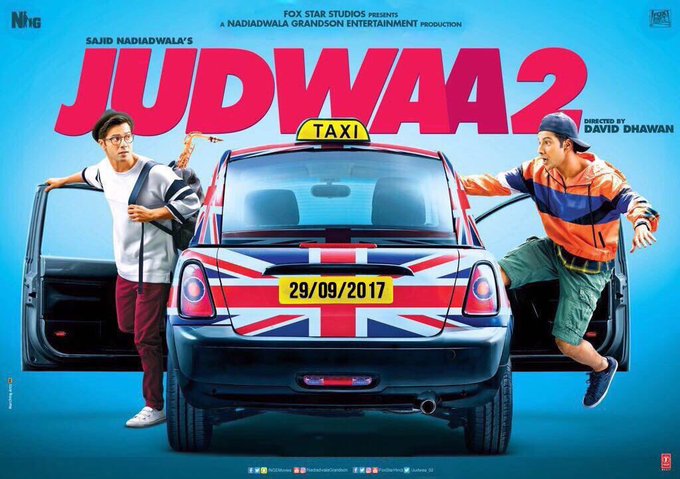 And here's the original Judwaa…
Unlike Salman's Raja, the roadside Romeo and a small-time crook, none of the two Varuns carry that roadside chhap. While one surely looks nerdy (because he is wearing glasses, geddit?), the other looks like Justin Bieber on the day the popstar is in the mood to wear clothes. Raja and Prem — Varun's two characters — are dressed in vogue. The look and feel of the movie is trendy too.
As this is just the first poster, after the first look dropped a few months ago, it works more like what to expect. For more, we have to wait for the trailer to drop on August 21. The film also stars Taapsee Pannu and Jacqueline Fernandez. There has been off-and-on buzz that the stars of the original — Salman and Karisma Kapoor — will be doing cameos in Judwaa 2. The film is being pegged as a Dusshra release.
[source=hindustantimes]