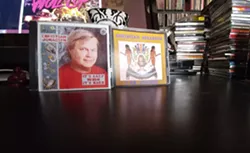 Whither Christian Jonassen?
The day Christian Jonassen came into my life—courtesy of Bob Moss and Mike Kirkland, who handed me a copy of his debut album—was one of the most confusing and happiest days of my life. The towering towhead with ice-blue eyes could've crushed my skull with one swat, but he was soft-spoken and gentle, resembling a huge kindergartener. And his music, while odd, was a revelation. Jonassen's guitar playing could seem clumsy and random, like on "Seascape," where his arpeggios sounds like raindrops. Other times, like on "Jenny," he sounded as though there was an arena-level rock star nesting inside him. He sang strangely, forcing vibrato, arbitrarily emphasizing syllables and over-pronouncing words. But his songs are vivid, genuinely tender articulations of love the belie the fact that they're collected under lusty titles like I Am Aroused(2002) and It's Easy When It's Hard (2007).
As far as I can tell, these are the only two albums Jonassen released, and they're listed on Discogs.com, but not Amazon or eBay. Information about him is scanty online; two websites mentioned in liner notes are dead—but some of his music remains online. "Crazy" from Aroused appeared on the Rebirth of Fool III comp (Dual Plover, 2006) and is downloadable via Dual Plover and the Free Music Archive. A live performance of "The Swedish Girl," filmed by artist/actor/musician Charles Schneider, is on YouTube. An old MySpace page has six tracks from Easy streaming.
I speak about him in the past tense, as though he's passed away. I don't know that he has, only that I can't find him. I truly hope he's still alive, and making music somewhere. If not … well, these two albums—if you can find them—offer a glimpse into the life of a truly unique and sensitive man. Maybe someday they'll be reissued. Until then:
Gracie's Jazz Jam 3rd Anniversary 
In the April 6 issue, we featured Gracie's popular Monday-night jazz jam with sax-master David Halliday and the JVQ (Jazz Vespers Quartet) in our "Bar Fly" column. A week from today, on July 31 from 7-10 p.m., the event—which Halliday says has seen hundreds of local musicians participate over the years—celebrates its third anniversary with its 153rd jam. Congratulations to Halliday, the JVQ, Gracie's and the jazz community on the milestone!
On Thursday, Aug. 3 at 8 p.m., the Jazz Vespers Quartet presents a free encore performance of their swing show as part of the Excellence in the Community concert series at the Gallivan Center. The show will be recorded for a live album that the JVQ hopes to finance—along with two separate albums of jazz standards and originals, respectively—through a crowd funding campaign. In addition, the group is mixing and mastering material from their Jazz Vespers nights at the First Unitarian Church, which has been running since 2011.
["Source-cityweekly."]