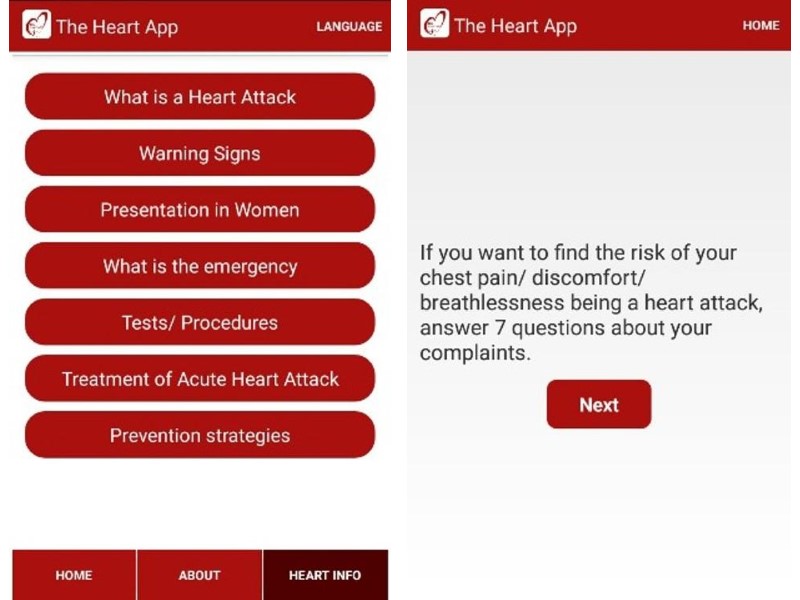 A cardiologist at Max Super Speciality Hospital in Saket New Delhi has developed a smartphone app that can help people know the warning signs of a heart attack in advance and take corrective action.
The "Heart App" developed by senior interventional cardiologist Rajeev Rathi has a small set of questions with multiple options. These are the questions that a cardiologist would ask in a case of suspected heart disease.
A patient in any kind of chest discomfort, uneasiness or breathlessness can go through these questions selecting the options applicable to him/her.
Taking into account all the responses, the heart app reaches a conclusion whether the symptoms entered by the patient fall into high risk for heart disease, an official statement said.
In addition to the questionnaire, the app has reading material about heart attacks, their warning signs, and treatment in a simple and concise manner which the users can quickly go through and if required, refer to in their time of need.
Many a time there are warning symptoms even few days before the onset of heart attack, which if treated could even prevent a full blown attack.
Unfortunately, the general population remains largely unaware of these symptoms and unable to recognise the warning signs.
"I have seen innumerable cases where the patient has ignored his symptoms for days and by the time he reaches hospital, the damage is too substantial and irreversible," Rathi said.
"Had he realised the gravity of his symptoms and sought medical attention earlier such an outcome could have been avoided," Rathi noted.
He said this is what drove him to find a way to prevent people from ignoring the warning signs.
"An experienced doctor always asks some pertinent questions even to a seemingly ordinary patient suffering from acidity to rule out a heart disease but a common man does not know how to do that. This gave birth to the idea of the heart app," Rathi explained.
"I wanted this power of the doctor to be able to sift through normal and find abnormal to reach the masses. This is how the heart app came to be and that is why it is free," he added.
In a pilot study comparing the results of app with those of doctors, Rathi found the app results to be in sync with those of doctors.
"The Heart App is just an aid, it can never replace the clinical judgement of a doctor. Its main purpose is to educate the society, prevent people from unwittingly ignoring serious symptoms and seek timely medical attention thus saving their and their loved ones' lives," Rathi cautioned.
Any smartphone user can download the app for free from Google play store as well as Apple store, the statement added.
["source-ndtv"]