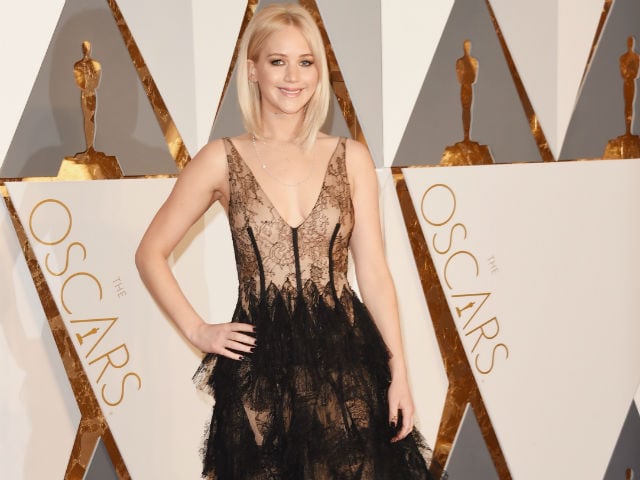 Jennifer Lawrence photographed at the Academy Awards on February 29. (Image Courtesy: AFP)
Brie Larson wore Gucci, the label revivified by Alessandro Michele: a billowy, bold, blue ruffled frock whose lightness was bisected and somewhat weighed down by a large jeweled belt. Cate Blanchett returned to one of her regular sponsors, Armani, who made over red-carpet dressing in the 1990s with beige and subtle sequins
(Fashion Review)
Turns out the Oscar outfits were also white, #SoWhite…#SewWhite. Not merely the fabrics – though the nominee Rooney Mara looked like a medieval-castle bride in a Givenchy gown of cream translucent tapestry with a window over her midriff – but the fashion houses.
At an event being excoriated if not boycotted outright for its neglect of minorities, the red-carpet parade, in recent years derided for objectifying women, might have been claimed this year by nimble stylists as an opportunity to champion designers of color and independence.
But instead, viewers were treated mostly to a numbing procession of corporate labels including Chanel (Julianne Moore, in a deeply V-necked black gown with glitter banding and triangular straps), Dior (Charlize Theron, in a deeply V-necked red gown with low back and spaghetti straps) and Louis Vuitton (Alicia Vikander, the winner for best supporting actress, who in her strapless lemon-yellow frock covered hither and thither with silver sprinkles resembled a very slender cupcake).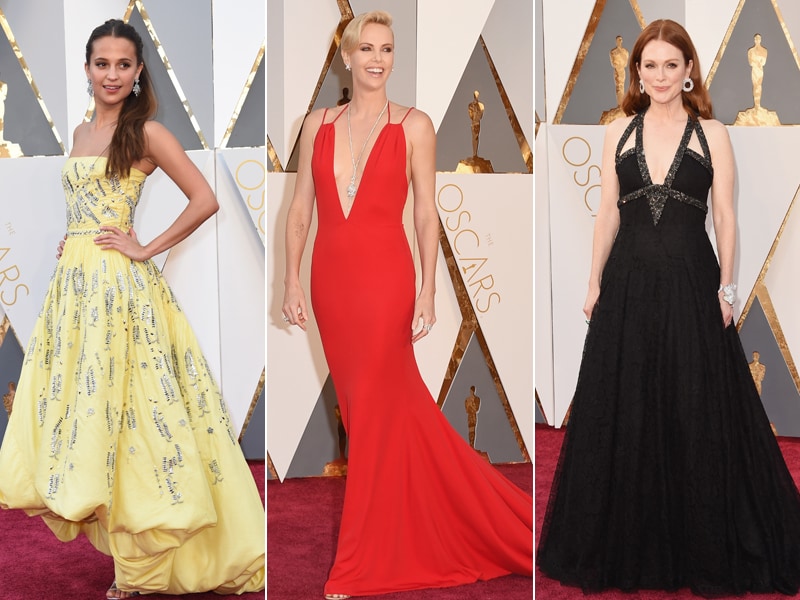 Thus was represented France. Then there was Italy. Brie Larson wore Gucci, the label revivified by Alessandro Michele: a billowy, bold, blue ruffled frock whose lightness was bisected and somewhat weighed down by a large jeweled belt. Cate Blanchett returned to one of her regular sponsors, Armani, who made over red-carpet dressing in the 1990s with beige and subtle sequins but here came up with something suitable for a fairy princess leaping frantically between lily pads to get to her frog: sea foam and flecked with fluttery flowers.


And then came the New World. Kate Winslet was in basic black Ralph Lauren, also strapless, and so shiny that it seemed she might have just returned from a dip off the deck of the Titanic, cleverly accessorized with her former co-star in the movie about that doomed ship, Leonardo DiCaprio. Saoirse Ronan specified to her interrogator that she had her simple Calvin Klein slipdress rendered in lucky shamrock green, to reflect her Irish heritage. "Everyone comes from somewhere else," she said pointedly. "We all came off the boat."


But in this United Nations convention of clothes were some notable absences. Where, for example, was the work of Jason Wu, whose inauguration dress Michelle Obama has led to a career lined bounteously in chiffon, but not the expected results on Oscar nights? Or the Nigerian Duro Olowu, whose joyfully juxtaposed prints were sampled by Ronan in an earlier awards appearance? Or Stephen Burrows, who in 1978 produced a gold-mesh slipdress for Farrah Fawcett that is still being knocked off today, in both silhouette and shade?
Actually gold, often worn for its associations with winning, mostly stayed in the background this evening, as did silver – though the veteran actress Charlotte Rampling, besieged after comments seized upon by some as racist, appeared in what amounted to armor: a modest chain-mail caftan by Armani Prive.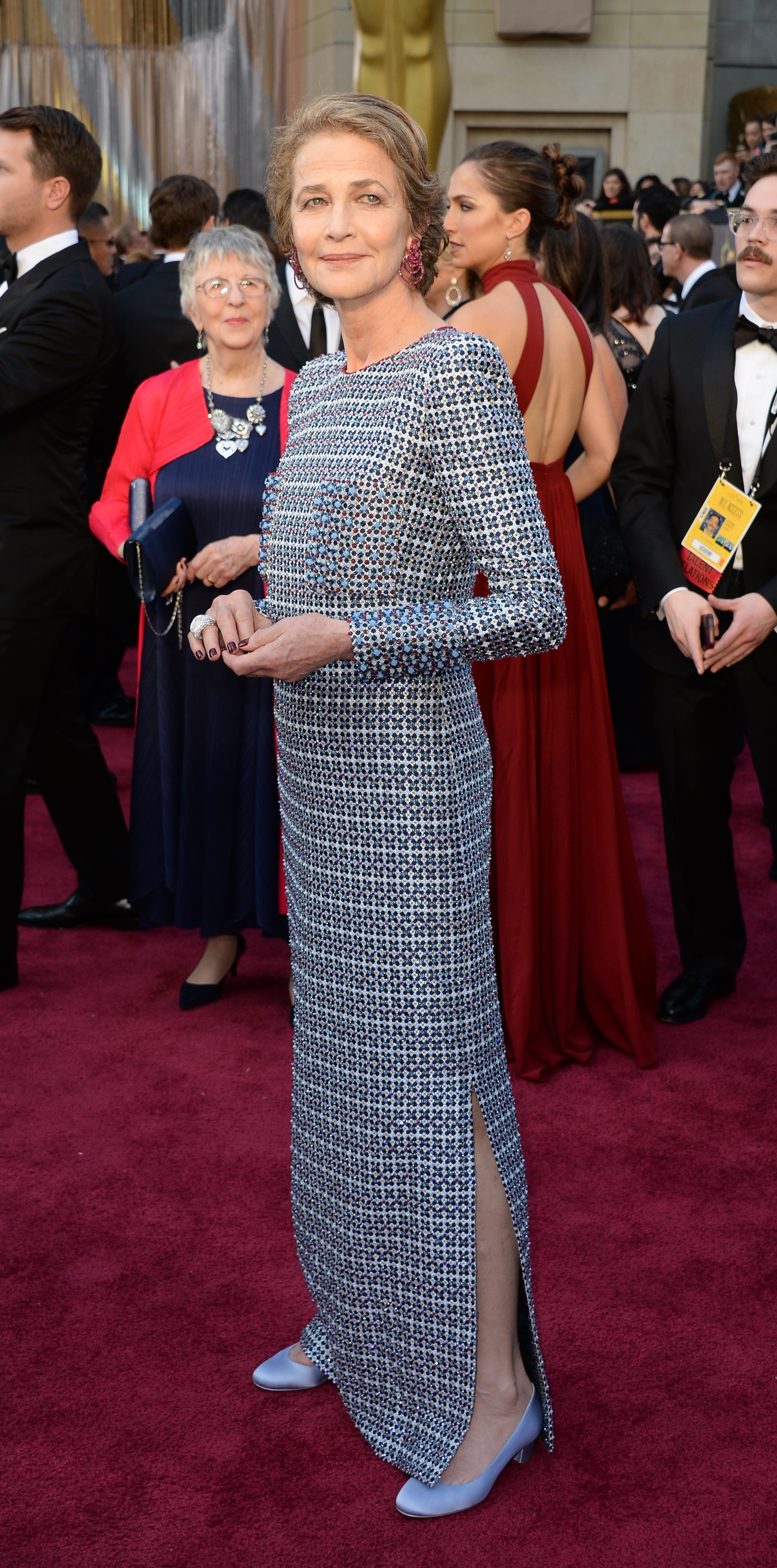 In the place of these metallics was purple, appropriately enough for a ceremony that anoints Hollywood royalty. It was modeled by Reese Witherspoon in an Oscar de la Renta ball gown, strapless again, with a boned bodice that ended in asymmetrical poufs. Tina Fey had on an almost identical dress (from Atelier Versace), but the top was sleeker. The model and entrepreneur Heidi Klum, meanwhile, brought a rare and rather refreshing dose of goofy with purple's little sister lavender, a chiffon confection fastened by rosettes by Marchesa, whose single arm recalled a decades-old experiment by Kim Basinger.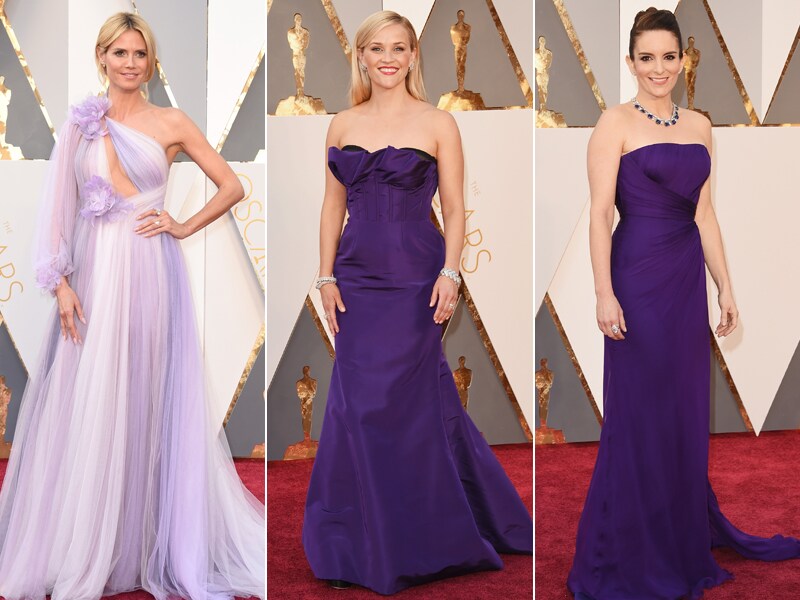 The only other truly outre effort was by the costume designer of Carol, Sandy Powell, whose homage to David Bowie – a teal brocade pantsuit worn with shock of orange hair – was so transformative that onlookers had her confused with Tilda Swinton for several minutes. (Also Read: Oscar Fashion: Top Trends Spotted on the Red Carpet)
Jennifer Lawrence displayed her summit-of-the-A-list status by showing up too late to name-drop the designer of her filigree-black lace dress, its skirt topped with jagged points and its upper half utterly lingerie-like. (It was by Dior, a brand she represents.) Her counterpart in the youthful contest for maximum sex appeal was Olivia Wilde, the producer of a documentary about the Ebola virus: gorgeously incongruous in white Valentino couture, whose apronlike front would surely draw an R rating from the Motion Picture Association of America. It was topped with a silver mesh collar.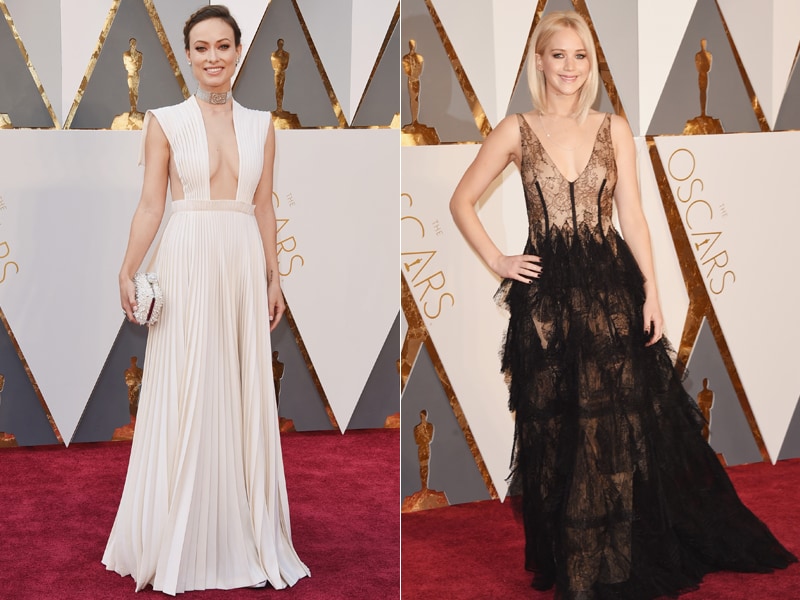 ["source-ndtv"]