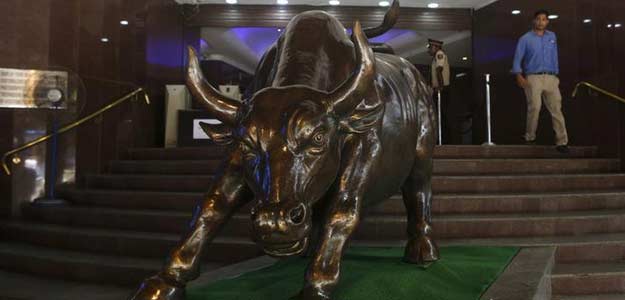 Mumbai:
Indian stock markets took a breather on Friday after four sessions of gains with shares swinging both ways, but the indexes were still poised for their best weekly gain in more than four years after the government unveiled a fiscally prudent federal budget.
Investor sentiment has improved after the government stuck to its fiscal deficit target for the next financial year, raising hopes the Reserve Bank of India would soon cut key policy rates.
Shares in state-run lenders rallied this week after the Reserve Bank of India said it would ease capital requirement rules.
The NSE banking index has risen 10.2 percent this week and is heading for its best weekly gain in nearly two years.
The gains have also come amidst an improving global market environment. Asian shares looked set to post their strongest week in five months after a string of positive U.S. economic data and a bounce in oil and commodity prices.
But barring an expected rate cut from the RBI, traders anticipated markets to remain largely range-bound as the prospect of falls in global markets and crude oil prices could cap gains.
"Some consolidation is the need of the hour given the kind of run-up we had already seen," said Gaurang Shah, vice president at Geojit BNP Paribas Financial Services.
"Next week trigger will be in the form of a rate cut, if it comes through."
At 0855 GMT, the broader Nifty was up 0.24 percent at 7,494 while the benchmark BSE Sensex was up 0.28 percent at 24,676.16.
Both the indexes have gained 6.4 percent this week, their biggest weekly gain since December 2011.
Software stocks such as HCL Technologies, Tata Consultancy Services and Tech Mahindra shed between 0.5 percent and 3 percent on Friday.
Shares were hit by profit-taking after the S&P BSE Information Technology index gaining 4.6 percent this week, heading for its best weekly gain in more than 7 months.
Lenders such as State Bank of India and Punjab National Bank rose between 3 percent and 6 percent on Friday as the second edition of an annual bankers' conclave, 'Gyan Sangam', kicks off amid hopes government and financial institutions will outline the reform agenda for state-owned banks.
["source-ndtv"]