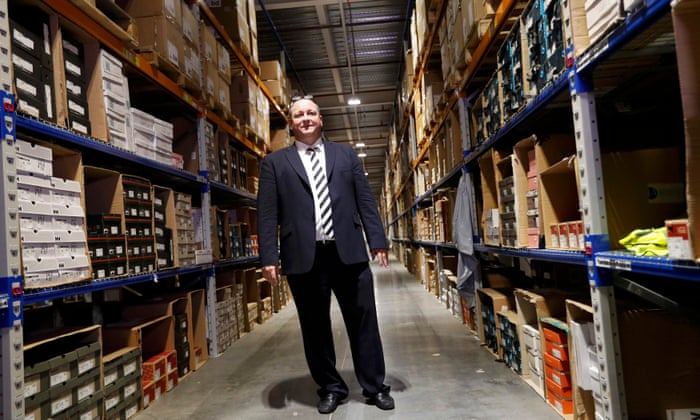 Mike Ashley, founder and majority shareholder of sportwear retailer Sports Direct, at the controversial Shirebrook warehouse. Photograph: Darren Staples/Reuters
It added that it had "taken steps to promote stability for [these groups of workers] by ensuring changes to scheduled hours by the company [were] kept to a minimum".
It said: "Our research found that in common with surveys by other companies, the vast majority of our casual staff wish to remain on flexible arrangements."
The company has elected a worker representative to sit on its board and said he would continue to ensure good practice. But Tuso said: "[Sports Direct] missed a crucial opportunity to give investors and stakeholders the reassurance that they are 100% committed to dealing with well-documented workplace abuses and corporate governance failures" by going back on a promise to appoint an independent party to conduct a "360 degree review" of its corporate governance.
After more than one candidate backed out, the company in January appointed the law firm RPC which has a long history of working for Sports Direct.
Hellawell has pledged to step down if more than half the group's independent investors fail to back him at Wednesday's AGM. Last year, more than half of independent shareholders voted against the chairman, forcing the company to hold a second vote in January where he was kept in place only with the backing of Ashley, who owns more than half of Sports Direct's shares.
["Source-theguardian"]