It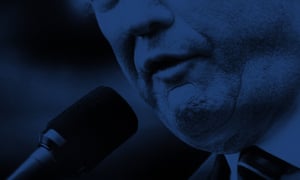 may be that you caught a couple of things Donald Trump said or did this week; it's not every day the president of the United States fires the FBI chiefinvestigating his own campaign. But a few other key moments may have passed you by.
Last weekend
As supporters and opponents digested the provisions of the healthcare bill passed by the House, Trump enjoyed a couple of days at his golf club in Bedminster, New Jersey. Meanwhile a letter revealed the Pentagon was finalising a lease on a privately owned apartment in Trump Tower for the use of the White House Military Office, which carries and safeguards the "football", the device that contains the top secret launch codes the president needs if he wants to order a nuclear attack.
Monday
Former acting attorney general Sally Yates told senators she had warned the White House on 26 January that then national security adviser Michael Flynn was "compromised" and open to blackmail by the Russian government. "Logic would tell you that you don't want the Russians to have leverage over the national security adviser," she said. Flynn remained in his post until 13 February, when he was forced to resign over his contacts with Russia. It also emerged that Barack Obama had warned Trump against hiring Flynn. And the former director of national intelligence, James Clapper, testified that classified memos contained "overwhelming" evidence that Russia had tampered with the 2016 election.
Tuesday
The day began with Trump's aides postponing a meeting on whether the US should remain in the Paris climate agreement, and White House press secretary Sean Spicer claiming that Yates was a political opponent so her January warning about Flynn could safely be ignored. But all that was blown away in the early evening by the shock news that Trump had decided to fireFBI director James Comey. The president gave the reason as being Comey's handling of the Hillary Clinton email investigation before last year's election, something he had praised at the time. But it was notable that his letter dismissing Comey contained the claim that the FBI chief had informed him, "on three separate occasions, that I am not under investigation". White House aides said Trump had fired Comey on the recommendation of deputy attorney general Rod Rosenstein, that Comey had lost the confidence of rank and file members of the FBI, and that it had "nothing to do with Russia".
Wednesday
As Democrats called the firing Nixonian and some Republicans struggled to justify it, FBI agents were widely reported to have been angered and disturbed by Comey's dismissal and it was reported that before his firing Comey had requested additional resources to conduct his investigation into Russia's interference in the 2016 election. In a strange coincidence of timing, Trump held a meeting with the Russian foreign minister and Russian ambassador in the Oval Office. Thousands of miles away in Sochi, Vladimir Putin, in full hockey outfit, said he had nothing to do with the dismissal of Comey as he prepared to take to the ice for a match in which he scored six goals. Meanwhile the Senate intelligence committee issued a subpoena for Flynn as part of its ongoing investigation into the Trump camp's ties to Russia.
Thursday
Contradicting his spokespeople and his own letter firing Comey, Trump told an interviewer he was thinking about "this Russia thing" when he dismissed the FBI chief and that he had decided to sack him even before the deputy attorney general had recommended he do so. The president also repeated his claim that there were three occasions on which Comey had assured him he was not under investigation. "I actually asked him, yes. I said, 'If it's possible would you let me know, am I under investigation? He said: 'You are not under investigation.'" And he claimed Comey had said he wanted to stay on as head of the FBI, to which Trump replied: "I'll, you know, consider and see what happens." Other reports claimed Trump had asked Comey for loyalty and Comey had offered only "honesty". The acting head of the FBI, meanwhile, said on Thursday that Comey enjoyed broad support among its staff, as Trump reportedly cancelled a planned visit to FBI HQ.
Friday
Trump's attempt to squash the ever-widening controversy by unleashing a barrage of tweets on Friday morning perhaps predictably had the opposite effect. The president repeated his claim that the accusations of collusion between his campaign and Russia being investigated by the FBI were "fabricated by Dems as an excuse for losing the election". He attacked the "Fake Media" but with no sense of contradiction immediately followed that with a defence of his aides' inaccurate and misleading press statements throughout the week, claiming "perfect accuracy" was too much to ask of his spokespeople because he was a "very active President with lots of things happening". He suggested replacing press briefings with written statements instead, although he himself had contradicted his own written letter to Comey earlier this week in a later interview. He capped the tweetstorm with a threat to Comey which seemed to imply he might have recorded their conversations. "James Comey better hope that there are no 'tapes' of our conversations before he starts leaking to the press!" The menacing tweet was only likely to fuel comparisons with Richard Nixon, whose taped meetings in the Oval Office led to his resignation in 1974.
[Source"cnbc"]