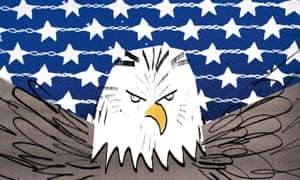 Illustration by Ellie Foreman-Peck
Donald Trump will brook no opposition to his revised executive order on refugees and immigrants, which includes a four-month ban on refugee resettlement while the administration analyses the vetting system. But as a policy, it is cruel and counterproductive, stranding some of the most vulnerable and most vetted people in the world. The fact that implementation of the new order may prove to be less chaotic than the previous one does not lessen the fact that the plans will do real damage to refugees and to America's reputation.
The revised ban imposes a 120-day moratorium on refugee arrivals. That immediately leaves families who have passed the vetting procedure stranded. We estimate there are 60,000 refugees in this category. Some will have sold everything in anticipation of travel. Others will have terminated leases on rented housing.
The myth underpinning the executive order is that refugees are waived into the US without checks. In fact, there is an average of 18-24 months of forms, interviews and biometric checks. Twelve to 15 US government agencies are involved. It is harder to get to the US as a refugee than via any other route.
It is notable that the order allowing for a four-month freeze on refugees entering the US was signed four months before 4th of July – which marks the national celebration of America's founding ideals. It will be especially ironic if the administration is set on gutting the refugee resettlement programme that has been a huge success in the US. It is a public-private partnership that works. It has brought generations of refugees to the US and turned them into patriotic and productive citizens. And it plays a symbolic as well as substantive part in global humanitarian policy.
There is obviously substantive value in the new life offered to refugees – 47% of the Syrians so far resettled in the US are children. But there is also a symbolic value. Poor and lower-income countries around the world – countries such as Uganda, Kenya, Lebanon, Jordan – are hosting millions of refugees. When countries like the US stand with them it makes a difference.
Last week I visited Lebanon, a country home to 1.5 million Syrian refugees. People there find it laughable when western countries make a fuss about tens of thousands of refugees. The agenda there is about how the international system offers economic help in return for hosting refugees. But it is also about the ability of richer countries to take some of the load.
Little noticed in the furore has been the reduction in the overall number of refugees from President Obama's time: 110,000 to 50,000. Alongside the four-month pause – double that introduced after 9/11 – is a dagger at the heart of US leadership on refugee resettlement.
When countries in the west refuse refugees from the Syria crisis, there is only one winner: those who would say that Muslims should never trust the US and other western countries, including Britain. It is a propaganda gift for extremism to halt the slow flow of refugees into the western world. That is why this aspect of US domestic policy has foreign policy consequences. The fact that it should be coupled with the UK's decision to deny entry to unaccompanied child refugees, and a toxic debate in the rest of Europe about the obligations of western countries to refugees, only underlines the point.
The grave consequences of this order were articulated by more than 100 foreign policy experts on both sides of the political aisle. In their recent letter to President Trump, former national security officials highlight that Iraqi refugees are still at risk, despite the country's removal from the 90-day ban, because of the 120-day suspension of the US refugee admissions programme and the overall reduction in refugee admissions.
National security officials know that maintaining the integrity of America's successful resettlement programme is key to the country's ability to provide global leadership, stating: "America's much-admired compassion and openness are sources not of weakness but strength. These qualities accord with the ideals on which our nation was founded, and on which our greatness rests."
This sentiment is also echoed by officials and community groups across the country that have been welcoming refugees. What began as an outpouring of support for humanitarian reasons led to an economic revitalisation in cities across the US. The population in Buffalo, New York, stopped falling for the first time in decades because refugees moved into vacant houses and businesses. Rust belt towns and areas along the east coast are now considering incentives to connect refugees and other immigrants with vacant jobs and homes.
Attorney generals from Hawaii, Washington, Oregon, New York, Maryland and Massachusetts are also challenging the ban by pushing for a temporary restraining order in court, submitting more than 70 declarations of people and groups affected. These include tech companies experiencing revenue losses; universities and medical centres that rely on foreign doctors; and residents who remain separated from their families.
It is perfectly legitimate for a new government to review security protocols. What makes no sense is to suspend an existing successful programme. That defies logic but also strategic common sense. The sooner the review i
["Source-"]