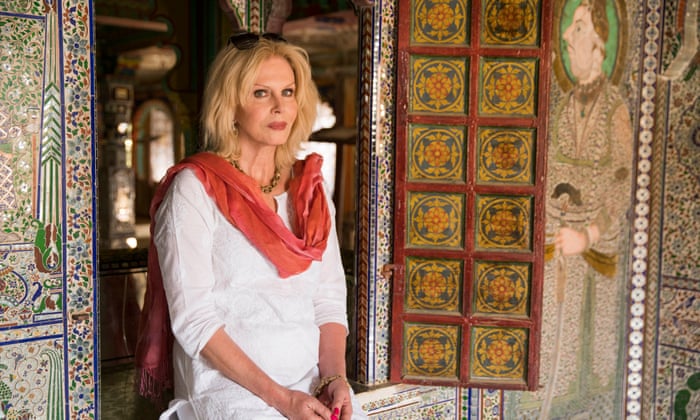 On a charm offensive … Joanna Lumley's India, ITV. Photograph: ITV
Joanna Lumley's India 
9pm, ITV
A three-part charm offensive from Joanna Lumley. As ever, it's the lightly worn personal history ("When I was a model … where my grandfather was a political officer …") and unforced people skills ("Hello, sweetheart") that you tune in for as much as the travelogue. This time round, though, there's certainly plenty to see – from the tailors' market in Madurai, to tea-growing in Valparai – the latter seen from the motorcycle pillion of Robin, a family friend. John Robinson
The Highland Midwife
8pm, Channel 5
New series about a small team of midwives in a remote location. It's a nerve-racking time for Samantha, who had a difficult first birth, while Anastacia's blood pressure is a cause for concern. With the nearest hospital three-and-a-half hours away with a "potholey, bumpy" journey, the midwives are cautious and gently reassuring. The labour scenes are moving without going into a One Born Every Minute level of detail. Hannah Verdier
The Week the Landlords Moved in
9pm, BBC1
"There are two types of people, winners and losers, and I'm a winner," muses penthouse-dwelling Dan while driving along, Partridge-style. Will he learn humility after he and fellow landlord Jamie experience one of their own cheaply bought properties in the north-east with its broken windows and unhinged doors? Elsewhere, Essex-based landlord Prab endures peeling paint, mould and a rogue electricity meter. Timely and instructive. Ali Catterall
The Windsors
10pm, Channel 4
Many of the laughs derive from absurdly elongated vowels, but The Windsors is never less than a right royal knees-up. This second series adds the exquisite Vicki Pepperdine to the regular cast as a Mrs Danvers-esque Princess Anne. Meanwhile, Harry is worried that his love for American divorcee, Meghan Markle, will cause an Edward VIII-style family rift. Where does this newfound historical perspective come from? "Yah, I'm watching The Crown on Netflix." Ellen E Jones
Fargo
10.30pm, Channel 4
This offshoot of the Coen-iverse continues to appal (in the best sense of the word) and delight in equal measure. A recreation of a staged Moon landing is but one passing treat tonight. Nikki is recovering from the beating she took from Varga's goons, and Ray swears revenge. Varga reveals his plans to expand Emmit's business and handles the police and the IRS on his behalf. It's all about truth and manipulation, explains Varga, who keeps a portrait of Stalin by his computer. David Stubbs
My Son the Jihadi 
9.05pm, PBS America
The jihadi in question was Thomas Evans, a 21-year-old from Buckinghamshire who in 2011 converted to Islam and decamped to Somalia, where he fell in with Al-Shabaab militants and was killed during a raid in Kenya in 2015. This compelling film, shot over nine months, shows the attempts of Thomas's understandably bewildered family – his mother Sally and brother Michael – to make sense of what became of him. Andrew Mueller
Mountain Men
9pm, History
Season six of the reality show that profiles wild-bearded outdoorsmen scattered across various US mountain ranges. In Alaska, lynx hunter Marty struggles with a banjaxed skidoo. In southern Montana, Rich and his beloved truck Wilbur encounter some worrying scat. And in north-west Montana, 73-year-old trapper Tom takes on a young apprentice when, with his chicory-smoked croon, he really should be recording a country album. Graeme Virtue
Film choice

The Imitation Game (Morten Tyldum, 2014) 9pm, Film4Dressed up as an old-fashioned war yarn about how the Brits cracked the Germans' Enigma code, Tyldum's film is a celebration of Bletchley Park's hero, the brilliant mathematician Alan Turing who was subsequently scandalously mistreated by the establishment for his homosexuality. Benedict Cumberbatch's complex performance as the odd stick who found machines easier to deal with than people is the centrepiece of a sophisticated drama.
Live sport
Women's World Cup Cricket: England v South Africa 10.20am, Sky Sports 1. A group stage match from the County Ground, Bristol.
Tennis: Wimbledon 2017 11.30am, BBC1. The third day's play from the verdant lawns of SW19. Round two of the singles begins.
Cycling: Tour de France 12noon, ITV4. A hilly journey from Vittel to La Planche des Belles Filles.
["Source-theguardian"]