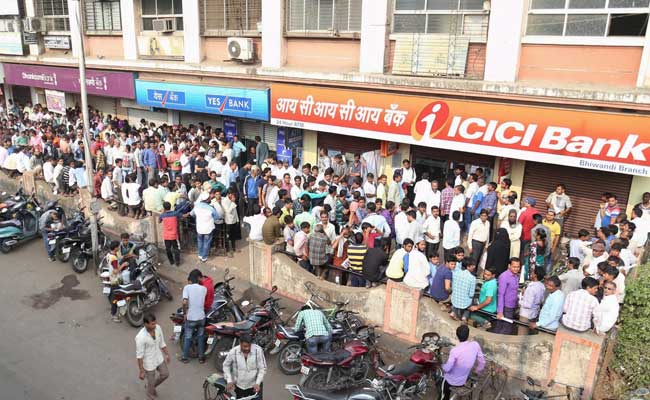 New Delhi:
Banks still struggle to manage huge rush of people thronging branches across the country to exchange invalid currency notes and get cash to meet their daily needs.
Despite some ATMs getting calibrated to dispense Rs. 500 notes, such vending machines are running out of cash because of huge pressure of withdrawal.
Queues at some branches in the metro cities were seen slightly shorter for exchange of old currencies as the process of putting indelible ink has started from yesterday. As a result of this, those who have already exchanged old currency notes are unable to interchange again on the same day due to the ink mark.
At the same time, the ATM recalibration exercise is also going on so that higher denomination currency notes are dispensed as soon as possible.
With the government and RBI struggling to ease cash availability, the small businesses – from vegetable vendors to dhabas and small kirana stores – that use cash as mode of transaction were the worst hit.
A bulk of daily labourers were rendered jobless as construction and other activities came to a standstill in the wake of cement, sand and other supplies not coming in.
Truckers too were reportedly stranded on highways as drivers ran out of valid currency notes, affecting movement of goods in several parts of the country.
Meanwhile, the government today announced many measures, including ease of restriction for cash withdrawal by farmers and wedding family.
At the same time, it has lowered the exchange limit for defunct notes to Rs. 2,000 from the existing cap of Rs. 4,500, effective tomorrow.
The over-the-counter exchange of Rs. 500/1,000 in return of new currency will be available once per person till December 30.
["source-ndtv"]