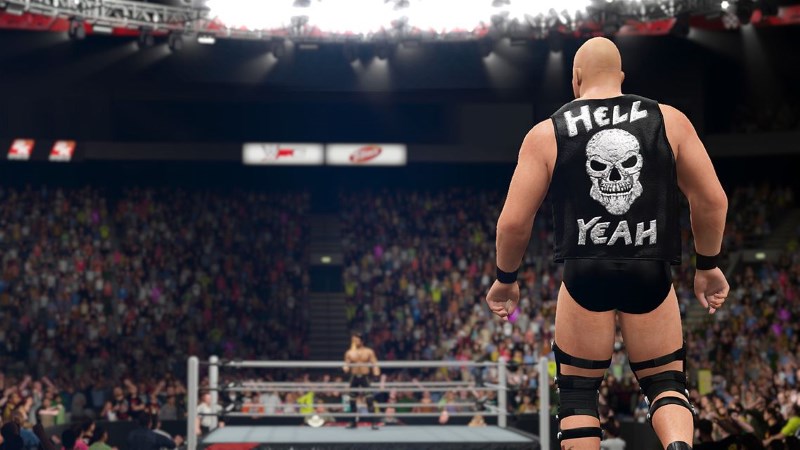 California-based developer 2K Games will continue to develop wrestling games bearing the World Wrestling Entertainment (WWE) moniker and content, the companies announced on Thursday after extending their partnership with "a new multi-year exclusive agreement".
The WWE 2K series is developed in conjunction with 2K's own Visual Concepts and Yuke's – the Japanese developer behind the WWF SmackDown games since its inception in 2000. 2K played up their 18-year history in the agreement, which is a half-lie considering the wrestling franchise was under the now defunct THQ for the first 13 years of this century.
"2K's partnership with WWE over the past three years has resulted in a successful and important addition to the Company's portfolio of profitable franchises," 2K's chief operating officer David Ismailer said in a statement.
The developer will also continue to work on the WWE Super Card games, which was developed by mobile-focused Cat Daddy Game studio. The free-to-play game has been downloaded over nine million times since launch in 2014, the company claimed.
"Our continued partnership ensures WWE remains at the forefront of global video game brands as we continue innovating and publishing our offerings on multiple platforms," said WWE's executive VP for consumer products, Casey Collins.
WWE 2K16 was the latest instalment in the pro wrestling simulation franchise, and was given a score of 8 out of 10 by Gadgets 360's Gopal Sathe, who said, "WWE 2k16 is a strong entry in the series, and feels like a more enjoyable game than the previous entry. That said, it's not changed dramatically – the core gameplay remains similar and if you didn't like the last few games in the series then you'll probably want to skip this one. However, for fans who want the newest rosters and ring improvements, along with a great career mode to play through, this game really delivers." It released in October 2015 for the PlayStation 3, PlayStation 4, Xbox 360, and Xbox One.
The WWE video game franchise was made popular under THQ, with WWE SmackDown vs Raw 2009 one of the most popular iterations till date. The franchise has sold more than 60 million copies, placing it around others such as Battlefield and Just Dance historically.
["source-gadgets.ndtv"]