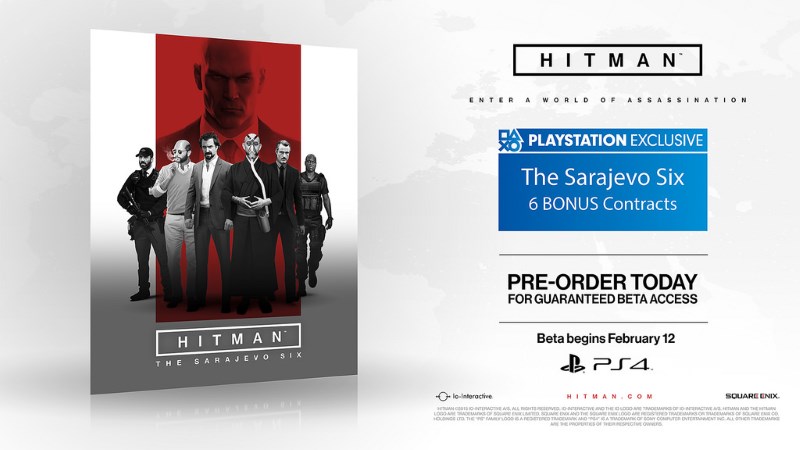 Square Enix has lifted the lid on the story and beta details for its upcoming stealth game, Hitman in an official post on the game's website.
The game will favour Sony's current-gen console, the PlayStation 4 over other launch platforms, with the beta set to arrive on PS4 first on February 12. The company said you can "guarantee" access by pre-ordering any of two editions – the Rs. 1,499 Intro pack or the Rs. 3,999 Full Experience.
(Also see: Square Enix's Lack of Faith in PS4, Xbox One Led to a Host of Problems: Report)
You can also get access to the beta by plonking down more money on the Hitman Collector's Edition, if you are so inclined. The special edition is available for purchase at Games The Shop at Rs. 9,999.
The PS4 version of the game will also receive special content. Called The Sarajevo Six, these side missions will revolve around "former members of a paramilitary unit" and do not interact with the main story. And as with the game, these missions too will be delivered part by part, the first of which will arrive with the game's launch.
In revealing new story details, the developer said it has been inspired by drama TV series in recent history for its approach to storytelling. Hitman's plot would be explained over multiple seasons, as with TV. "To begin with, the overall story and the individual mission stories run in parallel but as the first season progresses, the tracks will merge and become one," Travis Barbour, community manager for Io-Interactive wrote on Wednesday.
Hitman is set for release next month, on March 11 for PlayStation 4, Xbox One and Microsoft Windows. Unlike most AAA titles, Square Enix has opted for an episodic version for the new Hitman.
["source-gadgets.ndtv"]