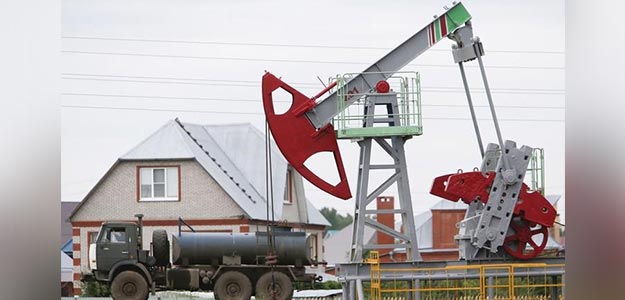 London: Oil prices might have bottomed as production declines in the United States and other non-OPEC producers accelerate and an increase in Iranian supply has been less than dramatic, the International Energy Agency said on Friday.
After a spectacular 2015, growth in global demand was slowing – with India and the Middle East being rare pockets of improvement, the IEA said in a monthly report.
Growth could slow even further if oil prices kept rising, said the Paris-based IEA, which coordinates energy policies of industrialised nations.
Oil prices hit their lowest since 2003, below $30 per barrel, in January on a supply glut stemming from booming U.S. output in recent years and a decision by OPEC to ramp up supply to fight for market share against higher-cost producers.
Prices have since recovered to $40 after the Organization of the Petroleum Exporting Countries' leader, Saudi Arabia, and top non-OPEC producer Russia said they could freeze output.
The IEA said low oil prices were beginning to take a toll on high-cost production and it believed non-OPEC output would fall by 750,000 barrels per day (bpd) in 2016, compared to its previous estimate of 600,000 bpd.
U.S. production alone would decline by 530,000 bpd this year, it said.
"There are clear signs that market forces … are working their magic and higher-cost producers are cutting output," the IEA said.
The IEA said OPEC output fell by 90,000 bpd in February due to production outages in Nigeria, Iraq and the United Arab Emirates, which lost a combined 350,000 bpd.
"Meanwhile, Iran's return to the market has been less dramatic than the Iranians said it would be; in February we believe that production increased by 220,000 bpd and, provisionally, it appears that Iran's return will be gradual," the IEA said.
Iran has promised to add as much as 1 million bpd to global supply after clinching a deal with the West in January to ease sanctions imposed on the Islamic Republic over its nuclear programme.
The IEA said inventories in industrialised member countries of the Organisation for Economic Cooperation and Development had declined in February for the first time in a year although crude in floating storage increased.
The IEA said it nevertheless saw global oil and product stocks rising heavily in the first half of 2016 in the area of 1.5-1.9 million bpd but slowing to just 0.2 million bpd in the second half, versus estimates of a build of 0.3 million bpd in its previous report.
"For prices there may be light at the end of what has been a long, dark tunnel, but we cannot be precisely sure when in 2017 the oil market will achieve the much-desired balance. It is clear that the current direction of travel is the correct one, although with a long way to go," the IEA said.
INDIA SUPPORTS DEMAND GROWTH 
The IEA kept its estimate for 2016 growth in global oil demand unchanged at 1.17 million bpd, or 1.2 percent of the total 95.8 million bpd.
Demand growth has slowed significantly from the near five-year high of 2.3 million bpd in the third quarter of 2015, which was spurred by low oil prices, but it nevertheless remains near the averages of recent decades.
"The risks to global oil demand growth are almost certainly on the downside," the IEA said.
It forecast flat demand this year in the United States, the world's biggest consumer: "But if prices maintain their recent upward momentum there could be further weakness."
China, the world's second-biggest source of demand, will see growth of only 330,000 bpd this year, well below the 10-year average of 440,000 bpd.
"We expect India and other smaller non-OECD Asian economies and the Middle East to provide most of the 2016 growth. The foundations for global demand growth are sound, but not rock-solid," the IEA said.
["source-ndtv"]