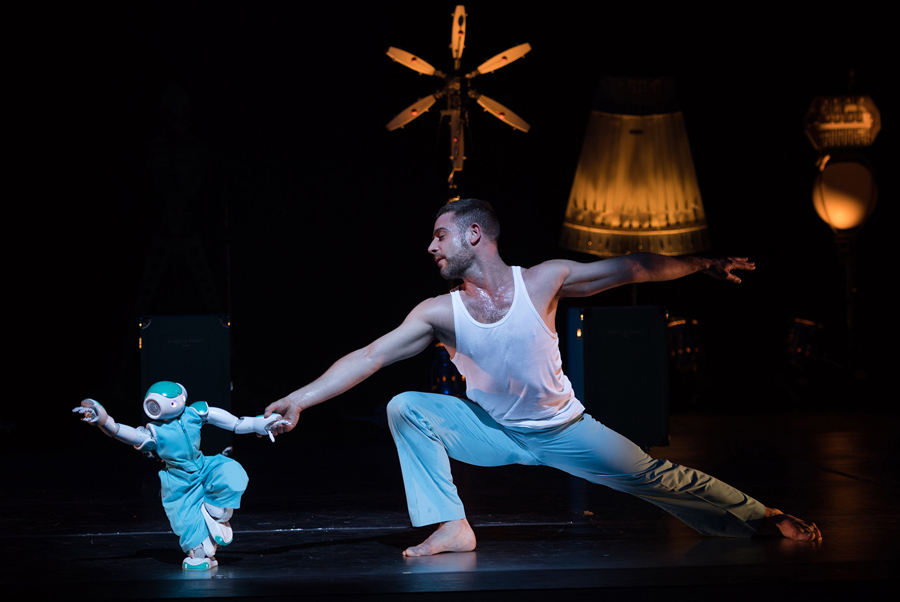 Advancements in robotics are continually taking place in the fields of space exploration, health care, public safety, entertainment, defense, and more. These machines—some fully autonomous, some requiring human input—extend our grasp, enhance our capabilities, and travel as our surrogates to places too dangerous or difficult for us to go. Gathered here are recent images of robotic technology, including an exoskeleton race, an automated copilot for large aircraft, a helper robot for children with autism, autonomous road vehicles, two prototype space rovers, and much more.
Gael Rougegrez of the Blanca Li Dance Company performs "Robot" at Barbican Center on February 22, 2017 in London, England. #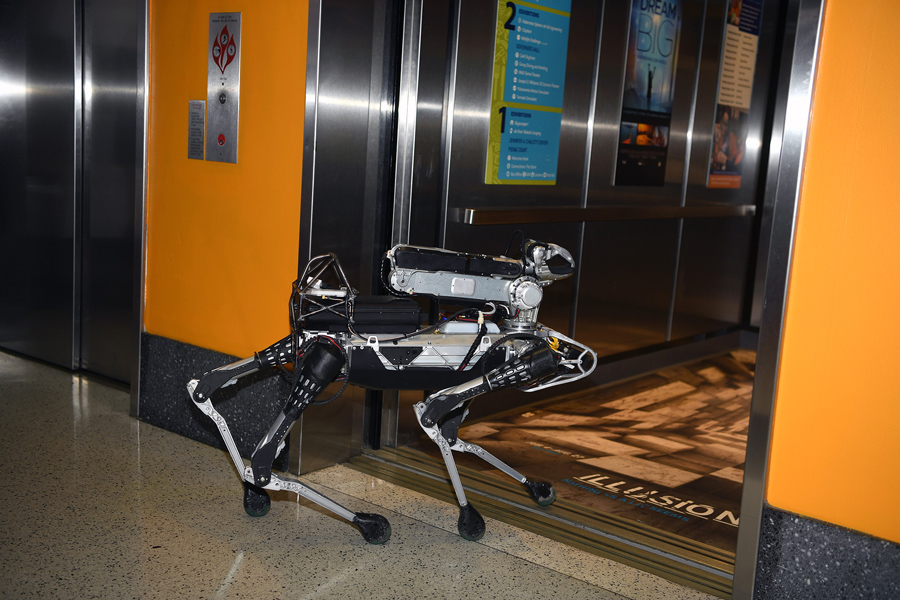 SpotMini, Boston Dynamics Marc Raibert's dog-like robot, enters the elevator during Genius Gala 6.0 at Liberty Science Center on May 5, 2017 in Jersey City, New Jersey. #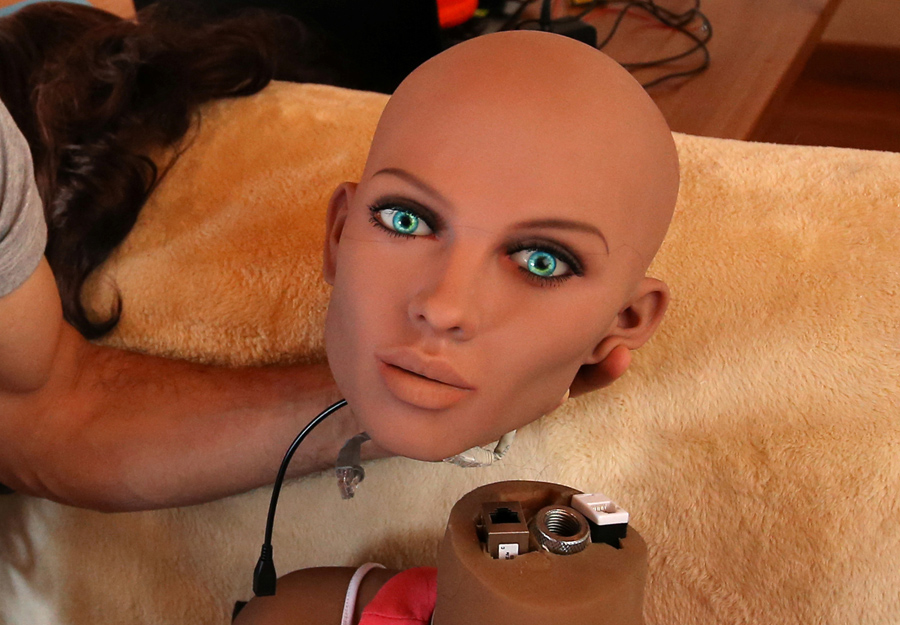 Catalan nanotechnology engineer Sergi Santos holds the head of Samantha, a sex doll packed with artificial intelligence providing her the capability to respond to different scenarios and verbal stimulus, in his house in Rubi, north of Barcelona, Spain, on March 31, 2017. #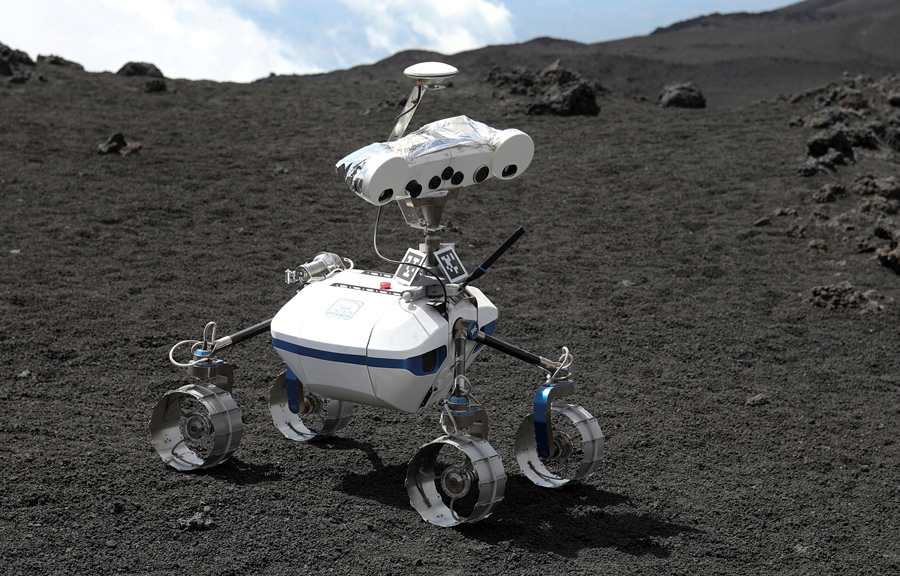 A robot on the volcanic surface of Mount Etna, Italy, on July 2, 2017. Etna is a test bed for the approximately three-foot high, four-wheeled machine ahead of a future mission to the moon. It is being conducted by the German Aerospace Centre, the agency which runs Germany's space program.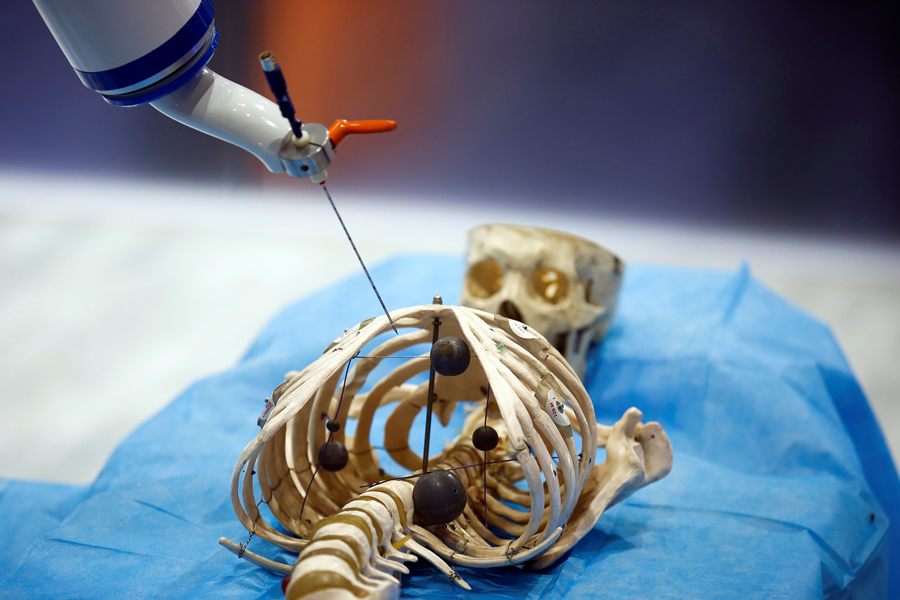 A robot of the Siasun Robot and Automation Corporation simulates the use of a medical instrument on a model of a human skeleton at the WRC 2016 World Robot Conference in Beijing, China, on October 21, 2016. #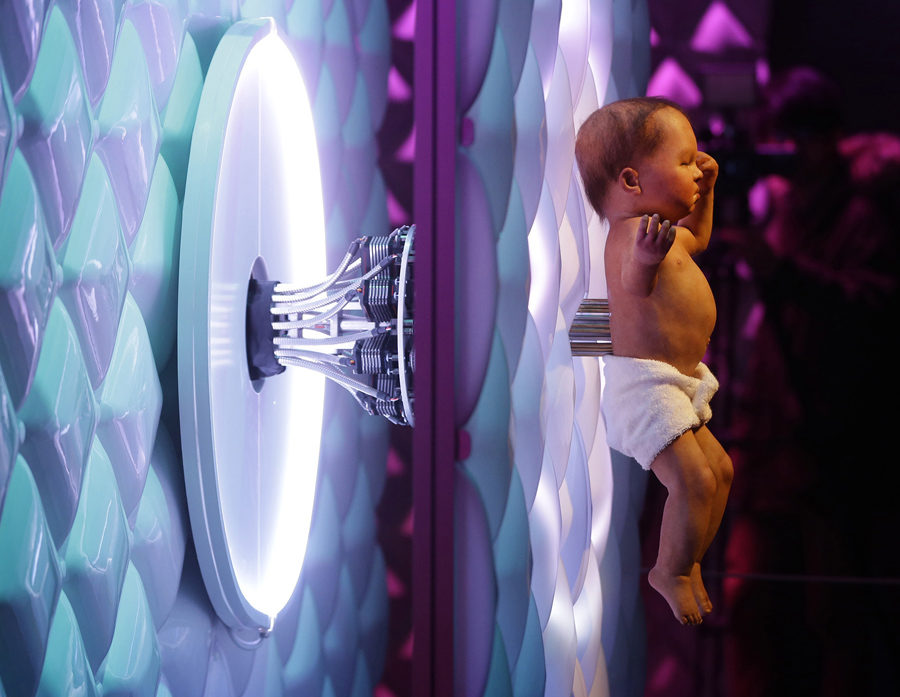 Animatronic Baby London 2016, a mechanical human baby with an electronic umbilical cord is displayed, during a press preview for the Robot exhibition held at the Science Museum in London, on February 7, 2017.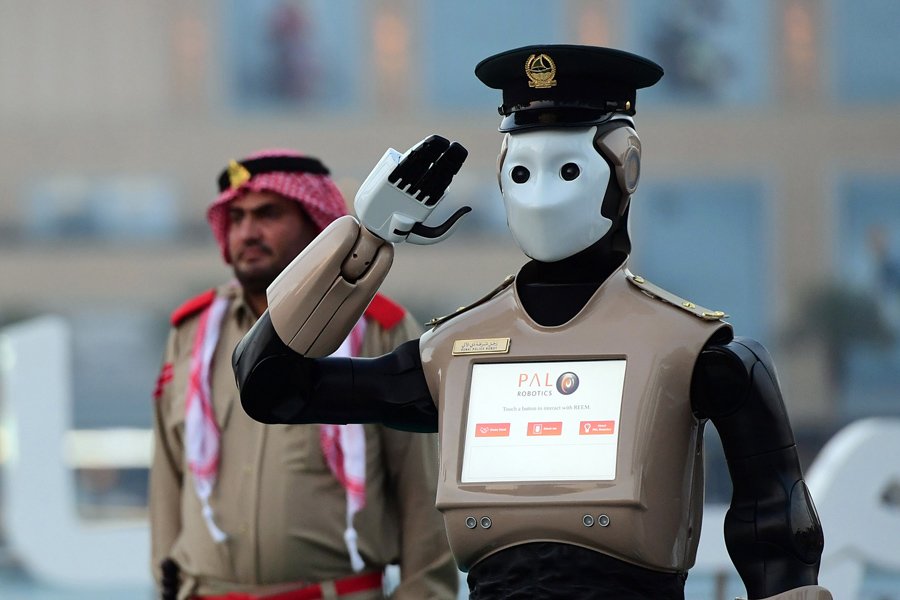 The world's first operational police robot stands at attention during preparations for a military cannon to fire to mark sunset and the end of the fasting day for Muslims observing Ramadan, in Downtown Dubai on May 31, 2017.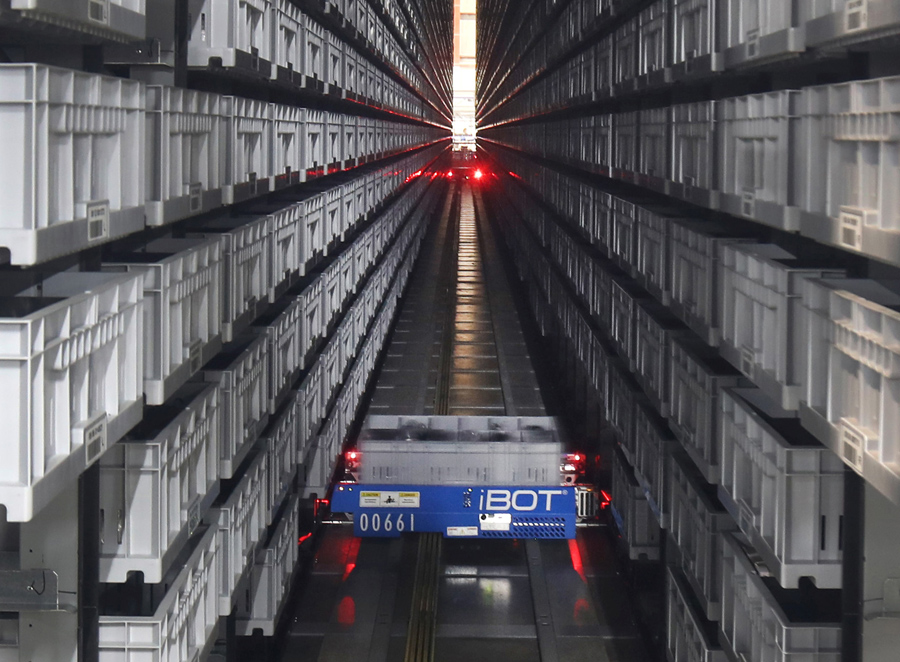 Automated robots fetch merchandise from aisles at the Hudson's Bay Company distribution center in Toronto, Ontario, Canada, on May 29, 2017.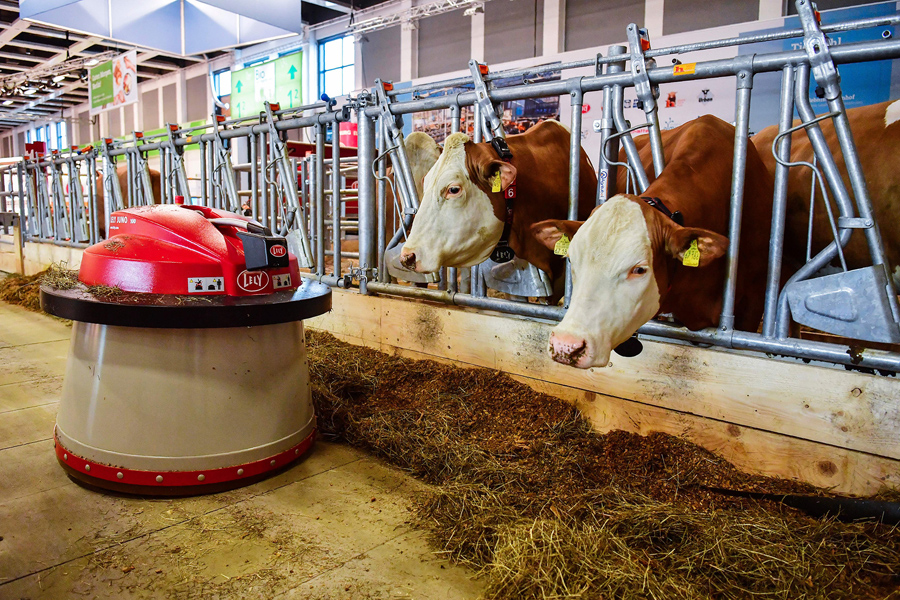 A robot automatically sweeps food towards two dairy cows at an "automated farm" exhibit at the International Green Week (Grüne Woche) food and agriculture fair in Berlin on January 19, 2017.
A Telenoid communication android from Japan is displayed during the press preview for the 'Robots' exhibition at the Science Museum on February 7, 2017 in London, England.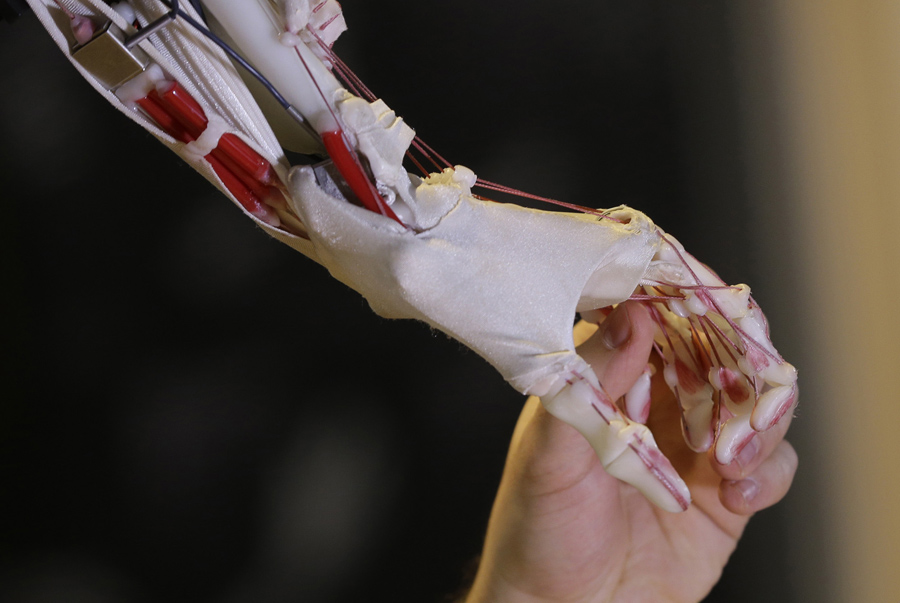 A technician holds the hand of Rob's Open Source Android (ROSAL) which was built in France from 2010-2016, during a press preview for the Robot exhibition held at the Science Museum in London, on February 7, 2017.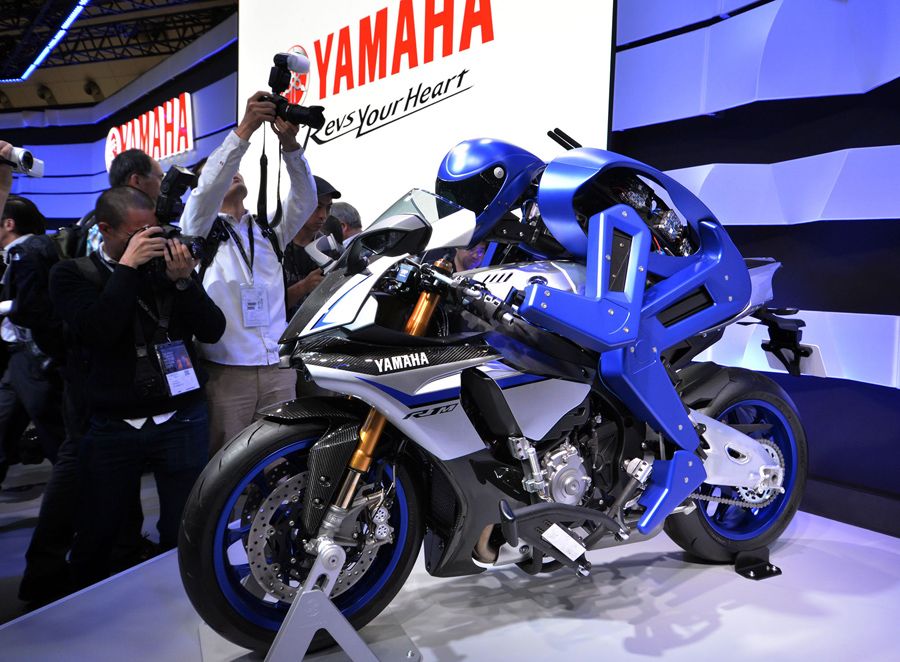 Japan's motorcycle maker Yamaha introduces a prototype model of a motorcycle riding robot "Motobot" during a press preview at the Tokyo Motor Show in Tokyo on 28, 2015.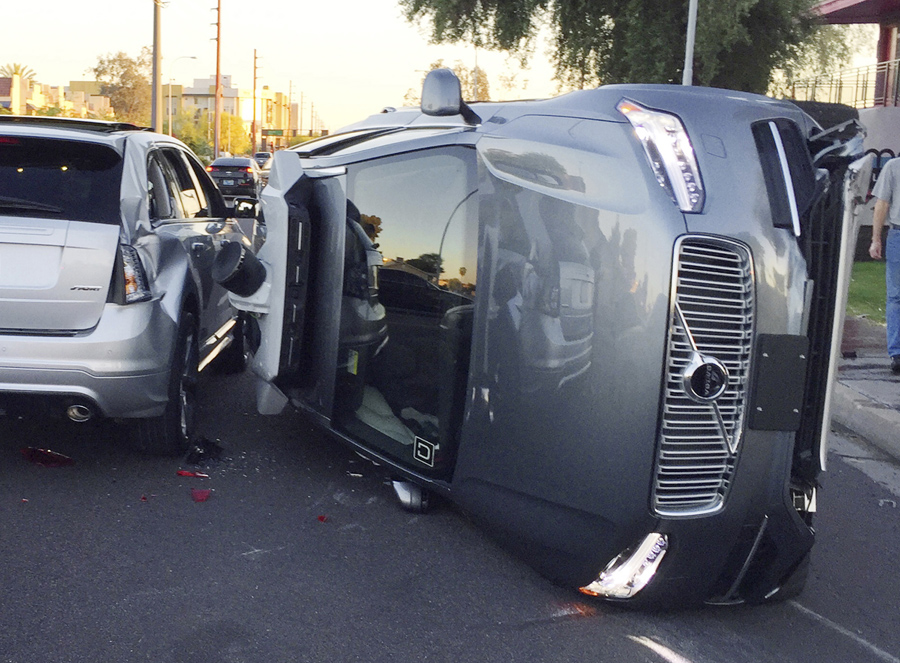 This March 24, 2017, photo provided by the Tempe Police Department shows an Uber self-driving SUV that flipped on its side in a collision in Tempe, Arizona.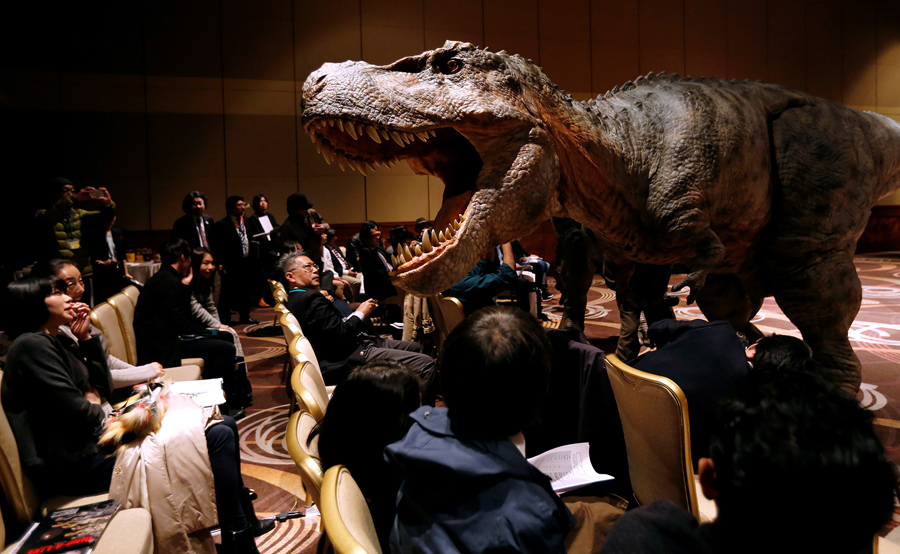 Japan's On-Art Corp's eight-meter-tall dinosaur-shaped mechanical suit robot 'TRX03' performs during its unveiling in Tokyo, Japan, on November 10, 2016.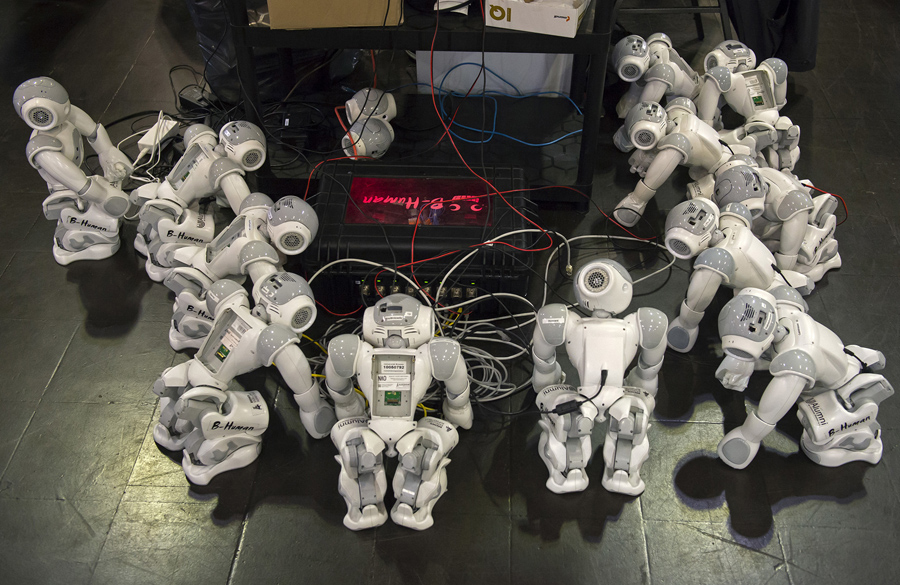 Robots surround a battery charging station prior a soccer match at the RoboCup GermanOpen 2017 in Magdeburg, Germany, on May 7, 2017. Around 200 teams with more than 1,000 participants from 15 countries demonstrated state-of-the-art in robotics with competitions such as in soccer, rescue and service robots.
Robotic jockeys control camels during the Liwa Sports Festival at Moreeb Dune on January 3, 2017 in Abu Dhabi, United Arab Emirates.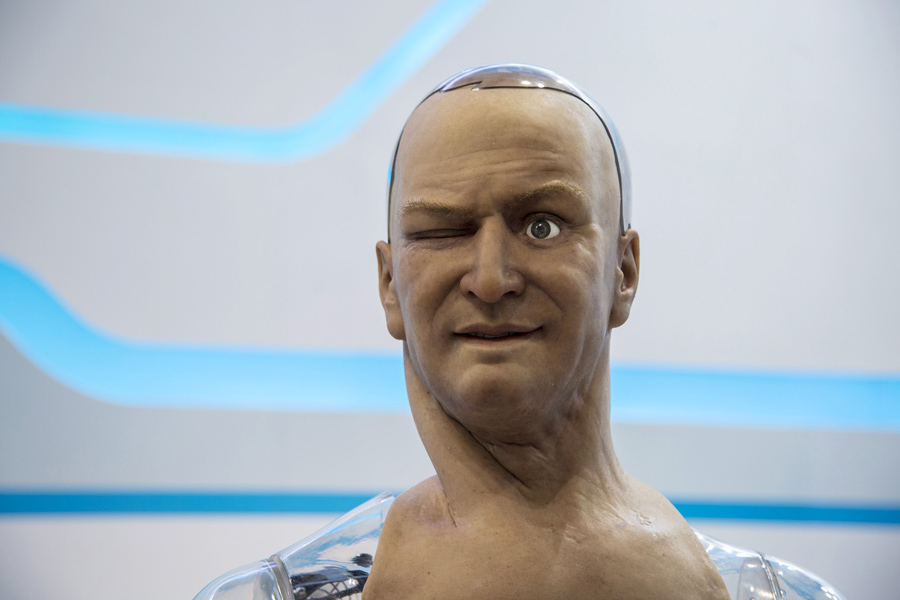 A humanoid robot named Han developed by Hanson Robotics reacts as the controller commands it via a mobile phone to make a facial expression during the Global Sources spring electronics show in Hong Kong April 18, 2015. According to Hanson Robotics the robot's skin is made out of a material called Frubber, an elastic polymer that mimics the human skin, and installed with about 40 motors on its face which help create various expressions. Han can answer simple questions and staff said it can be used in the field of customer service.
Colombian astronaut Diego Urbina tests the Gandolfi 2 spacesuit next to 'Yemo' robot during the Moonwalk project's first Mars mission simulation in the southwestern Spanish town of Minas de Riotinto, Huelva province, on April 22, 2016. The goal of project MOONWALK is to develop and test technologies and training procedures for future human missions to Moon and Mars.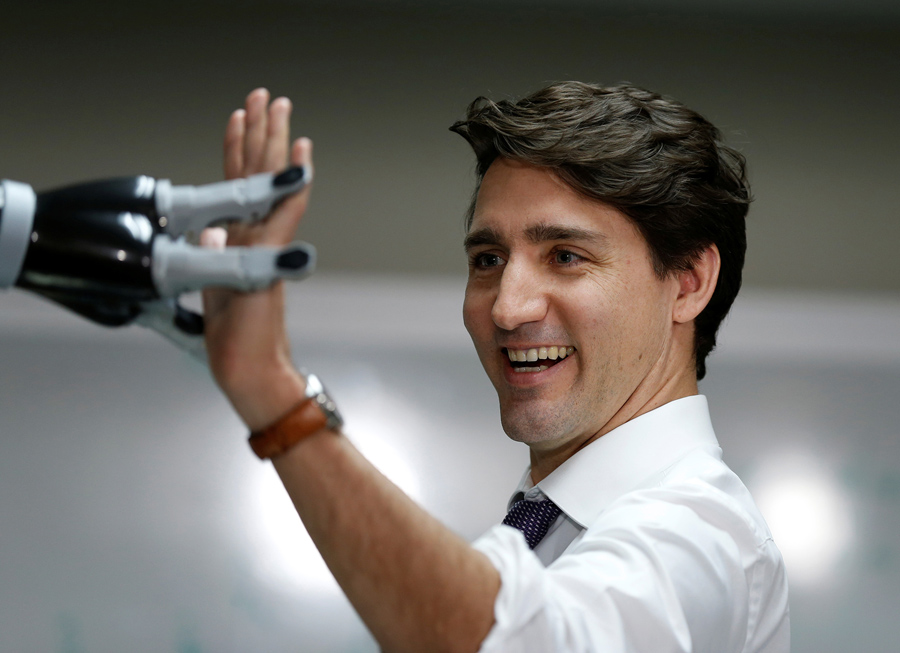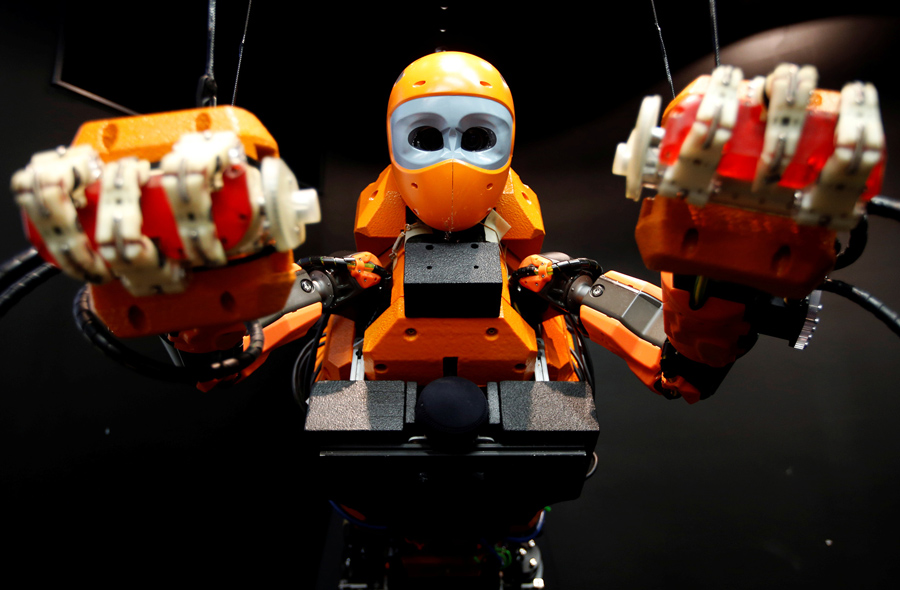 Humanoid Diving Robot OceanOne, with a humanoid torso and a mermaid-like tail section, studded with thrusters and sensors to keep the mer-bot swimming is seen during its presentation at the History Museum in Marseille, France, on April 28, 2016. The OceanOne team wants their robotic coworker to eventually find work in disaster relief, ship repair, oil and gas drilling, and other oceanographic research aside from exploring shipwrecks.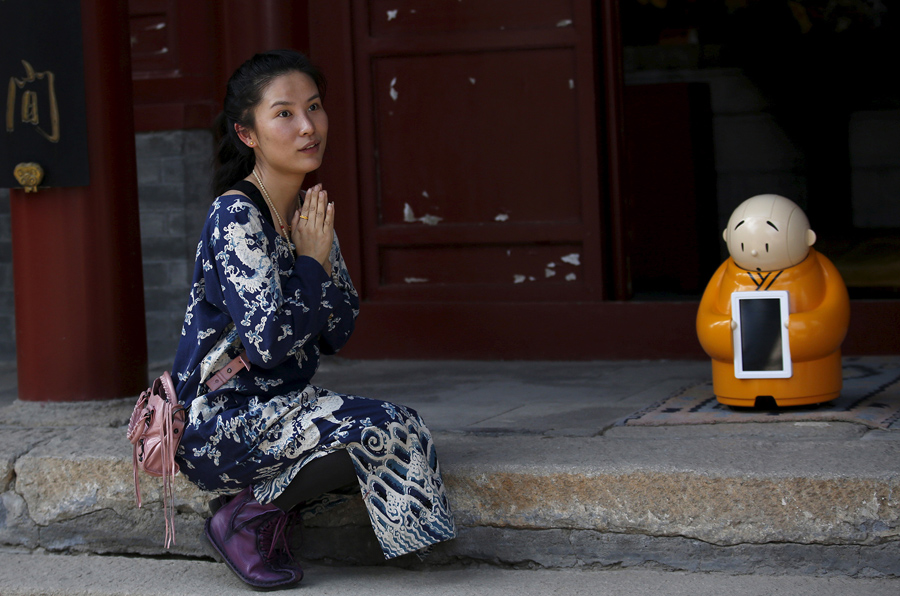 A visitor asks temple staff to give her chance to take picture with robot Xian'er which is placed in the main building of Longquan Buddhist temple, on the outskirts of Beijing, April 20, 2016.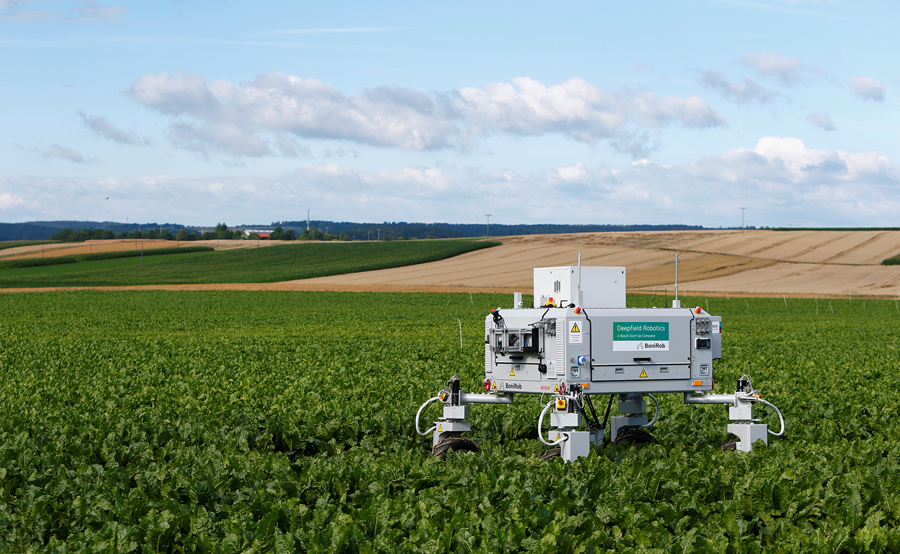 A Bosch deep field robot called "BoniRob" is pictured in a field in Renningen near Stuttgart, Germany July 29, 2016. BoniRob is described as "a multi-purpose robotic platform for applications in agriculture".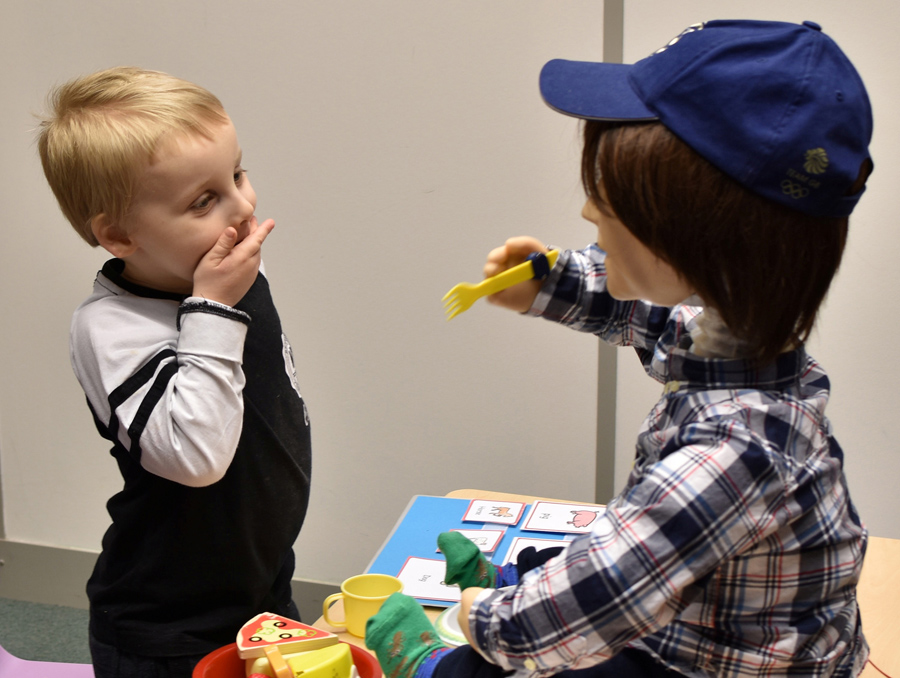 Harrison, 5, who is autistic, plays with Kaspar, a child-sized humanoid robot developed at the University of Hertfordshire to interact and help improve the lives of children with autism, in Stevenage, England, on January 30, 2017.
A robot places a pizza into an oven at Zume Pizza in Mountain View, California, on August 29, 2016. The startup, which began delivery in April of 2016, is using intelligent machines to grab a slice of the multi-billion-dollar pizza delivery market. Zume is one of a growing number of food-tech firms seeking to disrupt the restaurant industry with software and robots that let them cut costs, speed production and improve worker safety.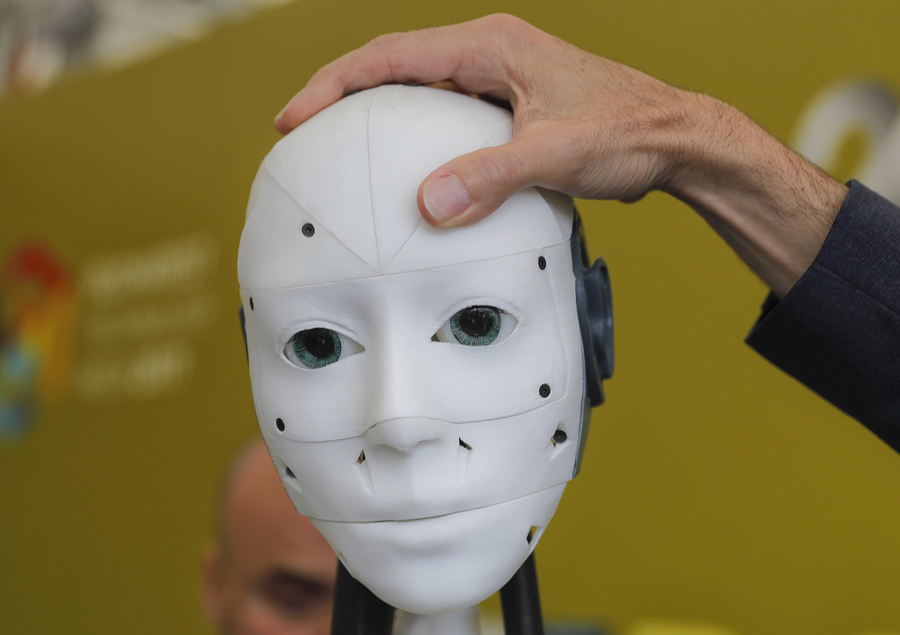 French designer Gael Langevin adjusts the position of the InMoov robot's head after he unveiled it at a technology fair in Bucharest, Romania, on May 26, 2017. Based on an idea developed from a prosthetic hand Langevin made in 2011, the first-ever made on a 3D printer, the robot can be programmed to speak English, Spanish, French, Russian and Dutch, with a basic model costing about 1,500 euros, ($1,665 USD).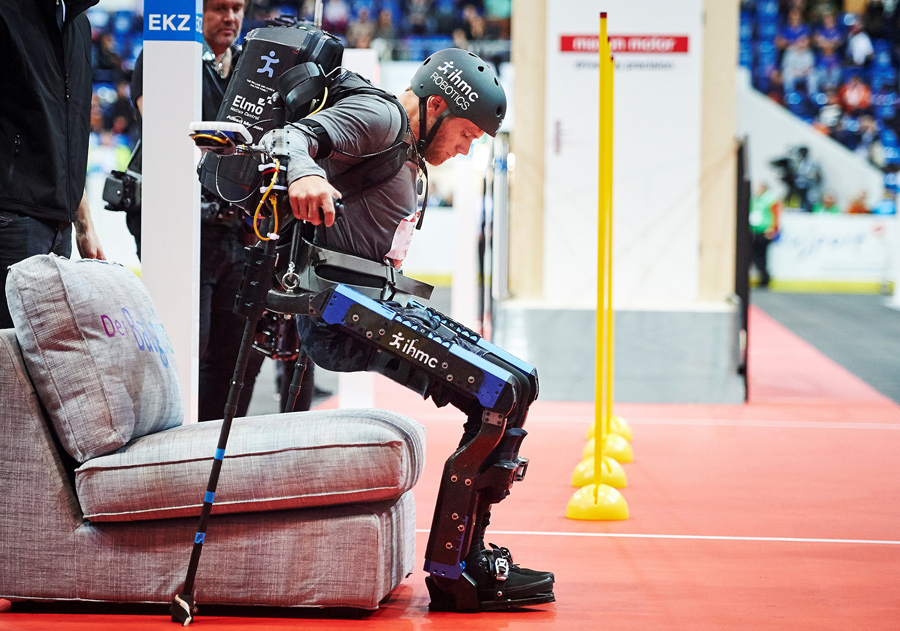 Mark Clayton Daniel of the US competes during the exoskeleton race in Kloten, Zurich, at the Cybathlon Championship, the first edition of an international competition organised by ETH Zurich for physically impaired athletes using bionic assistive technology, such as robotic prostheses, brain-computer interfaces and powered exoskeletons, on October 8, 2016.
A humanoid robot works side by side with employees in the assembly line at a factory of Glory Ltd., a manufacturer of automatic change dispensers, in Kazo, north of Tokyo, Japan, on July 1, 2015.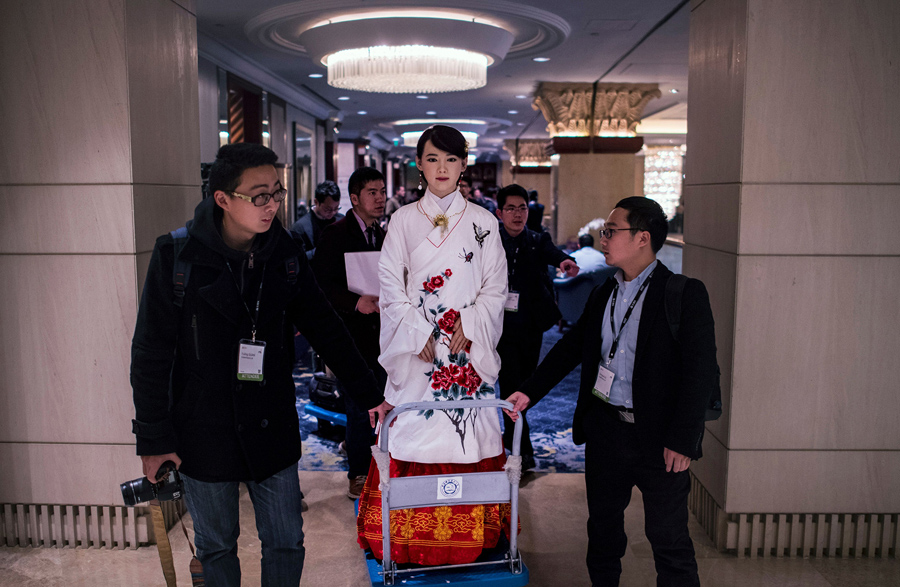 Humanoid robot Jia Jia, created by a team of engineers from the University of Science and Technology of China, is carried by workers following a presentation at a conference in Shanghai on January 9, 2017. Jia Jia can hold a simple conversation and make specific facial expressions when asked, and her creator believes the eerily life-like robot heralds a future of cyborg labor in China.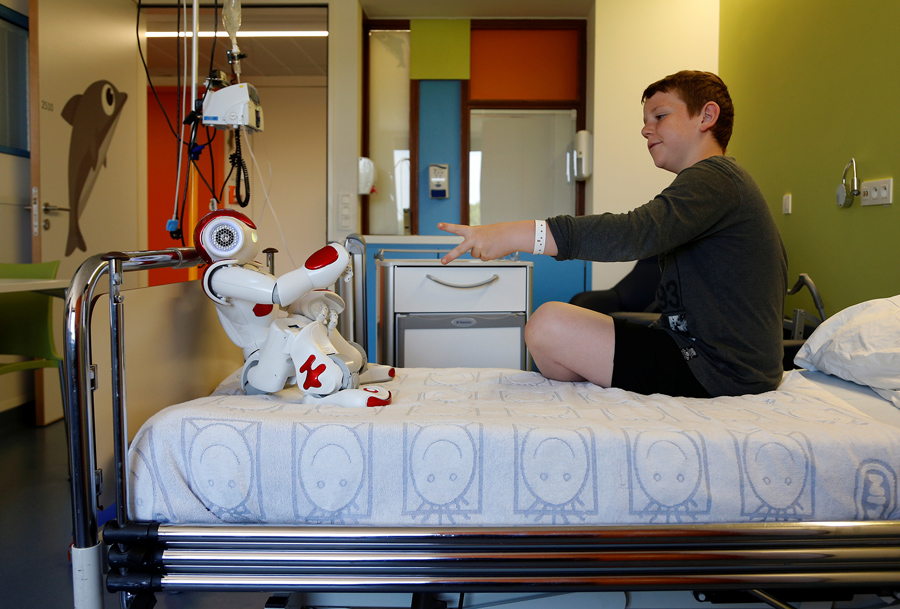 Belgian Ian Frejean, 11, plays with "Zora" the robot, a humanoid robot designed to entertain patients and to support care providers, at AZ Damiaan hospital in Ostend, Belgium, on June 16, 2016.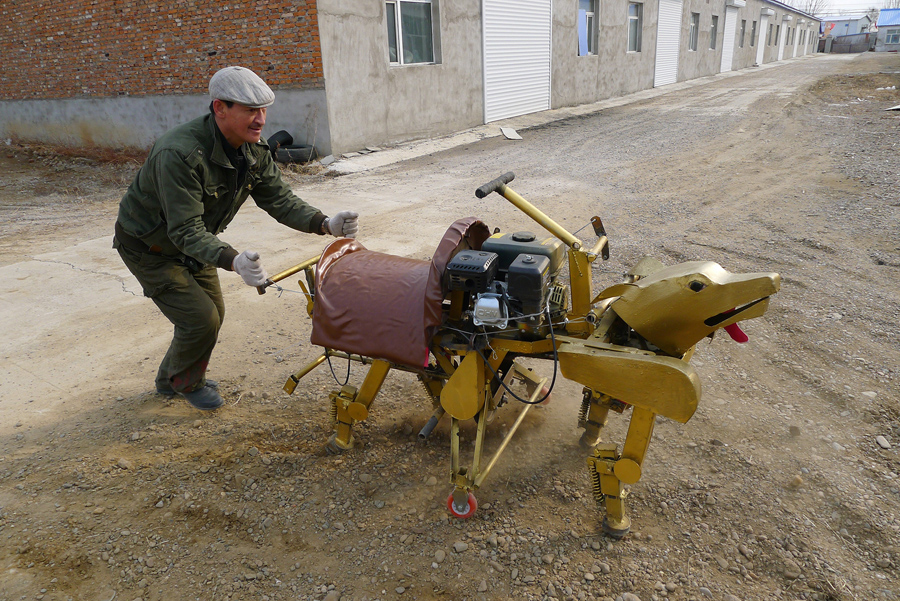 A man presents a self-made robot that local media reported is able to carry a person, in Heihe, Heilongjiang province, China, on April 5, 2017.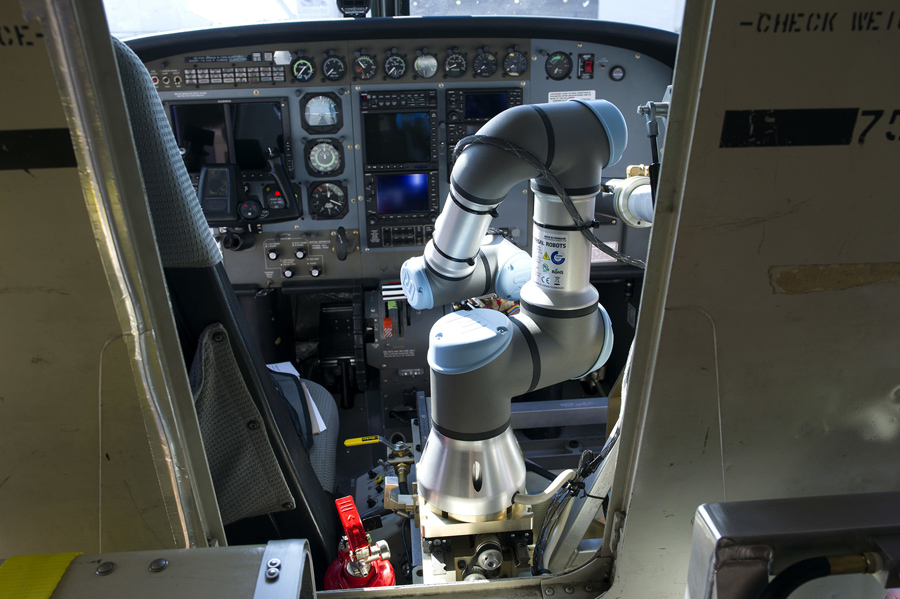 Aurora Flight Sciences' Aircrew Labor In-Cockpit Automation System (ALIAS), is mounted in the co-pilot seat of a Cessna Caravan aircraft at Manassas Airport in Manassas, Virginia, on October 17, 2016. Government and industry are working together on a robot-like autopilot system that could eliminate the need for a second human pilot in the cockpit.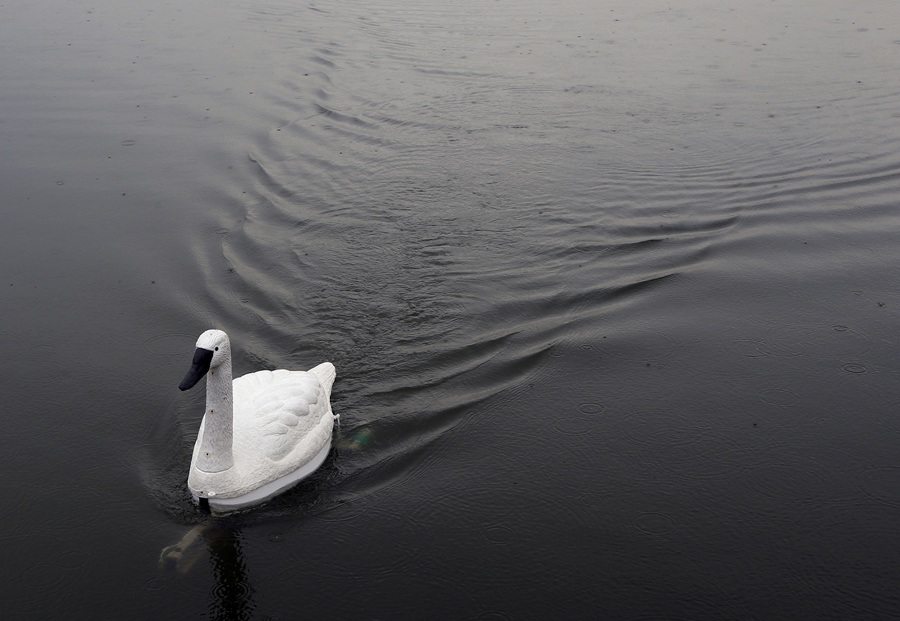 A NUSwan (New Smart Water Assessment Network) autonomous watercraft disguised as a swan monitors water quality at a reservoir in Singapore on August 12, 2015. The robot swans, developed by a team of researchers from the National University of Singapore's Environmental Research Institute, blend into the environment, using GPS to navigate their way in a water body to test water quality and watch for pollutants and contaminants.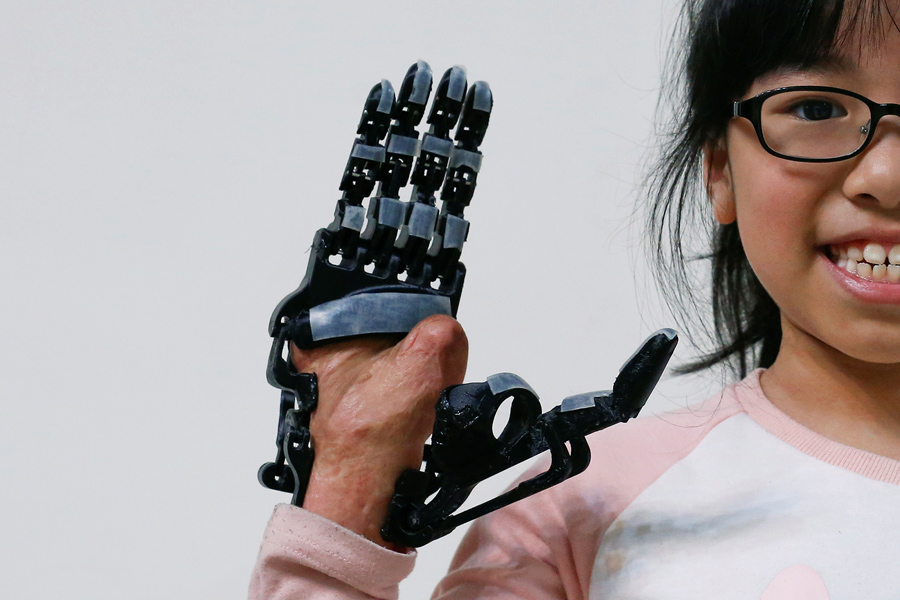 Angel Peng, 8, who injured her hand in a scalding accident when she was nine months old, poses for a photograph wearing a 3D-printed prosthetic hand designed and built by engineer Chang Hsien-Liang, in Taoyuan, Taiwan, on April 6, 2017.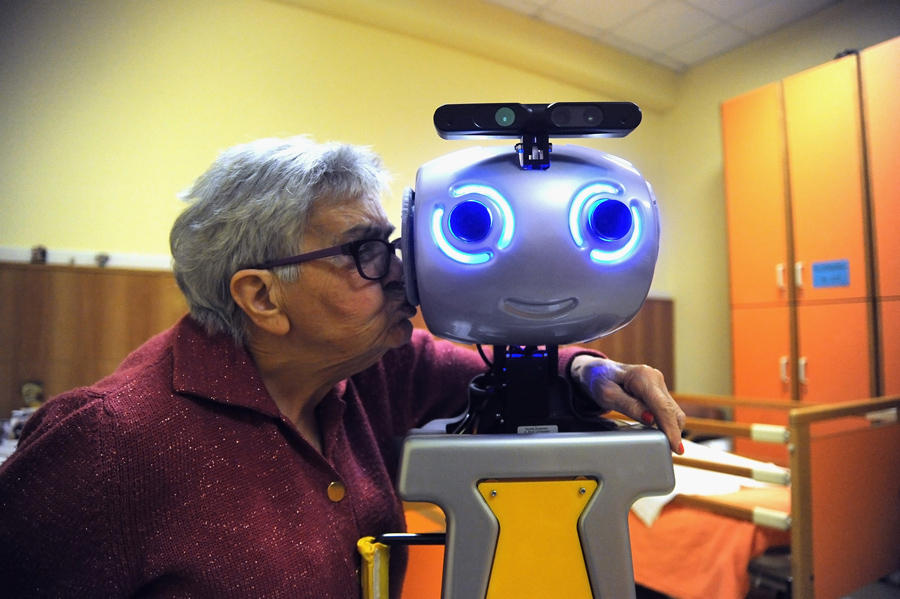 woman kisses a robot during daily activities of the project 'Robot-Era' at nursing residence San Lorenzo on December 19, 2015 in Florence, Italy. In the Residenza Sanitaria Assistenziale San Lorenzo ('nursing residence') a robot acts as a perfect caregiver or butler for the 20 elderly guests. The robots are designed and programmed to perform functions in the house, outside and in the condominium. The EU supported project Robot-Era involves 160 people in real-world environments for a duration of 4 years.
["Source-theatlantic"]