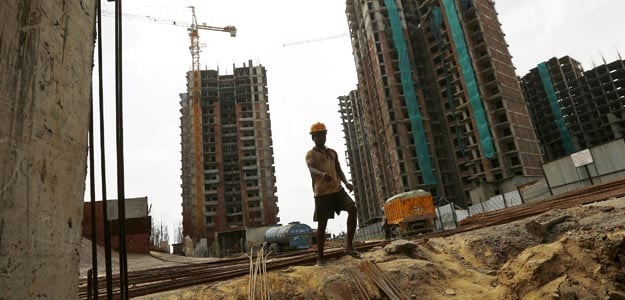 New Delhi
: The Economic Survey shows India's economy faces downside risks in the backdrop of a global slowdown and the government needs to take steps to boost rural demand and improve ease of doing business while initiating bold reforms like the GST (Goods and Services Tax), industry experts said on Friday.
"Although the economy is on an upswing, it faces downside risks from a muted global economy, impacting exports and inflow of investments, leading to challenges in job creation."
"Clearly, the government has an unenviable task at hand to significantly accelerate growth in the economy by focusing on rural demand, de-stressing banks and increasing public spending without impacting the fiscal discipline."
"It is important that the rural sector in given importance as it generates maximum employment in agriculture and non-agriculture activity," Richard Rekhy CEO KPMG India said.
Economic Survey 2015-16, tabled in Parliament by Finance Minister Arun Jaitley, projected a growth rate of 7-7.75 per cent for the next fiscal year compared with 7.6 per cent expected in 2015-16, with downside risks from the weak global economic scenario.
"Amidst a muted global economic scenario, this growth is encouraging. While the implementation of the seventh pay commission award and normal monsoons are expected to provide some reprieve, it is critical to pursue all measures that would boost demand on a sustained basis," Ficci president Harshavardhan Neotia said.
"We are happy to note that amidst gloomy signs around the world, this survey positions India to be in the safe zone especially with a healthy GDP growth rate of 7 per cent to 7.5 per cent during 2015-16," president of the Cochin Chamber of Commerce and Industry (CCCI) C S Kartha said here.
According to the Chamber, the survey points out an indication of better fiscal management as the total expenditure for 2015-16 was estimated at Rs. 17.77 lakh crore which was 5.7 per cent higher than the revised estimates of 2014-15.
Seeking to paint an optimistic picture of the economy amid a gloomy global landscape, the survey said that "India stands as a haven of stability and an outpost of opportunity" with regard to macro-economic factors and low inflation.
"The survey has rightly highlighted the need for being prepared to face any spill-over of major currency adjustments in China and other Asian economies. Besides, a vigil needs to be kept on the capital outflows from the emerging economies," Assocham president Sunil Kanoria said.
Elaborating on the global situation, he said the upcoming Budget and economic policy would have to contend with an unusually challenging and weak external environment.
"At a time when the global economy is facing significant headwinds, India's macroeconomic performance offers a welcome contrast. We hope the government would carry forward reforms agenda as outlined in the Survey especially at a time when India is being counted as one of the world's primary growth engines," CII president Sumit Mazumder said.
"The key takeaway from the survey is push for accelerating public investment, particularly in the infrastructure sector as a sure shot means to revitalise growth. Industry looks forward to a pragmatic, reform-oriented and bold Budget which would facilitate a comprehensive economic revival," he added.
"A lot needs to be done in the ease of doing business as the economy is moving from socialism to marketism without exit policy. Overall, state of the Indian economy is inspiring and we look forward to a dynamic budget announcement to pave way for strong and sustainable growth environment with a greater ease of doing business," PHD Chamber president Mahesh Gupta said.
["source-ndtv"]