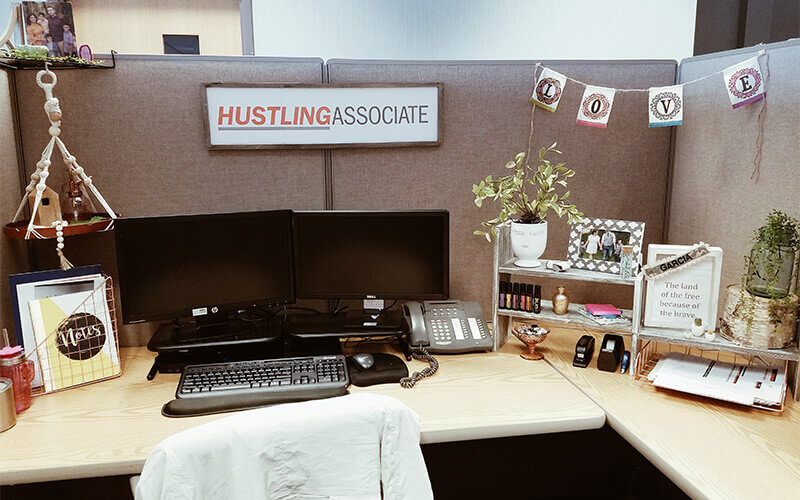 Although not as spacious as a corner office, a cubicle has some things going for it. It doesn't take much to make it feel decorated, and although it's small, it's all yours. Decorating and personalizing your office space can make your time at work more enjoyable.
Accent With Textiles
Textiles can create a warm inviting environment to even the most standard pre owned cubicles. By layering prints in warm rich colors, you can make your small space feel cozy. Start with a low-pile area rug and build from there. Add a fabric-covered cork board in a complementary print or colors. Add in a few more fabric touches such as a coaster rug for your coffee cup and a textile-printed mouse pad. You can improve the look and comfort of your office chair by adding a coordinated pillow.
Layer Lights
Lights can also make a difference to the look and feel of your cubicle. Most offices provide standard overhead fluorescent lights which can be hard on the eyes when they flicker. Buy a nice desk lamp and put in a warm or natural LED bulb to help avoid eye strain. For atmosphere, hang a strand of soft fairy lights along the top shelf of your cubicle.
Use Nice Accessories
If you're in a cubicle all day, the least you can do is buy nice desk accessories such as ceramic pen cups and color-coordinated file holders. Although it may not seem like much, surrounding yourself with a few quality pieces can enhance your time at work. Even decorative push pins or an attractive tape dispenser can increase your enjoyment during office hours.
Diffuse Scent
If it won't bother your co-workers, add a personal scent diffuser to use at your desk. Some essential oils such as peppermint or lemon can act as pick-me-up at the end of the day. You may find your co-workers slowing down and breathing deeply when they walk by your desk.
Creating personal space in an impersonal work environment is doable. It just might help the hours from 9-to-5 pass a little more quickly.