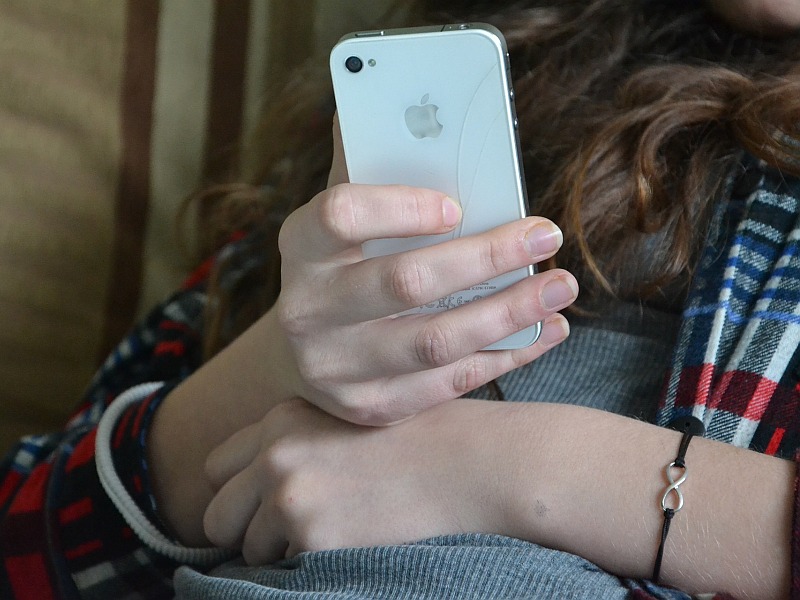 She was 12 and, her mother said, she was not fitting in with her father's new family. She grabbed her camo-coloured iPhone 4S and shot a text to a friend – roughly: I don't like his ratchet girlfriend or her kids.
It was 2013. That word – "ratchet" – was running through rap songs and teens' text messages, thought to mean a low-class and clueless diva. When Ronald Jackson saw it, he took away his daughter's cellphone.
"I was being a parent," Jackson recently told CBS-DFW. "A child does something wrong, you teach them what's right."
Jackson, a 36-year-old from Dallas, was ultimately arrested and charged with property theft, a Class B misdemeanour – because he had taken his daughter's iPhone and refused to give it back.
Following a long legal battle, a Dallas County Criminal Court judge ruled last week that the state did not have enough evidence to continue the case and ordered a jury to find him not guilty.
Jackson spoke with The Washington Post at length following the verdict but then recanted, saying he had signed an exclusivity agreement with a TV program a day earlier. He said he could not speak further.
It was Jackson's visitation time that Saturday in late September 2013. He and his ex-partner, Michelle Steppe, were no longer a couple but shared custody of their daughter. Both had started new families.
Steppe, 40, and her fiancée bought the phone for her daughter, but it was on Jackson's cellular plan.
After Jackson confiscated the cellphone, both parents said, the girl went to a friend's house and called her mom. Police were sent to Jackson's home and, while there, tried to get it back, according to WFAA.
"At that point," Jackson told the news station, "I decided the police don't interfere with my ability to parent my daughter."
Steppe said she respected Jackson's parenting moment but that he should have given Steppe the phone.
"I stand behind him taking the phone for punishment; I don't stand behind him not returning the phone to me when the visit was over," Steppe told The Post. "Parents have the right to discipline their kids. I've taken away phone privileges.
"It had to do with giving back property that did not belong to him."
When Steppe returned to pick up her daughter, she demanded the cellphone, according to court documents. When Jackson declined, Steppe sent him a demand letter.
Months went by. Then, Jackson was mailed a citation for petty theft, a Class C misdemeanour. Court documents show that the city attorney's office offered him a plea deal in exchange for the phone, according to WFAA. But Jackson got a lawyer and opted for a trial in municipal court, according to the news station.
Court documents state that the case was first filed with the city court, but that "due to the lack of cooperation by the defendant during court," the prosecutor in the case asked that police file it as a harsher Class B misdemeanour in a county court.
Late one night last April, Jackson was woken up by police, placed in handcuffs and taken to jail.
"Why would you arrest someone for something like that?," he told CBS-DFW. "Don't you have better things to do as a police officer? Aren't there bigger crimes in the city that you need to take care of?"
Grand Prairie police spokesman Lyle Gensler told WFAA that police tried to get Jackson to return his daughter's phone.
"We do not like these kinds of instances to go into the criminal justice system," Gensler told the news station. "We prefer to keep it out and the phone be returned and let the parents, the two adults, let them work it out among themselves."
One concern Jackson had was that his ex-partner, Steppe, has a fiance who is an officer on the police force.
"In the entire investigation," Gensler told the news station, "that never came into play."
Steppe said the relationship between her daughter, now 15, and the girl's father is ruined.
"She wrote him a letter and knocked on the door and handed it to him," Steppe said of her daughter. "In the letter, she listed the Webster's definition of a father and said, 'You have never been any of these things to me.' She asked him to relinquish his parental rights so she could be adopted by her stepdad."
Steppe said Jackson has asked to relinquish his rights and that case is pending.
During Jackson's two-day trial last week, his teenage daughter took the stand.
"She's heartbroken; she's devastated," Steppe said. "And I'm really sad that he's doing this to her.
"Don't smear her. Don't make her look like a sexting teen, an out-of-control teen. Don't mess with her life."
Jackson's attorney, Cameron Gray, told WFAA that he is planning to file a federal civil rights claim against the Grand Prairie Police Department and the city attorney's office over the way Jackson was treated.
["source-gadgets.ndtv"]