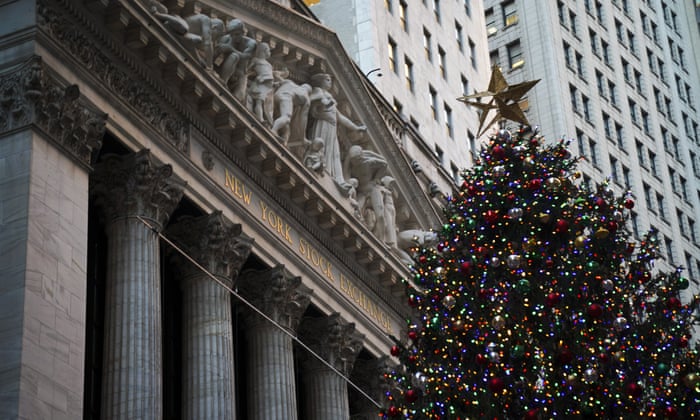 The New York Stock Exchange. Photograph: Drew Angerer/Getty Images
City unhappy about Barnier's Brexit views
Britain's financial sector has reacted badly to the news that Brussels won't accept a special deal for the City of London after Brexit.
Michel Barnier, the EU's chief negotiator, told the Guardian that the UK couldn't have a bespoke deal that gave preferential treatment to certain industries, such as finance.
Barnier warned that Britain's 'red lines' (on leaving the European Court of Justice and ending the free movement of people) meant London must accept a trade agreement similar to Canada's (which mainly covers goods, not services).
Barnier said:
There is not a single trade agreement that is open to financial services. It doesn't exist…..

In leaving the single market, they lose the financial services passport."
He even waved a slide to show how more integrated trade deals aren't compatible with those 'red lines'.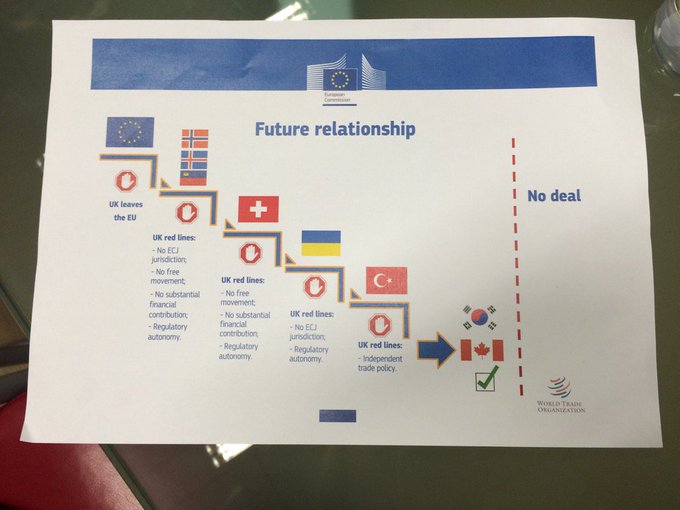 So far, so clear. But TheCityUK, which represents Britain's financial industry, thinks Barnier should show some festive spirit and work towards a bespoke deal for the UK.
Miles Celic, CEO of TheCityUK, says:
"It might be Christmas, but Michel Barnier doesn't need to play Scrooge. Just because financial services have not been encompassed in free trade agreements to date is no reason to dismiss them from a future UK/EU free trade agreement.

Services make up around 80% of the UK's economy – and around 70% of the EU's, with financial services making up a significant component of that. It is vital for the future competitiveness of the UK, and Europe as a whole, that UK and EU negotiators work to secure an ambitious and comprehensive deal."
David Madden, market analyst at CMC Markets, predicts that Britain's blue-chip stock index could hit a record highs this week.
He writes:
The FTSE 100 has hit its highest level on over one month as the optimism from across the pond is catching on over here.

The British equity benchmark has snapped out of the downward trend that it was since early November, and should the positive run continue we could see it hit 7600 before Christmas.
The Footsie's previous record intraday high is 7,598 points, set in June this year. It's currently trading at 7,556.
Financial services group Old Mutual is leading the FTSE 100 risers, up 3.8%, after agreeing to sell part of its investment business to TA Associates in a deal worth £600m.
Facebook
Twitter
Google plus
1h ago10:24
Since you're here … we have a small favour to ask. More people are reading the Guardian than ever but advertising revenues across the media are falling fast. And unlike many news organisations, we haven't put up a paywall – we want to keep our journalism as open as we can. So you can see why we need to ask for your help. The Guardian's independent, investigative journalism takes a lot of time, money and hard work to produce. But we do it because we believe our perspective matters – because it might well be your perspective, too.
If everyone who reads our reporting, who likes it, helps fund it, our future would be much more secure. For as little as £1, you can support the Guardian – and it only takes a minute. Become a monthly supporter or make a one-off contribution. – Guardian HQ
Although shares are rallying, the bond market isn't as excited by the new US tax reforms.
That may be because bond traders are anticipating a jump in US borrowing in the coming years, as Congress's tax cuts drive up the deficit.
Kit Juckes of Societe Generale explains that bond prices have fallen slightly (pushing up the interest rate, or yield, on US 10-year bonds):
A wafer-thin majority is going to be enough to get the US Tax Bill onto president Trump's desk though first, there's the 10-hour debate to get through. Sometime tonight/tomorrow, there will be jubilation from those who aren't gnashing their teeth.

10-year Note yields have 'jumped' to 2.39% and TIPS are at 48bp, so you can almost feel the anticipation in FIC-land (not).

The reaction is equity markets is more seasonally-apt, with new S&P/Dow highs and a positive mood in much of Asia.
[FIC=fixed income (government and corporate bonds) and currencies.]
Facebook
Twitter
Google plus
2h ago09:48
IFO believes that German business confidence has been hit by the breakdown in coalition talks.
But despite this small drop in morale, Germany's economy has had a bumper year.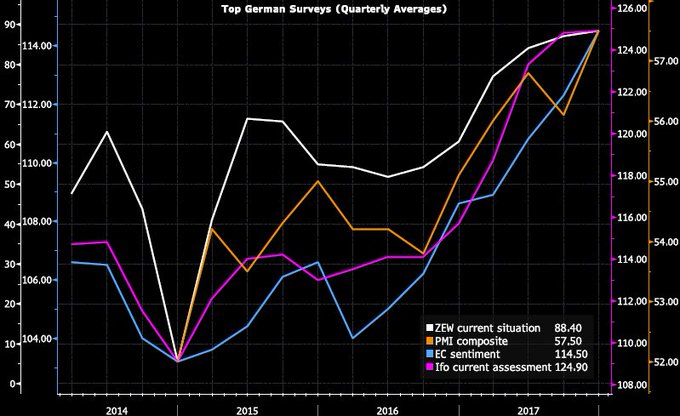 Facebook
Twitter
Google plus
2h ago09:26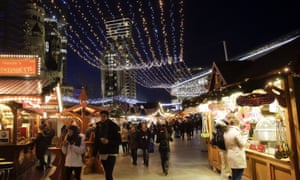 Newsflash: German business morale has fallen a little (but remains strong).
The monthly business confidence measure, calculated from the IFO institute, dropped to 117.2 this month. That down from November's record high of 117.6.
German business leaders are a little less optimistic about business expectations, says IFO.
Facebook
Twitter
Google plus
America's Tax Policy Center has analysed the US tax reform package, and shown conclusively that it benefits high earners the most.
In the short term, the bill will indeed cut taxes for most Americans — around 143 million people should pay less next year, while 8.5 million pay more.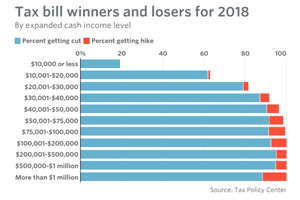 For all the talk of helping 'middle class Americans' , the benefits will be felt most by those coining at least half a million dollars a year.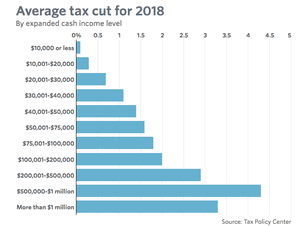 But that's the short term impact. Analysts think that tax bills will actually go up in the long term — as some individual tax changes are not permanent and will expire in 2025.
Steve Goldstein of Marketwatch explains:
Things change however once 2025 rolls around. If no change is made, what were tax cuts will become tax hikes, even relative to current law.

A majority of Americans in a decade's time will then pay higher taxes, including 69.7% of the middle quintile.
European markets have opened higher, with the Stoxx 600 hitting a six-week high.
In London, the FTSE 100 has gained 14 points to 7551 – less than 50 points away from its all-time high.

Connor Campbell of SpreadEx sums up the situation:
Much like on Monday, Tuesday saw little for investors to focus on beyond Trump's likely tax bill success later this evening.

Unsurprisingly investors have ignored the nuances of the Republican tax 'reforms' – especially the impact it will have on the American middle class – to instead revel in what it means for the nation's mega-corporations and millionaires.
Facebook
Twitter
Google plus
3h ago08:28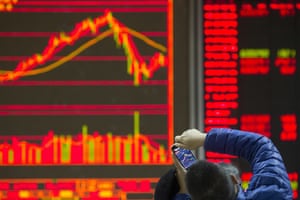 Shares in China rose today, as optimism over the looming US corporation tax cuts rippled through the markets.
The CSI 300 index gained 1.2%, while the Shanghai composite rose by almost 0.9%.
Stocks in Australia also rallied, closing close to their highest level in 10 years, following last night's record close on Wall Street.
Mike van Dulken of Accendo Markets says "fresh optimism that Republicans will pass their highly anticipated tax reform bill into law" has sent equities rallying.
Facebook
Twitter
Google plus
4h ago08:14
Although it's billed at a 'reform' bill, the tax legislation agreed by Congress will have wider consequences for Americans.
My colleague Ben Jacobs explains:
Although Republicans had long hailed tax reform as a way to simplify the United States tax code, it would keep all seven existing tax brackets for individuals and would also add over a trillion dollars to the budget deficit. It also would limit tax deductions for home mortgages and for state and local taxes.

The bill also would have a significant impact on policy outcomes outside the tax code. It would end the individual mandate under Obamacare, which requires Americans to buy health insurance or pay a penalty and open up the Arctic national wildlife reserve in Alaska to oil drilling.
The agenda: US tax reforms send markets higher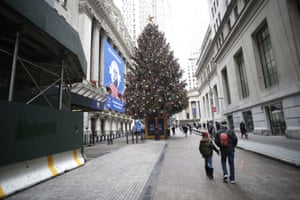 Good morning, and welcome to our rolling coverage of the world economy, the financial markets, the eurozone and business.
World stock markets are at record levels today as investors salivate over the prospect of $1.5 trillion of US tax cuts being voted through soon.
America's House of Representatives is on the brink of passing a major, and controversial, tax reform package. After months of bargaining and brinkmanship, a finalised version of the bill could be approved later today.
The package has been heavily criticised for favouring the rich, and driving the US national debt up by another $1.45 trillion.
But right now, investors are more excited about the sweeping cuts to corporation tax contained in the package – which look like an early Christmas present to some of America's big corporations.
The plan would lower the corporate income tax rate to 21% from 35%, which is likely to give company's more firepower for dividend payments and share buybacks.
Crucially, a lone Republican Senate holdout, Bob Corker of Tennessee, has switched sides and decided to support the package – having previously said it was fiscally irresponsible.
This sent Wall Street rallying to yet another record high last night, pushing the MSCI World index of global stocks to a new level.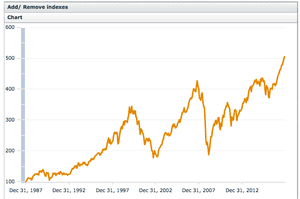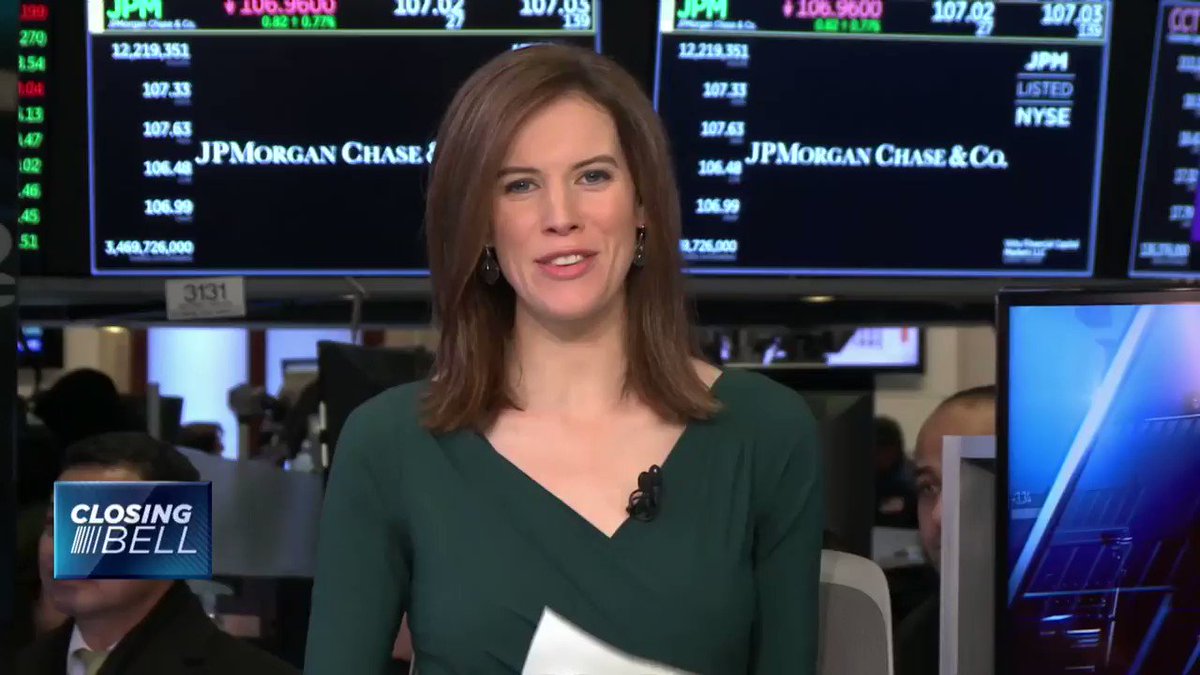 Most Asian markets have rallied today, spurred by these tax reform hopes. Europe is expected to hold onto yesterday's gains too.
Hussein Sayed, chief market strategist at FXTM, explains why City traders are getting into the festive spirit.
December has been historically a good month for equity markets. Many traders bet on the Christmas rally as a seasonal trend to benefit from. Data from 1928 shows that December has been mostly a good month for the S&P 500. It was never the worst performing month and was the best performing month four times. This time, the rally has been fueled by optimism that U.S. lawmakers are on the brink of passing a historic bill to overhaul the U.S. tax code.

Getting the Republican Senate fully on board wasn't an easy task. There're now also question marks over the ethics of a last-minute addition to the tax bill that gives real estate owners a major tax break. Senator Rob Corker, a deficit hawk who opposed the original Senate tax bill, because it was expected to add $1 trillion to the deficit, appeared to have had a change of heart and provided his full support to the revised legislation.

However, the complicated provision doesn't seem to threaten Republicans' chances of a success with the vote on the bill later today; with Trump signing it into law this week.
The agenda:
9am GMT: Germany's Institute for Economic Research (IFO) publishes its business confidence index
1.30pm GMT: US housing start figures
["Source-theguardian"]