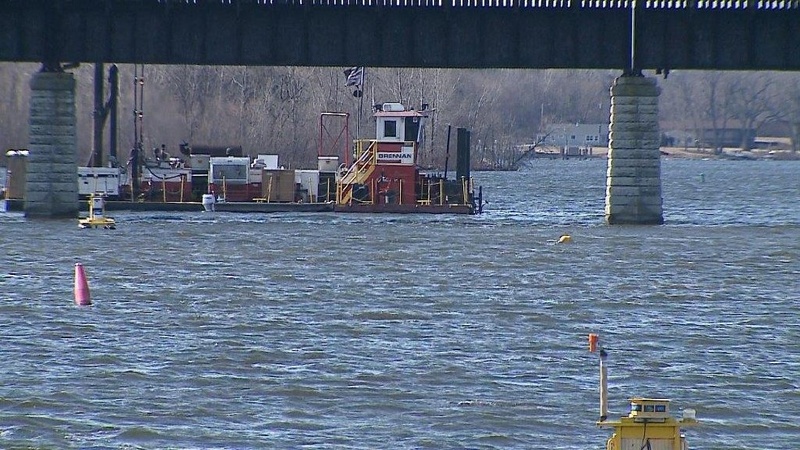 DE PERE, WI (WTAQ-WLUK) – The spring time warm up mean busy times along the Fox River.
The billion dollar PCB cleanup project is once again underway for the season. And so is the annual walleye spawning run.
Steven Sowinski tells WLUK he came up for a day of fishing with his brother. "Chasing the walleye. It's a slow day. A little windy out there, but we ended up with about four or five, I think it was"
Walleye fishing wasn't the only activity on parts of the Fox River. For the ninth season, PCB dredging operations are underway as well.
Scott Stein is the Fox River Cleanup Project Spokesperson.
"The original start date was supposed to be April 3rd. But we started two weeks ahead of time. The weather cooperated, so we're ready to go"
Stein say three dredging barges started cleanup Monday.
"The barges now, are actually near our processing facility, doing some residual dredging in that area. And then as the year goes on, we'll see more activity downstream"
Support boats of different sizes cruised up and down the river, delivering equipment where it needed to go.
Big orange pipelines pumped sediment to the processing facility nearby. Signs and buoys alerted boaters traveling through.
"We always want to make sure that everyone is safe on the river, whether it's the people out fishing, or our operations as well," said Stein.
Sowinski is paying attention.
"You got to be careful. You got to go slow, especially when it's dark out. You got to watch out because a lot of times they put them buoys out. You obviously don't want to run into one of them. But yeah, you got to go slow, take your time"
PCB dredging is scheduled to continue through November.
The entire cleanup project is expected to be completed, in 2018.
["Source-wsau"]