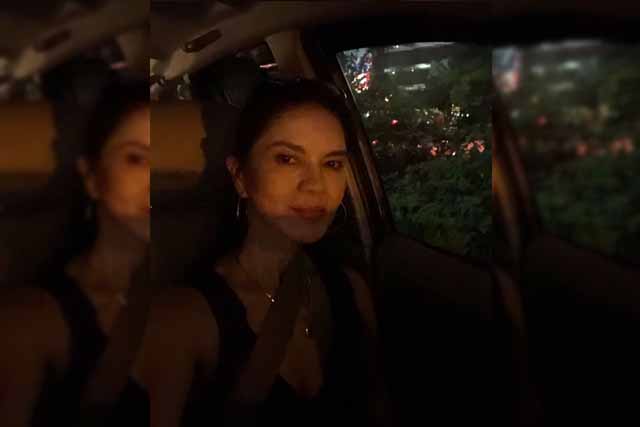 MANILA, Philippines —  Actress Maria Isabel Lopez could lose her license for using a traffic lane reserved for ASEAN delegates, but she has also gained career opportunities, she said.
"Too many offers—TV guestings, new soap, two new movies for 2018, on top of the one I'm producing… plus a new international film to be shot in Japan.. I'm booked guys til 2019," she wrote in a Facebook post addressed to her "bashers".
Lopez, who went to the Land Transportation Office on Thursday to explain her breaching a security lane during the Association of Southeast Asian Nations Summit, asked the LTO not to single her out for using the lane during heavy traffic.
She stressed that there were also other motorists who did what she did.
"I am hoping I won't be singled out. I'm willing to take the consequence of my actions," Lopez said.
She appeared before LTO Law Enforcement Service Director Francis Almora after the agency issued a show cause order for her violations.
She said she was prompted to violate the ASEAN's traffic protocol because she needed a bladder break after having been on the road for hours.
The 55-year-old actress asked for the agency's consideration for lighter sanctions since, she said, she has no prior traffic violations.
"Sana lang kung ano man 'yung penalty na ipapataw sa akin, bigyan naman ako ng kaunting senior citizen's discount—20 percent (I hope that whatever penalty is imposed on me, they will give me a senior citizen's discount—20 percent)," Lopez said.
She said in the Facebook status where she mentioned being "controversial" has brought her more job offers that she hopes the Metro Manila Development Authority constables who failed to stop her from using the lane will not lose their jobs.
READ: MMDA, LTFRB want to revoke Maria Isabel Lopez's license
LTO asked her to submit her position paper within five days. The agency will then decide whether to suspend or revoke her license.
The traffic authorities said she committed a "serious breach of security."
Lopez faces possible penalties for reckless driving, disregarding traffic sign and violation of Anti-Distracted Driving Act.
A social media post of Lopez recently became viral after she bragged that she drove on the designated ASEAN lane with her hazard lights on. She also said that she removed the divider cones for the said lanes.
She apologized on Sunday but argued that she violated traffic rules because she had been made "a second-class citizen" by the designation of a special lane for the ASEAN Summit.
Last Saturday, several commuters complained about the heavy traffic along major roads due to the arrival summit delegates in Metro Manila and in Pampanga.
source:-philstar