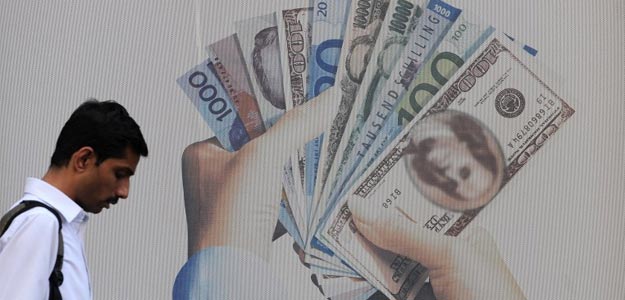 The sharp movement of the rupee against the US dollar this year has kept many traders on tenterhooks. But here is something that could make foreign exchange traders even more jumpy: The rupee could rally to 61 against the euro from current level of around 74, says Jai Bala, head of technical research and cross asset strategy at 1857 Advisors.
"We are getting very bullish about the rupee against euro. We are looking at a level of 61 from current level of 74-odd," said Mr Bala. (Watch)
He also expects the rupee to rise against dollar. "We are more bullish on the rupee against euro than rupee against the dollar. I expect some kind of appreciation (rupee against dollar). It (rupee) could be 62-64 (against dollar)," he said.
The European Central Bank will meet on March 10 to decide on its monetary policy. Analysts expect the ECB to increase its bond purchase or stimulus program, which could put downward pressure on the euro.
The ECB currently purchases bonds worth 60 billion euros a month as part of its stimulus programme. After spending roughly half of its planned 1.5 trillion euros of bond purchases, Eurozone inflation is still far from the ECB's target of close to but just below 2 per cent. It fell back to -0.2 per cent in February.
The euro hit a one-month low against the dollar earlier this week on expectations of more stimulus from the ECB. Mr Bala expects "euro to go below parity against the dollar" against its current levels of $1.09.
Mr Bala said that the recent global rally in equities has been triggered by a depreciation of yen and euro's weakness. "If you look at the global macro, the tailwind for the global rally has been the yen depreciation and euro weakness," he said.
About the recent rally in Indian markets, Mr Bala said, Indian equities rose mostly due to global factors.
"We don't think that it is the Budget that caused the (Indian) markets to reverse," he said.
Mr Bala said that the Japanese yen is poised for a sharp fall against the dollar. "We think a top is in place for the euro as well as the yen. We expect record lows for yen. We expect yen to cross 133 in the medium term," he said.
["source-ndtv"]