Top story: Fears minorities may be disproportionately targeted
This is Alison Rourke bringing you Monday's top stories to start the week.
Police chiefs want to broaden their stop and search powers by lowering the level of suspicion an officer needs to use the powers in England and Wales. Scrapping the "reasonable grounds" test is controversial, because black people are around nine times more likely to be targeted than white people, by a police force that remains disproportionately white. The vast majority of those stopped turn out to be innocent and Theresa May, while home secretary, was concerned it eroded the trust ethnic minorities have in the police and Britain as a fair society.
But rising concerns over knife killings – particularly in London – had prompted discussions on a new approach to the stop and search. Adrian Hanstock, the deputy chief constable of the British Transport Police said the new laws could fit better with a fresh approach to violent crime where it is treated as a public health issue, and not one solely for the criminal justice system. "The outcome of a positive search does not have to be a criminal justice solution. What's the alternative? It could be a health or welfare approach."
---
May's Brexit siege – The prime minister faces mounting pressure from both sides ahead of Tuesday's critical cabinet meeting as she attempts to overcome the final Brexit sticking points with Brussels. Prominent Eurosceptic Andrea Leadsom has warned the PM she will struggle to get her plans past MPs. There are also rumours that four pro-Europe ministers are on the brink of resigning. Throw in another incendiary column from Boris Johnson in today's Telegraph – in which he calls for a cabinet mutiny to stop "total surrender" – and it looks set to be quite a week for the PM.
Abroad, the Spanish PM, Pedro Sánchez, also weighed in, saying if he was May he would call a second referendum, "no doubt". It makes him the most significant EU leader to call for a second vote: "I don't mean now, but in the future, so that it can come back to the EU. In another way, but back into the EU," he said.
---
Armistice no-show – The White House has defended President Trump's failure to attend a remembrance ceremony in France on Saturday, because of bad weather. In a statement, his press secretary, Sarah Huckabee Sanders, said going by car rather than helicopter (apparently grounded because of "near-zero visibility") would have required substantial road closures. "President Trump did not want to cause that kind of unexpected disruption to the city and its people." His non-appearance (his chief of staff went instead) was the subject of much scrutiny, and, as Julian Borger writes, showed once again Trump's knack for making global events of historic significance telescope inwards until they become frenzied debates over his own quirks.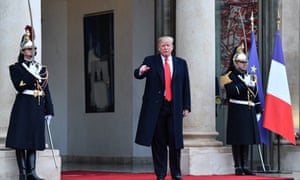 ---
California burning – Wildfires have claimed 31 lives across the state as grim searches for the missing see rescuers scouring the remains of burnt-out cars. Fire fronts in the north and south have devastated communities. In Paradise, north of Sacramento, 29 are known to have died as the Camp fire burned out of control. In the south, near Los Angeles, the Woolsey fire is only 10% contained and has forced thousands to evacuate, as blazes tore through mansions and modest homes alike. Extreme fire behaviour, driven by winds, low humidity and a profusion of water-starved vegetation, made the fire difficult to stop. Two people died in Malibu and authorities called for vigilance and to heed warnings to evacuate.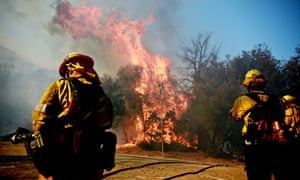 ---
Khashoggi murder – Jeremy Hunt flies to Saudi Arabia today to apply pressure on the country's de facto ruler and crown prince, Mohammed bin Salman, to cooperate fully in Turkish investigations into the journalist's death. Prince Mohammed is widely thought to have ordered the killing, over which Hunt says the international community remains "united in horror and outrage". "It is clearly unacceptable that the full circumstances behind his murder still remain unclear," he said. The foreign secretary will also meet King Salman on what will no doubt be a diplomatically tricky trip, which includes a visit to the United Arab Emirates to try to broker a ceasefire in Yemen.
---
'Bleeding' vegan burger – Beyond Burger's vegetarian answer to BBQs makes its hotly-anticipated debut in Tesco today. With a beetroot juice-based meaty hue, the launch of the burger from the cult US brand Beyond Meat has been delayed after the massive demand in US created supply issues. Unlike controversial "lab-grown" meats being developed overseas, the burger is made entirely from plants, does not use animal stem-cells in production, and is not tested on animals. Bon appétit.
Today in Focus podcast: The cocaine trade: a global trail of violence
Anushka Asthana traces the production of cocaine from the coca plantations in Colombia with journalist Joe Parkin Daniels, Adeolu Ogunrombi from the West African Commission on Drugs and author JS Rafaeli. Plus: Rafael Behr on why we need to look beyond the notion of the "will of the people" if we value democracy.
Lunchtime read: How Bake Off's Kim-Joy found happiness
As a child Kim-Joy didn't really speak at school: "I would talk at home, and sometimes I whispered to people, but I was very careful about who could hear me talk; I didn't want people to know that I could," she said. Suffering from what she describes as severe social anxiety, she was always trying to break out of her shell, because she knew that wasn't really her. "But who was?" At university she didn't know how to talk to people and started making friends by baking. "And I've got a lot more normal as time's gone on," she says.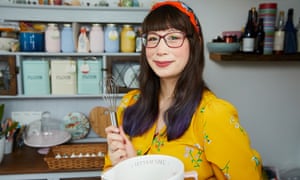 The impact of her new stardom is subtle; she is recognised a lot but hasn't had multiple photographers on her doorstep – partly because her home is hard to find, down a wiggly lane between Leeds and York that she calls "mystical" and "off the radar". But Bake Off has left its mark: "I feel like I want to make the most of the opportunities, I don't want to just sit back and chill the whole time. To have people like you for who you are is quite affirming, especially when you always worry about people not liking you."
On an afternoon of cold, imperious dominance at the Etihad Stadium, two things stood out: first Manchester City produced passages of football in their 3-1 win derby win over United that were utterly breathtaking; and second David Silva and Sergio Agüero once again displayed their enduring brilliance.
With the Rugby World Cup less than a year away, England showed against the All Blacks on Saturday they are back near the peak of the game after their wobbles in the spring.
With his fifth title already secured, Lewis Hamilton had been explicit he wanted to end the season strongly and while he did win the Brazilian Grand Prix, it was an almost unexpected victory that had turned on a moment.
If Roger Federer is to win the 100th tournament of his 20-year career at the ATP Finals in London this week, he will need to rediscover some of his renowned composure after an unusually frenetic two-set loss to Kei Nishikori on Sunday evening.
With England's first match of the World Twenty20 being wiped out by rain, Mark Robinson says his side are keen to get under way against Bangladesh in St Lucia on Monday, weather permitting.
And England ended their rugby league Test series with New Zealand on a sour note after suffering a 34-0 thrashing at Elland Road.
Business
The head of one of Germany's largest industrial firms in the UK, ThyssenKrupp, has called the Brexit plan a "complete shambles". Terry Sargeant says the government has failed business. "The Tory party aren't making decisions for business, they are making decisions to prevent an implosion in their own party." Sargeant said he was speaking out because the next generation of "working men and women" were going to be hit hardest by Brexit, which he said was an act of complete folly. "In Germany, people look at this and are aghast at what is happening," he said.
The pound is buying €1.14 and has fallen to $1.29 on the back of Brexit uncertainty.
The centenary of the first world war armistice dominates the front pages today.
The Guardian dedicates its the main picture and a column on the front page to the commemorations, but its lead story is: "Police chiefs aim to reduce legal protections for stop and search". The Telegraph devotes the top half of its front page to the centenary and has its splash, based on Johnson's column, beneath the fold: "Boris: Cabinet must stage a mutiny".
The Times has no headline today, and instead has a picture covering the entire front page of a soldier wearing a first world war uniform at the armistice memorial service in Liverpool. The Daily Mail says "Never forget", the i's headline is "Let us choose peace", and the Mirror has: "For your tomorrow, they gave their today" with a full-page photograph of a uniformed veteran with a young girl, reading names on a memorial. The Daily Express has: "In silent prayer", with photographs of the queen, Meghan Markle and Kate Middleton in prayer and the FT leads with: "Macron attacks nationalism in Armistice Day rebuke to Trump".
The Sun took a different path, splashing on "National Hotel Service" with news a mother and daughter were forced to live in a hotel for 15 months because their council failed to find them a council flat.
["source=metro.co.]