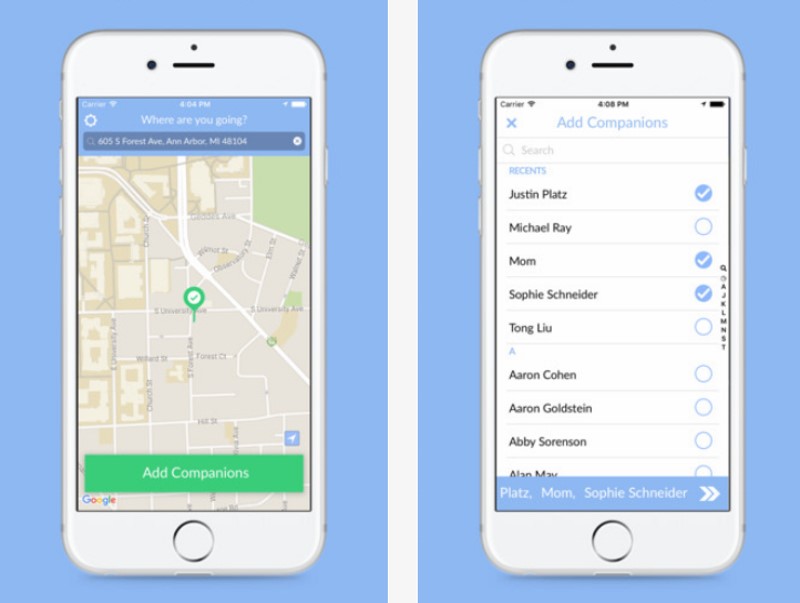 I'm 25 years old and my mother still ends our conversations with "Make sure you text me when you get home." Though I'm an adult, she still worries about my safety. And she's not the only one. After an outing, close friends often ask that I let them know when I make it in.
When we're walking alone, most of us would rather not think about the possibility of danger. I admittedly often forgot to consider it during my college days, when that youthful sense of invincibility can impair your best judgment. So what can we do to add a layer of security and put our loved ones at ease?
Enter Companion (free, iOS and Android), an app created by five University of Michigan students to address the college-safety issue. Through this app, users of all kinds can virtually accompany a friend or family member, making the traveler feel more secure and their "companion" less anxious.
To begin, users punch in the address of their destination and click "Start a Trip." From there, the user is prompted to "Add Companions" from their phone's contact list (multiple companions are allowed). Upon receiving a text message from the user, a companion can download Companion and view the user's movements through the app.
But, in a smart move, virtual companions aren't forced to download the app; they can follow a link to track the user's journey on a live map.
Companion has two important buttons. One reads "I Feel Nervous" and should be used to notify a companion to contact the traveler. The "Call the Police" button allows a user to call 911 quickly if they are in danger.
Among its other features is a prompt that pops up asking the user if they're okay, if, for example, a trip is taking longer than it should, a user starts running or their headphones are suddenly yanked out of their phone. The user then has 15 seconds to respond before their companion is alerted.
One of the most appealing aspects of the app is that if a companion thinks a traveler is in trouble, they can pinpoint where the traveler is and be of greater assistance if they need to notify the police.
The app will also send a message to the companion letting them know their friend or family member has arrived at their destination.
My mother will love it.
["source-ndtv"]