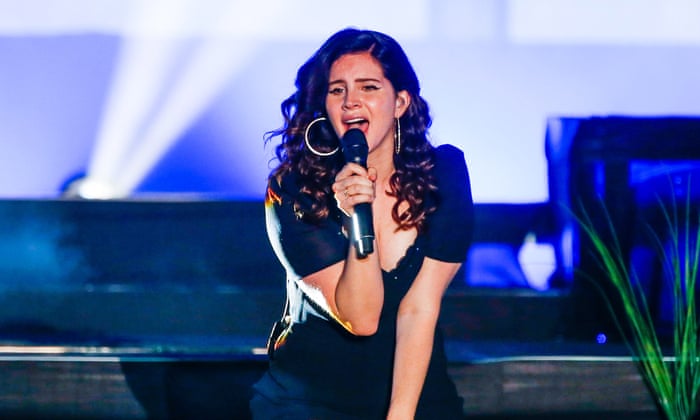 While questions of artificiality still seems to arise when discussing Lana Del Rey's work, on stage her sincerity is undoubtable. Photograph: Alexandre Schneider/Getty Images
For hours, throngs of Lana Del Rey devotees have been camped outside Qudos Bank Arena to secure front-row spots to her Sydney show. They are mostly young women, many brandishing the unofficial uniform of the night: flower crowns and billowing, 70s-style dresses.
As I line up, I overhear two young women behind me plotting in detail how they'll try to meet the star. They've found her hotel, they know her tour manager's name. The staff entry door to the arena, they notice, has been left ajar and unmonitored – maybe they could sneak through the back?
No pop artist in recent memory has so acutely channelled the tortured, all-American beauty queen quite like Lana Del Rey, a fantasy the singer-songwriter embodies with such detachment and such sincerity she's won a diehard fanbase worldwide.
Inside, before the show begins, I wander over to the merchandise stand and find an item for sale that perfectly encapsulates her image: a gold necklace fashioned like rosary beads, with the cross swapped out for a heart-shaped amulet that is also covertly a coke spoon. It's devotional, garish, but bold and ingenious.
This is Del Rey's first Sydney show since 2012. Back then, she was a rising star whose self-described brand of "Hollywood sadcore" was under heavy scrutiny. Real name Elizabeth Grant, she was branded a fake and a fraud; accused of having plastic surgery, and of her trailer-park history being simply a record-label rouse. A much-criticised, bungled live performance on Saturday Night Live only added fuel to the fire. An image of Del Rey making a soporific twirl on the show has been forever immortalised as a meme.
Born to Die, her debut record released that year, sold seven million copies and marked her as a bona fide pop force. And yet the records proceeding it – 2014's Ultraviolence and 2015's Honeymoon – were decisively anti-pop, fuelled by lush, orchestral, down-tempo songs that stirred with a heavy dose of fatalism. Last year's Lust for Life marked another change of pace. It seemed to show Del Rey, for the first time, foregoing inward reflection to grapple with the real world around her.
Del Rey takes to the stage crooning 13 Beaches, a track off her latest record. "Holy shit, she's real!" a voice from the crowd screeches. Del Rey is dressed casually in a babydoll polka-dot dress and black lace-up boots with her hair pinned back into a ponytail. She repeats the chorus line: "I've been dying for something real."
A consistent fascination with America and its mythology is at the centre of Del Rey's work, and accordingly, the stage is set up to mirror her beloved California: plastic palm trees, ferns and candy-striped deck chairs. A large screen splices together imagery that has become typical of the Del Rey cannon: the Hollywood sign, diamonds and black-and-white beaches. Many of the accompanying videos are simply her own video clips, and the fact they work so seamlessly together is telling of how Del Rey has managed to craft such a strong, singular vision over the past six years. Last year she told Pitchfork she would be scrubbing her stage of the American flag due to the current political climate, and yet it appears, if only for a second, when she launches into Born to Die.
Her music is rarely anthemic, and yet it works in a huge, packed-out arena. Del Rey's fans fill any void by belting out every single lyric with fervour and screaming with near-evangelical enthusiasm whenever the singer edges slightly closer to them.
It's on the newer, slower songs, like the rousing piano ballad Change, where Del Rey seems to really come into her own. On record, Del Rey's honeyed, breathy vocals sound like they simply fall out of her mouth. Yet on stage, there is a notable force, and her jazzy intonations are allowed room to take shape. A sparsely accompanied rendition of Simon and Garfunkel's Scarborough Fair is a testament to her vocal dexterity.
Del Rey is known for eluding a kind of cool, bored detachment, but her stage presence is warm and graceful. She's beaming throughout, and floats freely around the stage, cooing "baby" and "daddy" without a sliver of self-consciousness or irony. She sings White Mustang while slinking atop a large golden grand piano and, in a tender moment, she gives a shoutout to Cat Power, who she'll be touring with in Europe. Connecting with the infamously shy performer was when Del Rey realised she could "start playing with my back to the audience and eventually get to this place where I was a little more free", she says.
It's frustrating that questions of artificiality still seems to arise when discussing Del Rey's work, because on stage her sincerity and conviction is undoubtable. Before she finishes for the night, with the sparkling upbeat Off to the Races, Del Rey tells the audience she hopes we are living our best, most "artistic and authentic lives". In a culture that finds it hard to believe that women in particular can be both artistic and authentic, Del Rey defiantly embodies both. It's no wonder her young fans flock to her.