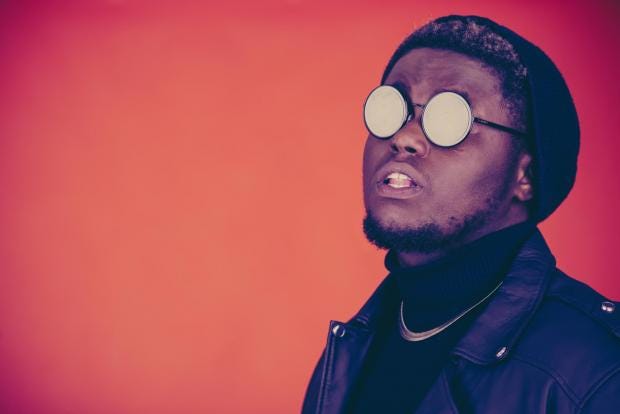 One of my favourite new artists XamVolo is about to drop his best track to date, so it's a kick that we get to premiere it today on The Independent. 
"Feels Good", the latest single from the Liverpool-based artist, lays all his jazz-influenced cards on the table and samples a rare version of "Thelonius" by Thelonius Monk.
Produced with Paul Phamous [To Pimp A Butterly], it's a big, bolshy track that should get you in the mood for the weekend.
I'm going out of my way to listen to as much music as possible now; I tend not to listen to much when I'm working on my own material.  There's a producer called MXXWLL who released a project recently which I've had on repeat since it came out – Still listening to Childish Gambino's latest project too.
What are your plans for the rest of 2017? 
I've got a couple of European shows left to do this year, but before that I have a headline show at The Courtyard Hoxton on the 26th of October – looking to make that one quite special.  Autumn and Winter are my favourite times of the year, so I guess I'm going to enjoy them while they last.
I also have a couple of singles coming before the end of the year, starting with 'Feels Good', so keep an ear out for those, too.
What was the first gig you ever played and what's been the best so far? 
I think the first gig I ever played was an acoustic gig at Parr Street's Studio2 in Liverpool – I'd been on stage before but I hadn't under my current name yet.  It went well from what I remember.
I've done a fair few festivals this year – played Glastonbury, Festival No.6, Lost Village and a handful of others which were all great experiences.  Still, my favourite gig to date was probably in Oxford whilst I was on tour supporting Aurora; everything went exactly how it should have gone, plus the energy from the audience was warm and intense.  The sound on stage was perfect, too – all my favourite gigs have had a great stage sound.
Is the jazz on this record sampled or did you get live artists into the studio? 
It's a sample from Thelonious Monk's recording, "Thelonious". I think it's a rarer version of it though; most versions start with piano whereas the version we used starts with these dissonant cascading horns which I loved. Jazz has a major influence on the music I make; I've always wanted to flip a sample from a Jazz legend.
How did you get into jazz and what made you want to bring it into your music? 
Jazz is just interesting.  It's very rarely obvious – you really have to listen to it to appreciate it.  It pretty much gave birth to almost every genre I was brought up around, from hip-hop to funk to neo-soul.  It's all about rule-breaking – going against the grain – innovation on-the-fly.  When I heard the way Jazz pioneers broke conventions and rewrote rules I knew I needed to do the same whenever I could.  Plus chords – I love chords.
I'm not too sure how I got into it – probably worked backwards from the artists I knew and loved growing up.  They all have Jazz influences in some way or the other.  It's just good music.
["Source-independent"]