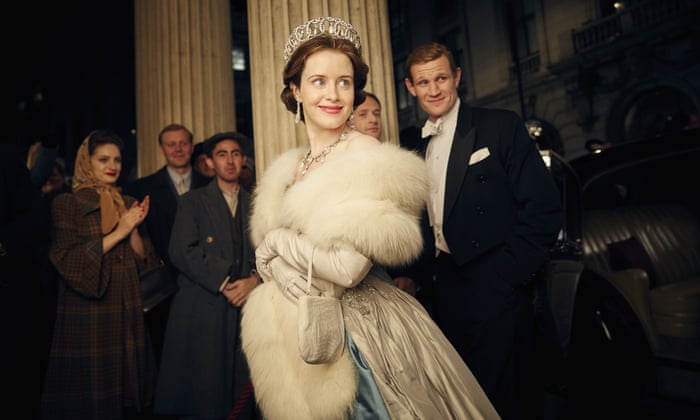 Claire Foy and Matt Smith in a scene from Netflix's The Crown. The show is nominated for an Emmy for outstanding drama series. Photograph: Robert Viglasky/AP
In Hollywood, the screenwriter William Goldman once observed, nobody knows anything. But that was before technology companies rolled in sure of one thing: to conquer television you have to spend, spend, spend.
The geeks are raiding their digital vaults to transform themselves into lords of entertainment – or at least owners of content – and in the process shape what we watch and how we watch.
Apple has budgeted $1bn for original content and is reportedly eyeing the studio where Gone with the Wind was shot.
Netflix and Hulu are vying for awards glory this weekend with Stranger Things and The Handmaid's Tale, after one of the most intense marketing campaigns in Emmys history.
YouTube is ramping up production of original shows and films with budgets and ambitions a world removed from kitten videos.
Facebook is waving a billion-dollar checkbook and may splurge up to $4m an episode on new programming, with Snapchat possibly not far behind.
Traditional broadcast and cable networks, giants which for decades shaped popular culture, are scrambling to keep up.
"I think at this point 'arms race' might be an understatement," said Craig Erwich, Hulu's senior vice-president of content.
It reflects the convergence of television, the internet and wireless technology. For traditional broadcast and cable networks it's no longer enough to make hit shows. They must make them available for streaming and downloading on multiple platforms or risk losing advertising and subscription revenues.
And to grab a share of those revenues, and to differentiate their products and services, technology companies must own content – either by buying or making it.
Original content, especially prestige fare such as The Handmaid's Tale, defines a company and fuels subscriptions, said Erwich, of Hulu. "This is something that we can own, that comes out of our DNA. Exclusivity is key."
For Apple, breaking into Hollywood could help offset declining sales of iPhones and iPads and shore up its music streaming service. Adding a library of shows and films to the service will give existing subscribers much greater value for their $10 monthly fee and should attract new subscribers. Should the content be available only on Apple devices, it will be an added incentive for people to buy them.
The evolving hierarchy will be on display at the Microsoft Theater on Sunday when Stephen Colbert hosts the 69th Emmy awards. Hulu has 18 nominations – 13 for Handmaid's and five for its first original documentary, The Beatles: Eight Days A Week. Amazon has 16 nominations.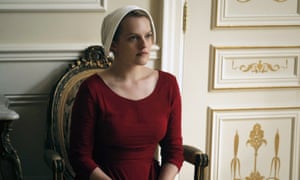 HBO remains an Emmy behemoth with 111 nominations, Westworld alone bagging 22. But Stranger Things, The Crown, and House of Cards have helped Netflix close the gap from previous years, the former DVD mailing service garnering a total of 91 nominations.
Apple stumbled into original content with Planet of the Apps and Carpool Karaoke, critically derided reality shows streamed through its music service. But since hiring Jamie Erlicht and Zack Van Amburg – Sony executives who shepherded hits like Breaking Bad and The Crown – and earmarking $1bn to build an arsenal of original TV shows, the iPhone maker is expected to become a formidable player.
"That billion-dollar number is a very clear signal that Apple is a lot more serious about original content than a year or even six months ago," said Jan Dawson, a media analyst with Jackdaw Research. "They want to produce quantity and quality. Game of Thrones-type stuff."
The tech company will inhabit Hollywood history if its original content division moves into the Culver Studios, a possibility first reported by the Financial Times. The iconic lot, formerly owned by RKO, Howard Hughes and Cecil B DeMille, was used to shoot The Matrix and Gone with the Wind. Gloria Swanson's "night spirit" reputedly roams the studio. Apple declined to comment for this story.
The cash torrents pouring into Hollywood have made some uneasy. "It's like getting shot in the face with money every day," FX's chief executive, John Landgraf, told a news media event last month.
Netflix turned heads by paying Dave Chappelle a reported $60m for two comedy specials. In such a climate competitors with smaller budgets struggle to afford big name talent.
But the revolution has gifted viewers quality, choice and convenience in what has been called a golden age for television. And in theory, it's also a gilded time for creatives – courted by old and new money, exhibited on multiple platforms.
For those lower down the food chain, though, it can still feel like the old days. "For me and a lot of acting friends it's like, why aren't we working more? You still have to hustle, still do the grind, go to the auditions," said Mike Funk, an actor.
Acting gigs for online content often pay below state minimum wages, said Dea Vise, a casting director. "It's much harder work, longer work and less money than ever before." Some Netflix shoots push crews to breaking point, said one technician. "You have to cram more and more in. The schedules are insane. We're exhausted."