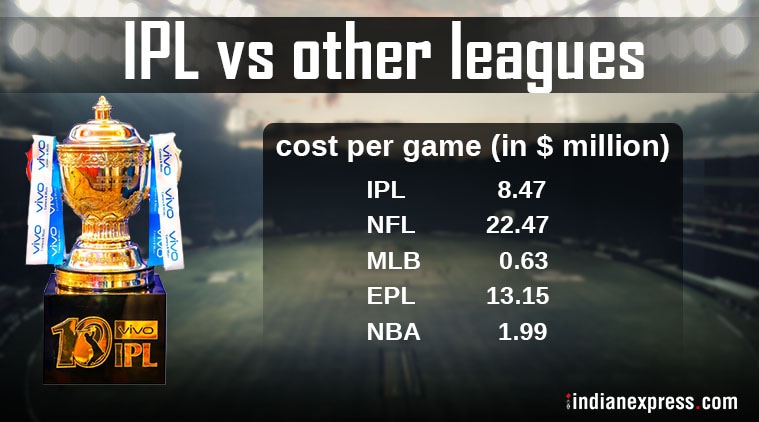 Last month, Jawahar Goel, a television industry old-timer and chairman, MD of India's satellite TV distribution platform Dish TV sent out a letter to the Information & Broadcasting Ministry, Telecom Regulatory Authority of India (TRAI), Competition Commission of India and the Board of  Control for Cricket in India (BCCI) wherein he warned them of Star India's emerging sports telecast monopoly in India in case it acquires the rights to the IPL for the next five years. And on Monday, his warning came true – in part at least.
Star Sports under the Star India umbrella shelled out an exorbitant Rs 16,347.5 crore or $2.55 billion for IPL media rights over the next five years till 2022. This is nearly triple of what Sony, the previous TV rights holders, had paid for ten years in 2009. In all it converts to Rs 55 crore from every IPL match or Rs 23.3 lakhs for every legal delivery bowled. It leaves the IPL sandwiched between the English Premier League (Rs 84 crore per match) and the NBA (Rs 18 crore per match) in terms of highest grossing sporting leagues in the world, with the NFL the clear leader earning Rs 150 crore per match. But beyond the sheer astronomical numbers, the query for the fans, other broadcasters and the DTH providers revolves around how to compete with their sheer might.
Goel's reasoning for the letter stated, "Once Star acquires the telecast rights for IPL as well, not only will the market share in terms of viewership of Star would skyrocket but also the distribution platforms such as DTH and Multi System Operators will have no choice but to subscribe the Star Sports channels for cricket content because of Star's monopolistic position as a sole holder of cricket telecast rights," he said.
And monopoly it is indeed. They already held the broadcast rights to domestic and international cricket in India and when the national team travels to England, Australia and Bangladesh. And now with the IPL in the bag as well, Star stands to broadcast nearly 76 per cent of all matches involving India that are played in a calendar year. It doesn't even included the ICC events which are also held by Star – World Cups (men and women), Champions Trophy, World T20s, Under-19 World Cups as well as the Asia Cup.
With Star shelling out the big bucks for cricket, they would look to earn it back in the form of advertisement revenue and, with a monopoly intact, have the luxury of increasing the bouquet prices which goes to the DTH provider and in effect to the consumer.
The ramifications will be felt by other sports too with Star currently holding rights for Pro Kabaddi (PKL), Hockey India League (HIL), FIH Hockey events, Indian Super League (ISL), badminton, Formula 1, Bundesliga, English Premier League. With cricket getting the lion's share of the pie, the live coverage and taped broadcast will also be aimed more towards cricket and will reduce the time devoted to non-cricket sports. The advertising revenue, too, will tip towards cricket which already dominates most of the eyeballs and will get even more.
Star Sports' dominance can be compared to the monopoly held by Sky Sports in the UK which was only challenged recently by BT Sports when they acquired the UEFA Champions League and Premier League rights to 42 games. When the Premier League rights, the most important league for the market, went under the hammer in 2015, Sky Sports won five of seven live slots in a TV deal worth a staggering £5.136 billion or more than £10 million per game. This was a sharp rise from the £3.018 billion paid for the 2013-16 period. At present, Sky hold TV rights for European Qualifiers, Championship, La Liga, share England games with ITV (the way Star Sports share India games with Doordarshan); England rugby (men, women and youth); Tests, ODIs, T20s in England and away (minus Ashes), ICC events (World Cup, Champions Trophy, World T20), T20 Blast and the IPL; all golf majors and many more. But to accommodate these many games, Sky have sport specific channels: Sky Sports (main), Sky Sports (news), Sky Sports Football, Sky Sports F1, Sky Sports Cricket, Sky Sports Golf, Sky Sports Action, Sky Sports Arena and Sky Sports Mix.
Unless, Star develops the same strategy, it will be tricky for them to do justice to all sports with their latest splurge.
Source:-theindianexpress