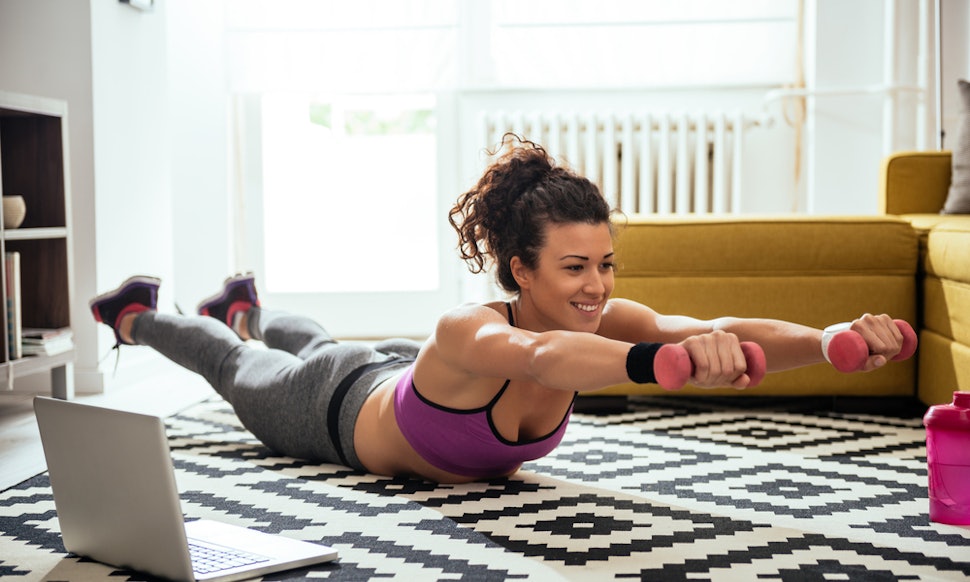 Want to know a secret? Despite being an avid fitness enthusiast and a running coach with a full roster of clients, there are some days that even I can't muster up enough motivation to go to the gym. It's not that I don't want to keep up a consistent workout regime, it's just there are so many things — from realizing my favorite workout leggings are in the wash to heavy subway delays — that can get in the way.
In fact, one of the reasons I love running so much is that it's incredibly easy to lace up a pair of sneakers and hit the road after just a short warm up. Similarly, I'm also a huge fan of workouts you can do from home. By cutting out the middleman of the gym, I can manage my time more efficiently and am more likely to squeeze in a workout, despite a super busy schedule.
You can get in on this ultimate life hack by building a home gym or simply collecting a few affordable tools to start a fitness regime from your living room. To help you get started, here are the best health and fitness gadgets from Walmart that make it easy to work out from home.
Raise Your Heart Rate & Relive Your Childhood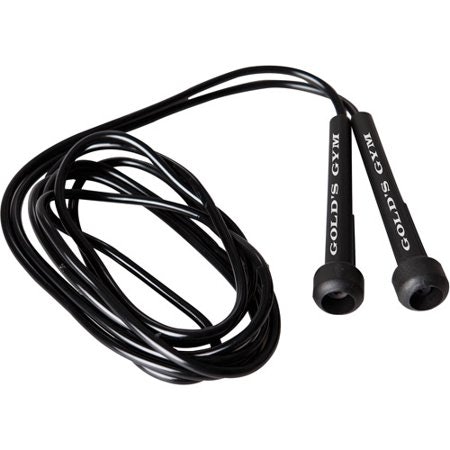 Gold's Gym 9′ Speed Jump Rope
$3.43
Walmart
This Gold's Gym 9′ Speed Jump Rope is perfect for getting an intense workout in small spaces. This small and lightweight speed skipper can help improve your agility, coordination, and endurance. (Plus, it's easy to store and carry, so you can get your cardio on anywhere.)
Skip Heavy Machinery With Resistance Bands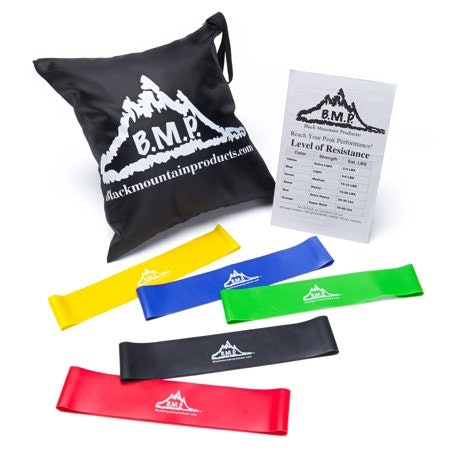 Loop Resistance Exercise Bands
$7.99
Walmart
Resistance bands are an invaluable asset for home and on-the-go workouts because they allow you to strength train without weights. Stock up on this affordable and portable set to add variety and intensity to any workout — even while traveling and confined to a tiny hotel room!
Forgo Clunky Dumbbells & Opt For A Kettlebell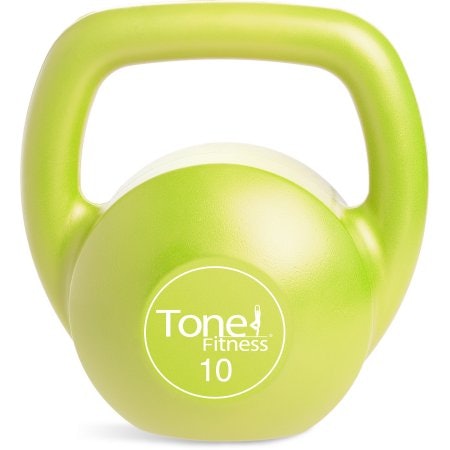 CAP Barbell Tone Fitness Vinyl Kettlebell
$10
Walmart
Available in several weight options from 5 to 15 pounds, this 10-pound kettlebell is a great way to amplify your workout. Hold it upside down between both hands at chest-level to add resistance during squats or lunges, or use one hand to grip the handle for individual arm exercises.
Discover A Smarter Way To Work Your Core
Gold's Gym Ab Wheel
$12.99
Walmart
Recent studies prove that crunches just aren't as effective as we once believed —meaning it's high time we find an alternative. Add some extra 'oomph' to your ab regime with this Gold's Gym Ab Wheel. Providing a smart alternative to crunches and sit-ups, this ab roller features dual traction and control wheels for increased stability, working your arms, shoulders, and back, as well as your core.
Give Your Body A Break With This Yoga Mat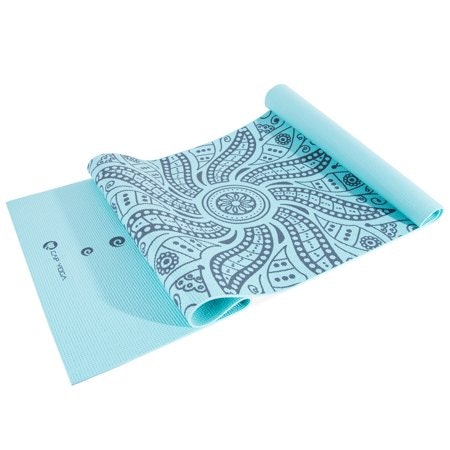 Walmart
With the right equipment, working out at home is super easy (but you probably want to avoid leaving a puddle of sweat on your floor). This CAP Yoga Mat is practical, comfortable, and will protect your floors with a softer surface for your body during Pilates, yoga, stretching, and bodyweight exercises. A carry strap makes this lightweight and durable mat easy to transport, and its roll-up capabilities ensure easy storage when you want to turn your home gym back into your living room (or bedroom, etc).
These Sliding Discs Improve Your Balance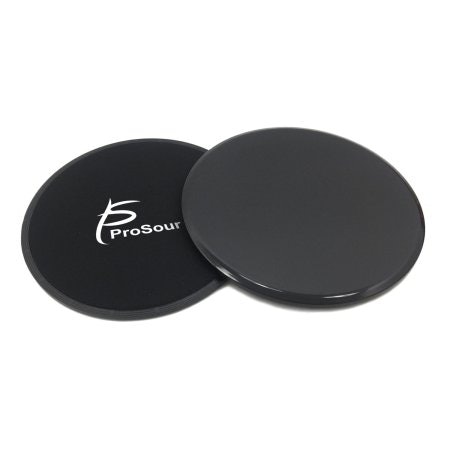 ProSource Core Sliders Exercise Sliding Discs
$9.99
Walmart
They may not look fancy or high-tech, but these Prosource Core Sliders can up the ante on any workout. Made with non-scratch plastic on one side and foam on the other, these lightweight discs force you to engage your core during use, making you work harder during simple exercises and improving your balance in the process. Place them under your feet to make exercises like mountain climbers and knee jumps more challenging, or under your hands while in plank position for iso lateral push-ups.
Get A Full Body Workout With This Boxing Kit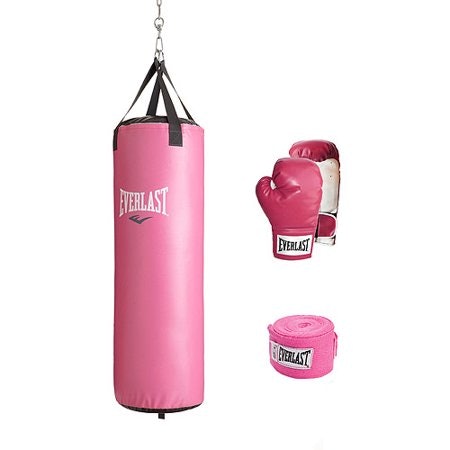 Everlast 70-lb Heavy Bag Kit
$59
Walmart
Stationary bikes and ellipticals are great additions to a home gym, but if you're going to spend your money (and find space!) for a bigger ticket item, I recommend this Everlast Heavy Bag Kit. Not only can boxing help you unwind better than a glass of wine after a stressful day, but it also provides a killer full body workout. This Everlast 70-lb Heavy Bag Kit has excellent shock absorbency to give you the freedom of hitting as hard as you'd like, and features an adjustable chain, so you can set it at the right height for you. It comes with wraps and gloves, too, so you can get your one-two punch on immediately.
Recover Smarter With A Muscle Massage Stick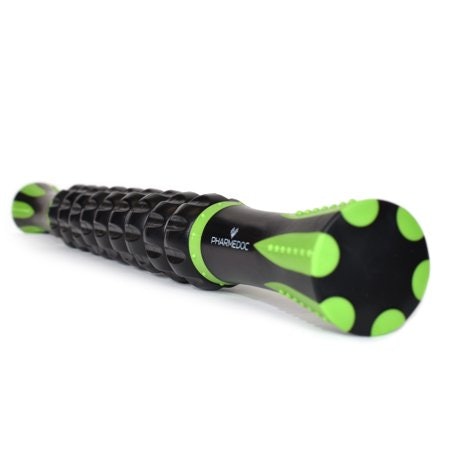 PharMeDoc Muscle Roller Massage Stick
$11.95
Walmart
Recovery should be part of your workout regime, too. This compact and lightweight roller massage stick helps to break up lactic acid within your muscles, improve circulation, and reduce soreness. Use it before a workout to warm up your body, and then post-exercise to help relieve soreness and recover faster.
Bustle may receive a portion of sales from products purchased from this article, which was created independently from Bustle's editorial and sales departments. This article reflects price at publication and may change.
["Source-bustle"]