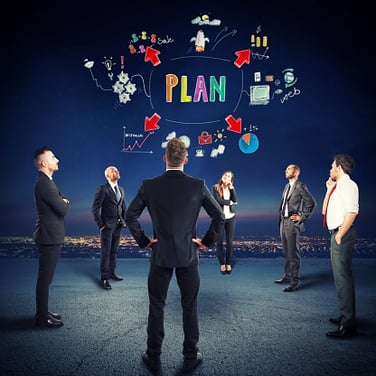 I've been writing a lot lately about the importance of marketing strategies, marketing messaging, differentiation, stories and what you're saying about your business. Most people think this is a lot less important than the tactics associated with the distribution of these messages.
I'm not sure I agree. As my business partner likes to say, "If you don't have anything interesting to say, don't say anything at all," and as Seth Godin likes to say, "If your business isn't remarkable, it's invisible." These are two compelling statements leaning into the fact that the message is the magic.
To further illustrate that point, I wanted to give you an exhaustive list of where your message would be used and the far-reaching impact that weak, bad, vanilla or even inconsistent messaging can have on your business.
Website: It should go without saying that your website is the focal point, cornerstone and front door for your marketing. Almost everyone accepts the fact that most prospects are going to visit your website for calling or contacting you directly. Excel by delivering your message here and you'll kill it with high conversion rates and massive lead generation.
Directories your company is listed in (local/national/industry): Whether you know it or not, you're already in listings and directories. You're probably in some common ones like Google My Business or Google Maps, and you're going to be in some uncommon ones like Moz Local. It's important from a search perspective as well as a messaging perspective that all these directories and listings tell the same remarkable story about your business.
Partner websites where you have a page, link or presence: Some of you might be listed with descriptions on websites where you're partners, VARs or independent resellers. Make sure that your listings on these pages have the right stories and the right links.
Podcasts: These are wildly popular right now, so if you have them and you're using them to tell your story, make sure to be consistent in messaging around the thought leadership in the podcast content and how you describe your business.
Videos: Video is everywhere, and telling your story with pictures instead of words is critical to getting your message out. Make sure the videos tell your story from your prospects' perspective and that your prospect is the hero. Most importantly, make sure these assets match the rest of your messaging to keep the story consistent.
Email marketing campaigns: Keeping email marketing consistent might be more challenging because you're creating these once or twice a month every month. Sometimes it can feel like you're repeating yourself. Guess what, you might be, and that's OK. You want to reinforce your messaging over time and email is a great way to do it. Also, keep in mind that not everyone is reading every email you send; they might only look at one in four.
Lead nurturing campaigns: Yes, these have to tell your story too, but these need to continue a specific conversation with a prospect. The key to lead nurturing is additional content in context to their initial request. Keep your story straight, but give them more amazing educational content to keep them engaged and the conversation moving forward.
Blog: As with your emails, what might seem repetitive to you feels like a consistent and thematic message to your readers. Again, not everyone is reading every blog article, but keeping your blog aligned with your message and story is key. You're also going to have to balance keyword optimization with your blog, but that's not hard to do if you use an editorial calendar.
Guest blogs: These are a little easier to manage because they're seen in a variety of places by a variety of people, so the redundancy challenge we discussed in your corporate blog is gone. But in these blogs, keeping a theme across them all while telling your story consistently and remarkably is even more important.
Published articles: If you're doing your job well, other media outlets are talking about you. If they want to publish an article about your company, make sure you ask to see the article before it's published. Most outlets will let you take a peek. Regardless, you have to contribute to that article so that your story rings true and shines through no matter what else they're talking about and no matter what else is in the article.
YouTube channel: You don't have a YouTube channel? Get one today and start posting your videos. YouTube is the second-most-popular search engine behind Google. Use it. Make sure your videos are SEO optimized, and make sure your channel is uniquely yours and tells your story.
LinkedIn posts on the Pulse Network: See the summary on guest blog articles. It should work in exactly the same way here.
Paid ads on AdWords: Don't kid yourself; these paid ads get a lot of views, and if the ad copy is not consistent with the messaging in other places, your target prospects are going to get confused. Confusion means they're anxious, and anxious means no sales.
Sponsored updates on social sites: Like paid ads on AdWords, we've all see these sponsored updates cluttering up our social feeds. But we've seen them, and your prospects will see them too. Use similar imagery and similar copy, and be sure to keep your stories consistent.
LinkedIn corporate page: How many times have you hit the LinkedIn link to see what the company profile looks like, who works there and how long they've been in business? If you're like me, the answer is a lot. Your LinkedIn corporate page is just as important as your website, but it's often neglected and filled with old, outdated information. Keep this as fresh as you keep your website, and keep the messages consistently interesting.
Individual employee LinkedIn pages: All of your employees have individual LinkedIn profiles with your company information on it. Let me be blunt: Tell them what to say. Give them uniform titles, give them company descriptions and make sure they use this information.
LinkedIn connect requests: You've all received them, those horrible requests to connect with you on LinkedIn. This is a wonderful opportunity to hand your team a LinkedIn connect message that tells the story you want them to tell and improves their chances of actually getting connected.
Facebook corporate page: Same story, different social site. While you might not be seeing as many prospects visiting your Facebook page, friends and family of your team members are probably visiting the page. Your page needs to be updated and fresh. It needs to tell a similar story but with a slightly different angle that's more geared to rewards, recognition and recruiting.
Twitter corporate page: It's a slightly different story with a smaller page and a less impactful presence, but if the images, message and story are not consistent with LinkedIn, Facebook and your website, your marketing is misaligned.
Individual employee Twitter pages: Twitter accounts are a little unique. While most people have one LinkedIn profile, some people have multiple Twitter accounts (usually one for personal purposes and one for professional purposes). I'd suggest providing the detailed content, story, images and messaging for their professional account, and letting them spread their wings creatively on their personal account.
Twitter auto-response to a follow: These generally suck. It's very clear that a human being is usually not responding to my new interest. These need to be written by a person, handed over to your team members and attached to their professional Twitter profiles.
Other required social media site pages: I didn't get into Pinterest, Instagram, Snapchat or any of the other alternative social media sites, but these might all be relevant to your business. That means they need just as much attention (or even more attention) compared to the LinkedIn, Facebook and Twitter commentary I provided above. All of your social sites need to deliver a seamless experience.
Press releases: These still serve a purpose, and we use them for search engine optimization, lead generation and to continue a momentum story for our clients. Make sure these storylines fit with your big, remarkable storyline, and include a solid boilerplate in all of your press releases that delivers the consistent message.
Review and ranking sites: Welcome to 2017. People are finding information, messaging, stories and differentiation on all types of sites, but these review and ranking sites are quickly making a new niche for themselves. G2 Crowd appears to be the biggest and the broadest, but you need to make sure that all of your listings, rankings or reviews are accurate and correct.
Job postings: You're hiring, right? Your job listings need to be consistent. They need to excite, engage and bring in new team members. Remember, the story you tell them is part of your public-facing messaging.
Speaking events: This is one of the best ways to get your story out, but it has to be consistent, regardless of who is giving the speech. Does everyone describe the company in the same way so there's consistency of messaging? It can be complicated. Some of these events could put you in front of 1,000 people, making for a big chance to either drive leads or squander a ton of good opportunities.
Trade show or conference exhibits: I'm not a big fan of them, but I know a lot of marketers still like trade shows and conference events. What are the people who are manning your booth saying? You need to train them to be on message. Are the booth graphics and materials updated? They need to be. If you change your story every couple of months and you don't change all of your supporting materials, expect to have disappointing lead numbers.
Case studies/success stories: Everyone has case studies and success stories, but how old are they? If they're from a few years ago, are they still on message? Do they still tell today's story? If not, they need to be scrapped and redone. That may be painful, but it's better than limping around with inconsistent success stories from what should be your best clients.
Whitepapers, e-books and tip guides: The more content you create, the more leads you generate. You'll be creating at least 12 to 24 pieces of content each year, and each one must tell the right story to the right target persona at the right time in their buyer journey. If there's misalignment, you can expect sales to stall, prospects to run and leads to dry up.
Sales emails: "We're getting leads, but we can't close any." That's because your salespeople are not continuing the conversations that marketing started with the prospect. They're giving different messages (their messages, not yours) and they're telling different stories. You should stop this immediately and arm your sales team with the right messages and the right stories. Then, teach them how to deliver the stories at the right time to move the sales process forward.
Sales phone conversations: Emails or phone calls, there's no difference. If you arm your salespeople with email content, arm them with phone content, too. Give them the scripts (which should be personalized) so that they are consistently telling the same stories over and over again.
Sales presentations: This is where most deals go to die. It goes without saying this is usually the place where everyone is sitting around a room as the messaging, stories, content and detailed deliverables get examined in detail. Blow it here and you're off the short list. Of course, this is where your story has to resonate and your messages have to reinforce. But most importantly, you have to make people feel safe enough to hire you. They have to say, "We need to hire this company." Anything else is unsuccessful marketing.
Demos: If the deal didn't die in the sales presentation, it probably died or will die in the demo. Demos historically do little to make people feel safe. But if you're doing them, integrate the stories and messaging so that the process moves along seamlessly.
Proposals/recommendations/agreements/contracts: This is another area where your sales cycle is getting extended unnecessarily. If your agreements or contracts are long, legal and filled with details, your prospects are going to get nervous. They're going to need legal and review processes, which is going to slow the entire process down. Make sure that these documents send the message you want them to send, which is that you're easy to do business with.
Your email signature: How many emails do you send? Multiply it by all your team members and you have a very powerful vehicle for continuing to talk to your prospects and customers. Use your email signature to tell your story, just like you use all of your other assets.
Your hold message: If you still have an office phone and you have to put people on hold, use that hold message to reinforce your stories and your messages. It's simple, easy and can be updated as many times as you need. When was the last time you checked your hold message?
Ongoing customer communications: We all have ongoing conversations with our customers. Some of them are formal, while others are informal. Some are related to their projects, while others are related to new opportunities you have for them. This is a chance to continue telling the story you told them when they started working with you. Make sure they've realized the vision they had when they first became a customer.
Customer advocacy/referral programs: Getting customers and clients to participate in gamification is something that is gaining a lot of traction. This is an opportunity to make sure they know your company-wide message and for you to retell that message in story format.
Internal company-wide communication: You need to be in constant contact with your team members. They need to know your messaging and stories better than anyone outside your firm. When your messaging and stories change, take the required steps to give them the new narrative.
Employee or team member stories: Now that you have invested in telling your team the new story, you must make sure your team members can retell your story. They're out there talking to people who might represent your next biggest customer. If they can't tell your story in a compelling way (and I mean tell your story to everyone), you're not in a good spot.
Business cards: This might seem obvious, but your logo, tagline and business card all tell a story. Do you use business titles? Do team members have their cell phone number on their cards? Do you have a physical office listed? These subtle signals all tell a story, and that story should be crafted professionally.
Reference calls: We all get requests to have customers talk to prospects. Are your customers telling a consistent story, or are they telling the story from three years ago when they first became a customer? You should prep them with the messaging, stories and snippets they need to effectively serve as a reference and actually help you close more new customer deals.
Sponsorships: If your company is sponsoring any events, charitable activities, causes or community activities, it's critical to be front and center with your story. Not the story the HR person brings, but the corporate story that fits in with all the other messages that marketing and the management team have taken time to create and roll out.
Advertising: Digital and print ads are on the list because while they're not my personal preference, they do represent one of the most obvious places for marketing messaging. If you're doing any advertising, it's apparent to me that any ads have to carry messaging consistent with all of these other tactics. It's usually where the marketing messages get placed first, but sometimes it's a place that gets overlooked when it comes to changes or updates, so keep that in mind as the story changes.
I'll admit I had to stretch a bit toward the end of the list, but without blinking I grabbed almost 40 instances where your company message could be distributed to potential prospects. Are all of these messages consistently interesting at your company? Are they differentiated from your competitors? Are they disruptive and attention grabbing? Do they make an emotional connection? Do they tell a story?
Marketing is more complex than ever before, and the wide variety of potential outlets and distribution channels for the stories associated with your company are more complicated than ever before.
If your story is not being told the same way, in the same voice, with the same carefully crafted words consistently throughout all of these channels, you're limiting your potential at best, and at worst you're confusing your prospects enough to have them look elsewhere for solutions you provide.
Marketing strategy ensures that you've thought through the distribution of messages across most of the more important channels, and in some cases carefully integrated messaging into each of these formats and channels. It's only through this effort that you get powerful lead generation and revenue growth.
["source=square2marketing"]