Trust Priyanka to slay nightwear in the day time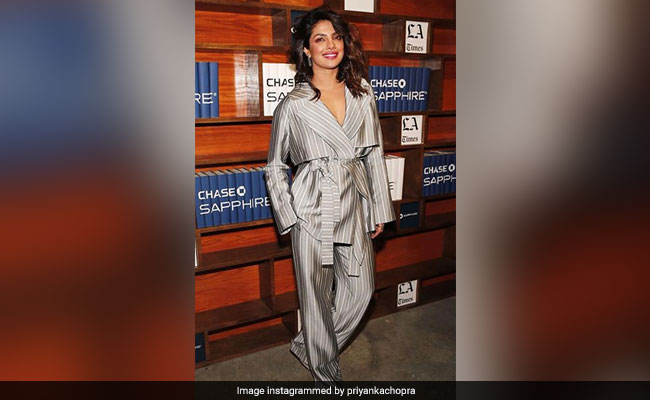 We've all faced the conundrum of having to wake up drowsy, hit snooze and repeat this process a few times until there's barely 10 minutes to be out of the door. On days like those, we really wish we could step out in our nightwear, complete with a sleep mask. Sadly, we have to settle for a trusty track suit instead. Fortunately for us, Priyanka Chopra seems to have found a solution with a chic pyjama suit. Pyjama suits have been considered high fashion for a couple of years now. Priyanka, currently attending the Sundance Film Festival, shows us how to look polished and comfy at the same time.
Priyanka Chopra is at Sundance with her new film A Kid Called Jake. She's been doing press and attending related events with co-stars Jim Parsons, Octavia Spencer and Claire Danes. Yesterday, Priyanka looked like a smoke show in a double-breasted grey and white striped flowing jacket with tie waist and matching wide-legged trousers. With it, she paired a minimal makeup look with beachy waves, bronzed eyes, pink lips and dangling earrings. A dressed-down look for an effortlessly stylish outfit, just the way we like it.
Priyanka with actress Octavia Spencer at a film event
Night wear as a day-time style statement has become a celebrity favourite in the past year or two and are even known as 'bammies' for business plus jammies. Trend setters like Victoria Beckham, Selena Gomez, Kate Beckinsale and Rihanna have been spotted in satin pyjama suits with loose hair and slinky heels. Even for Priyanka, this isn't the first time she's sported the stylish suit set. Last year in Prague, Priyanka wore a similar Etro pyjama set; however it was a bright button-down variant which she paired with straight hair and large sunglasses.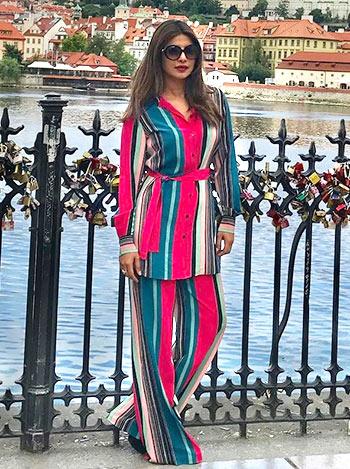 Priyanka sports her pyjama suit in Prague
As breezy as they look, pyjama sets as outdoor wear can be tricky to pull off as easily as Priyanka Chopra does. While height is important to give the trousers their relaxed fall, if you plan to wear this style, make sure you bring out your highest set of heels. Loosely worn hair also adds a touch of effortless glam to the look so Priyanka's beach waves are the ideal choice. Finally for best results, choose a lightweight suit fabric in satin with solid tones or micro-prints to give it its trademark understated look. So while a chic pyjama set may look low on effort and high on style, that's not quite the case. Now, go on and step out in a pyjama suit already. It may not be as easy as it looks but hot damn, it does look good and is definitely worth the effort.