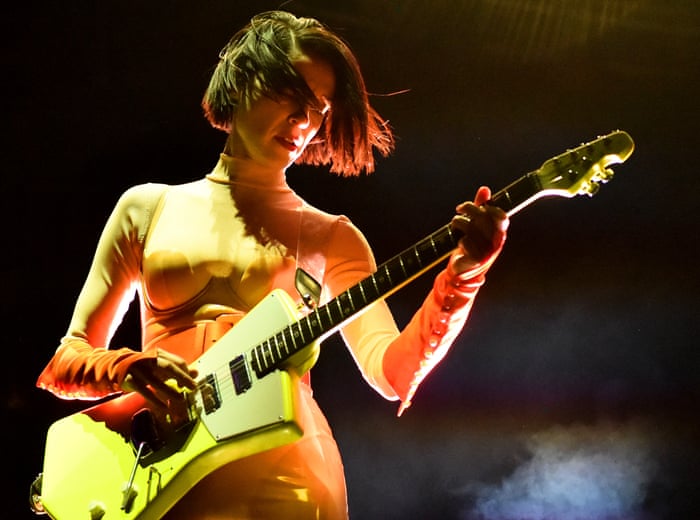 Serious sophistication: Annie Clark of St Vincent performs at the 2018 Coachella Festival. Photograph: Matt Cowan/Getty Images for Coachella
Is the guitar dying? Ten years after the recession, the industry has seen its share of struggle: the 2,633,000 units sold in the US in 2017 falls about 5% short of the 2008 figure, according to Music Trades magazine.
But the instrument may not be dead yet. Here are three acts that could save the guitar:
St Vincent AKA Annie Clark
Serious sophistication with a deep bag of tricks. Began playing as a 12-year-old in Garland, Texas. Harmonic stylings one moment, chokehold solos the next. Plays a personal Sterling by Music Man signature series electric guitar. Niece of the virtuoso Tuck Andress of the jazz duo Tuck and Patti.
Courtney Barnett
Warmth of tone with indie rock antennae and a catalogue of irresistible riffs. A southpaw. Nominated for a best new artist Grammy in 2015. Her album Tell Me How You Really Feel is due out on 18 May. Hails from Melbourne, Australia.
Waxahatchee AKA Katie Crutchfield
Punk practitioner with the charisma to go solo acoustic. Wears a Rilo Kiley tattoo. With her sister Allison backing her on vocals can move from Go-Gos to grunge and back.